Nazrul Mancha swayed, screamed and crooned for five hours straight on an evening that had India squaring off against Pakistan in the Asia Cup! Such was the pull of Trimūrti: Chapter ONE, presented by THE Festival — a series of music concerts and festivals around the country. The 16th edition of THE Festival, with My Kolkata as digital media partner, brought three forces of Bengali music — Nachiketa, Anjan Dutt and Silajit — under the same roof for an evening of music and nostalgia, uniting Nilanjana, Bela Bose and Jhinti, once and for all. The beloved artistes serenaded and swept the crowd off their feet with numbers that have defined an era in Bengali music.
Melody and magic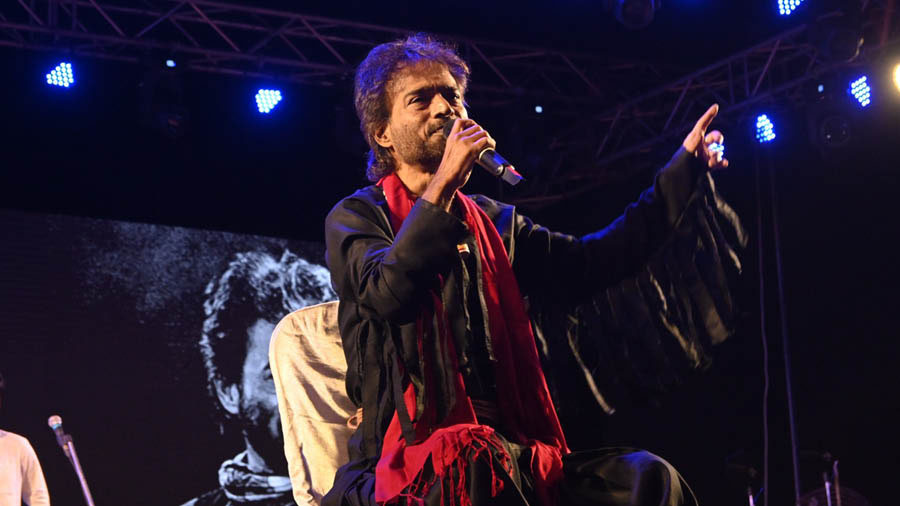 Nachiketa (Chakraborty) had the crowd singing along to his popular numbers
Kicking off the evening was Nachiketa, recognisably dressed in all black with red belt, performing all-time favourites Jokhon Shomoy Thomke Daraye, Nilanjana and Rajorshri. The hall, understandably, went into an uproar, with people yelling and singing along to their hearts' content, at his snappy jibes and statements, tongue firmly in cheek.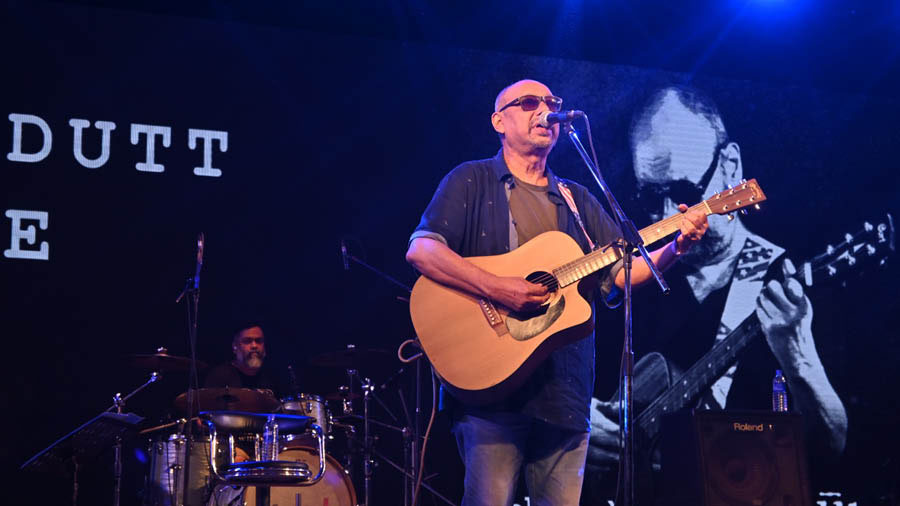 Anjan Dutt performed with his bad and also took song requests from the audience
Anjan Dutt took the stage along with his band next, belting out a wonderful mix of his soft tracks and peppy numbers like Marie Anne, Bela Bose along with rock and blues numbers like Ranjana Ami Ar Ashbo Na and Tumi Ashbe Bole Tai. Neel Dutt dropped a sweet rendition of Tania and Ami Ashbo Phire, while guitar virtuoso Amyt Dutta had the crowd standing still, listening to the guitar sing, speak and wail in all notes.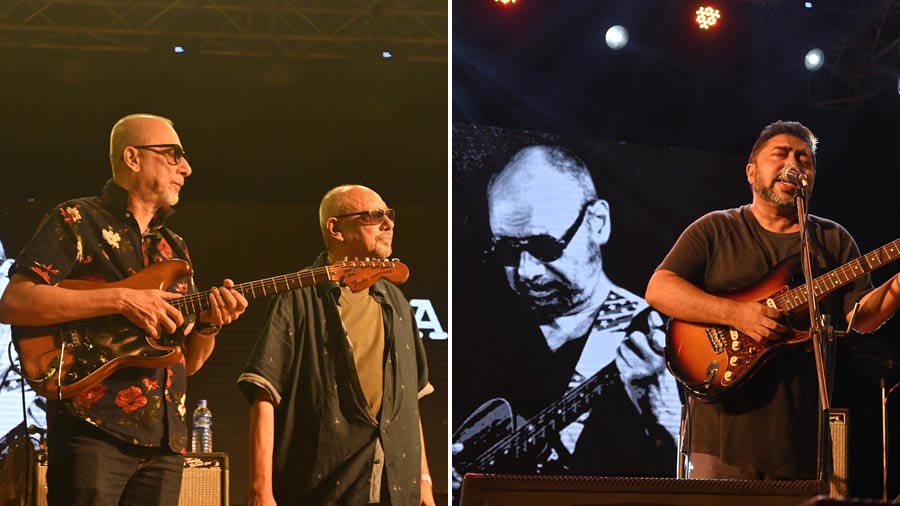 L-R: Amyt Dutt with Anjan Dutt, and Neel Dutt
Capping the night off with a hint of crazy was Silajit — leg on the amp, arms stretched and energy flowing through the mic — with hits like Laal Maatir Shorane, Nouka and Shorbonash.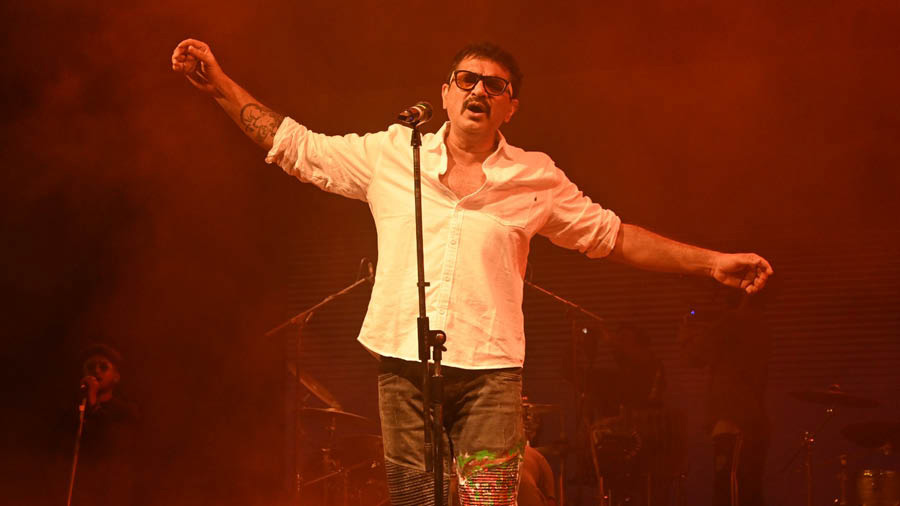 Silajit brought his unique energy to his performance
What added to the charm of the evening were interactions and one-liners from the singers. Nachiketa has a witty line or two in his usual brand of humour, often political, while Dutt kept up a steady interaction with the audience, taking requests for songs.
The three singers had the crowd at Nazrul Mancha on their feet and singing in unison when, in honour of Nachiketa's birthday, the three got on stage to embrace each other, sang Nilanjana and Happy Birthday, while delving into a birthday cake.
Bringing them together
THE Festival has featured many much-loved names from the music scene — Poets Of The Fall in 2012, and later on Sound of Peace, Bumblefoot, Infected Mushroom, Karnivool, Michael Learns To Rock, The Aristocrats, Skyharbor, Celebrating Woodstock, All For Bengal and Long Live The Queen.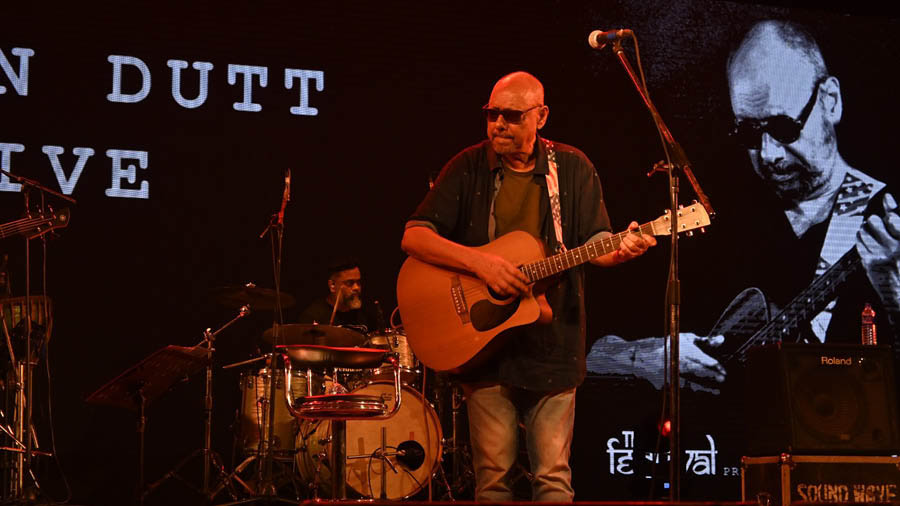 Anjan Dutt
Talking about the journey and organising the event, Kinjal Bhattacharya, founder, E365 Group, said that they had a clear idea about the kind of concerts they wanted to produce for Kolkata, right from when they started THE Festival (in 2012). "Each one had to be unique and a once-in-a-lifetime experience for everyone involved — us as the organisers, the fans, the performers and the supporting brands too," he added.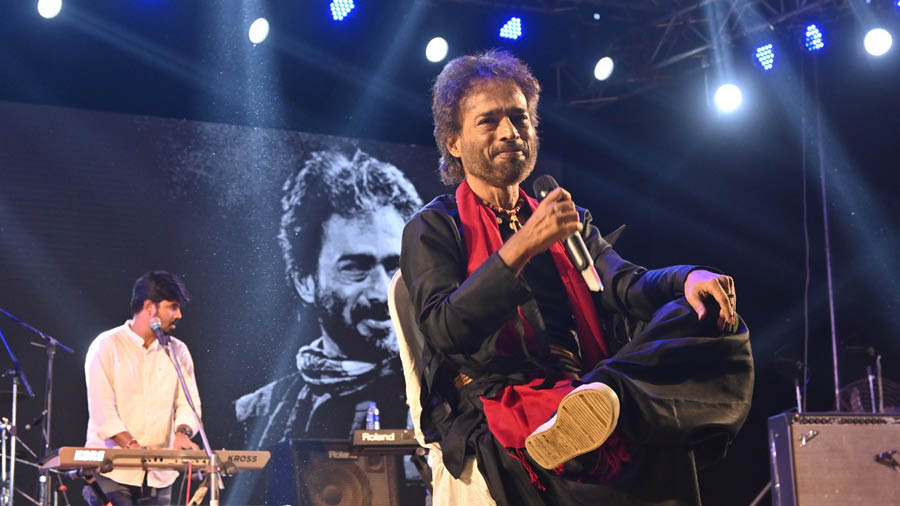 Nachiketa
Kinjal believes that be it Kolkata, Guwahati or Imphal or the virtual editions during the lockdowns, the fans who have attended have always gone back with something extraordinary, transcending expectations. "Our 16th edition was no less!" said Kinjal "Those who bought tickets and came for the gig know what they got was a once-in-a-lifetime experience. Our upcoming editions will be loaded with more surprises and will only get bigger and better for sure," he added.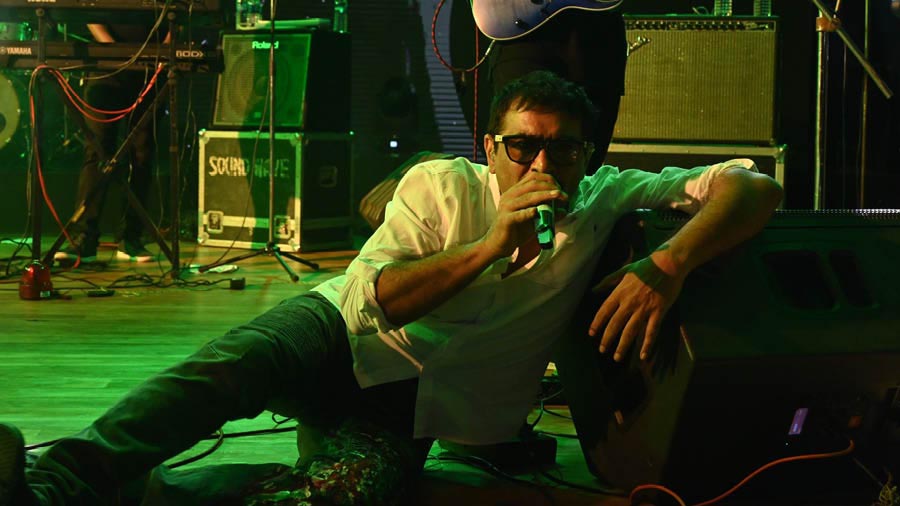 Silajit
Fanspeak
"It was a treat to watch them perform live. All power-packed performances! This happens once in a blue moon, so, I am really glad and lucky to witness them performing together on the same stage," said Puja Ghosh, an IT professional, who made sure she recorded every Anjan Dutt number, while singing along.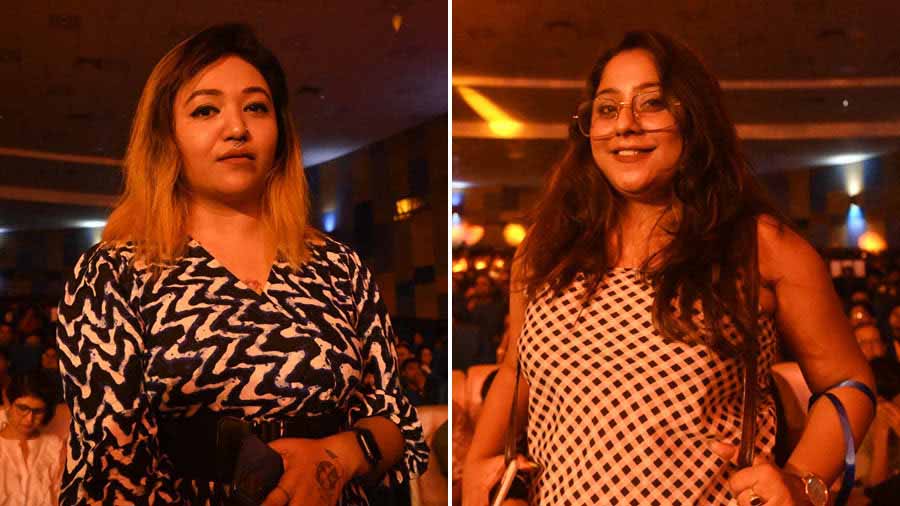 L-R: Puja Ghosh and Ankita Ukil
"It was an amazing experience to watch three of my favourite artistes performing on the same stage. I am never going to forget tonight! The performance, visuals, music and the way they performed was absolutely mesmerising and certainly, their anecdotes and comments just added to the experience!" said Ankita Ukil, another IT professional.