Selvaganesh Vinayakram's effervescent solo in Finding The Way was the absolute highlight of Shakti's Kolkata concert, their third outing in this 50th anniversary tour of India after Bengaluru and Mumbai, placing in perspective the lineage of the musical idea the band steadfastly swears allegiance to: a confluence of diverse musical traditions framed with love, respect and a furious, if fearless, sense of exploration. 
Selva was born in the very year the early seeds of Shakti were sown, sometime in 1972 when John McLaughlin and Zakir Hussain jammed together at Ustad Ali Akbar Khan's residence. It was then that something happened. "That meeting was, in my heart, the principal foundation in the formation of Shakti," explained McLaughlin hours before the show. "It just felt right," seconded Hussain.
So, 50 years later Selva finds himself in the thick of it. "How could I have ever believed I would be in this band," he asked innocently at the interaction at the Kolkata Literary Meet, unable to conceal his bemused befuddlement at this delightful turn of fate. Selva is the son of Vikku Vinayakram, the doyen of the ghatam and part of the original line-up of this celebrated ensemble. Vikku (80) did join the band this time in Mumbai — a delightful video of him reuniting with McLaughlin (81) after decades has been doing the rounds of social media ever since. And perhaps fittingly, Vikku also belted out a pulse pounding solo on the ghatam that not only brought the house down at the Dome (NSCI SVP Stadium), reports Rolling Stone India, but also had Zakir commenting, "What do we do to top that?"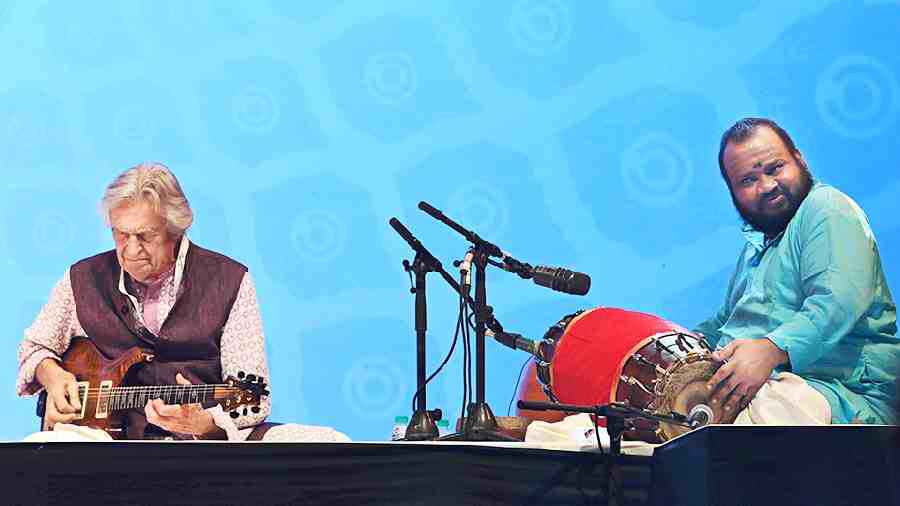 McLaughlin and Selvaganesh
The cushion for Selva to rest on — he also plays the ghatam and the mridangam — while delivering his expansive solo was laid by McLaughlin's guitar. With gentle swipes of the bass strings, he played out the serenely inviting introductory licks. The others clapped their hands, kept time as the young man on the kanjira weaved myriad patterns in-between beats, within and outside of the composition mainframe. His command over the instrument and dexterity of playing were amply evident in the ideas his expansive improvisation built on, astounding as it was to note that this small drum draped in animal hide with a slit in the frame for metal discs as chimes was indeed capable of producing such rhythmic explosions. "Phe-no-menal," cried out McLaughlin this time.
There were around 3,000 in attendance at the Calcutta Cricket and Football Club (CCFC) grounds for the concert that was brilliant in patches, but shades paler in comparison to the earlier ones Kolkata has witnessed. The magic of improvisation, the frenetic sawal-jawab, and the in-your-face camaraderie between the musicians, so infectious of Shakti concerts, were there for sure. But these were intermittent, often feeling subdued. A PA system that went haywire occasionally did not help, one time even prompting McLaughlin to briefly stop playing.
It was during the evening's third piece, a Zakir Hussain composition, that the band really came together. McLaughlin played a long solo, with bluesy surprises as the others chimed in reassuringly. Up until then it was as though each were testing each other's limits, raising the bar in tempo and complexity gradually, tentatively.
Shankar Mahadevan shined, much to the delight of the audience, with a Carnatic traditional, followed by Sakhi, a thumri first unveiled in Is That So? — the 2020 album featuring McLaughlin, Hussain and Mahadevan. Bridge of Sighs, an old fan favourite, saw the blossoming of Ganesh Rajagopalan's violin. Both he and McLaughlin played in sync, taking charge of the main melody, and in the process reviving memories enshrined in an era of cassettes and two-in-ones.
Kikee started with a lovely guitar shuffle and had Mahadevan doing his thing with vocal flourishes, providing the cushion for Rajagopalan's violin to flourish and etch out the hidden tune behind McLaughlin's masterly guitar embellishments. The band signed off with an encore, Lotus Feet. McLaughlin's timeless tune of sublime beauty that has had many incarnations starting with his Mahavishnu days, was executed with devotional finesse. But it ended too soon, just like in 2020.
The road ahead for Shakti in its 50th year holds out challenges of their own making. Having charted a new path this far, and in the process summited genre-defying heights, they have set the bar high. Very high. As the band embarks on a world tour now, the question to ponder is whether Shakti is still able to break new musical ground. That responsibility lies squarely on the two principals, John McLaughlin and Zakir Hussain. Hopefully, their forthcoming album, titled This Moment, will not just celebrate a deservedly hallowed past, but also open new frontiers and begin a whole new journey.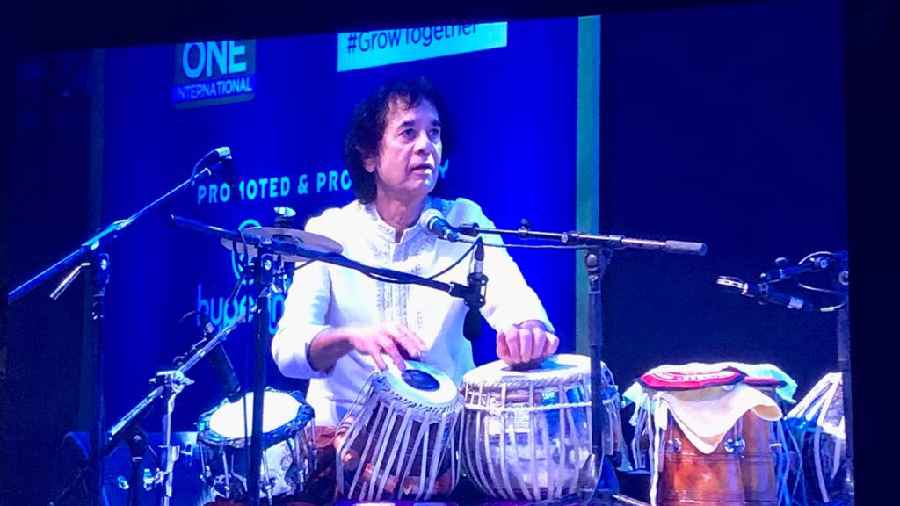 Zakir Hussain