If you thought Bengali cuisine was predominantly about maachh and mangsho, think again. A completely niramish (vegetarian) Bengali pop-up lunch at Waypoint Cafe on October 23 debunked the myth with a burst of flavours.
Most of the items served at the event were handpicked from Babli Mukerji's recent book 101 Delicious Memories — Family recipes handed down four generations and had been carefully cooked under the watchful gaze of Rakhi Purnima Dasgupta of Kewpie's fame.
The exquisite menu included aam pora shorbot, Gobindobhog rice with ghee, luchi, shukto, matar dal tomato aar hing diye (dal with tomatoes and hing), baigun phulori (batter-fried brinjal), and alu jhuri bhaja. These were supplemented with alur dom posto diye (baby potatoes in poppy seeds paste), palong chhanar kofta (spinach and chhana kofta), and dhokar dalna. The gastronomic joyride was completed by tomato aamshotto khejur chutney and papad along with mishti doi and sandesh.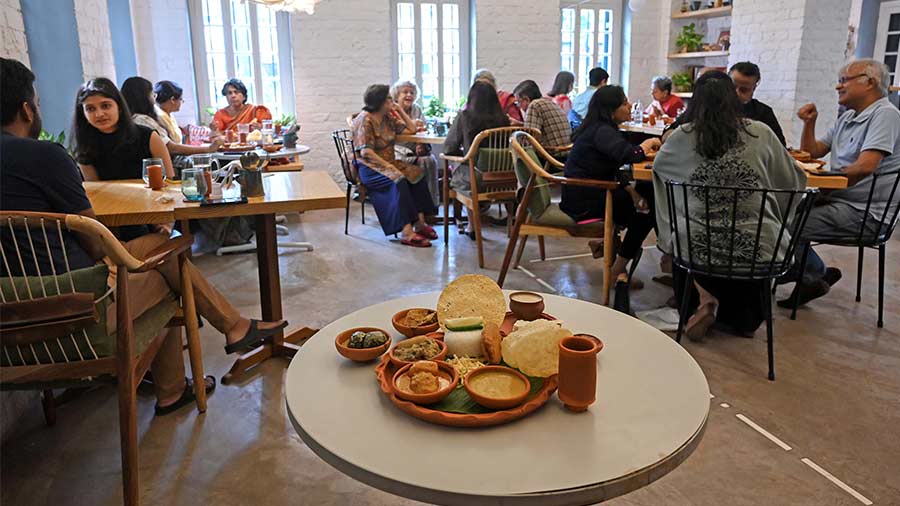 The aim of the event was to showcase Bengali vegetarian cuisine and debunk the myth that Bengali cuisine is predominantly fish and 'kosha mangsho'
A pop-up with a different take
Shedding light on the thought behind the event, Waypoint's Megha Malhotra said: "We had invited Babli Mukerji at our book club activity in September to share anecdotes and her inspirations for the three food-related books that she has already published. Through the conversation we came to know about and were really inspired by the rich background that she hails from and the traditions of three or four generations of recipes that she had inherited. Purely on impulse, we asked her to do a pop-up at Waypoint and she readily agreed. But then she got a little nervous about cooking for 30 to 40 people and that is when she invited Rakhi Purnima Dasgupta from Kewpie's to collaborate with her."
The idea behind the pop-up was to focus on Bengali vegetarian food. "There's a general belief that Bengali cuisine is all about 'maachh and kosha mangsho'. I have seen, courtesy my colleagues at work, that Bengali cuisine also has exquisite vegetarian dishes and I have always felt that we should put this out there and let people know that there is much more to Bengali vegetarian cuisine," Malhotra said.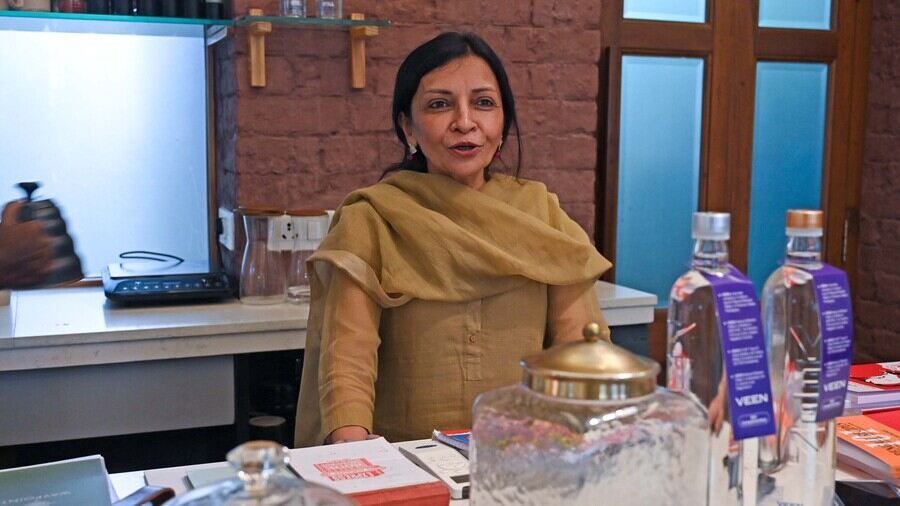 Megha Malhotra at the event
Passing on culinary traditions
One of the key proponents of the event, Babli Mukerji is author of three culinary books and her most recent book 101 Delicious Memories: Looking Back With Hunger takes one back in time. The book not only has recipes, some of them handed down by her grandmother-in-law, but also gives an insight into the social and cultural history of those times. Mukerji's love for cooking came at an early age but she confesses that only after her marriage into a family with gourmet tastes did she discover the difference between "good food" and "exquisite food".
Responding to queries from My Kolkata about the growing popularity and USP of Bengali cuisine on the global platform, Mukerji stated, "No other cuisine in the world — and here I must state that I have experienced many cuisines across the globe from very close quarters — has this vast spectrum of flavours. From shukto which is bitter, to an aamer tok which is sour, to a maachher jhal which is fiery hot, to a doi maachh which is mild and beautiful, no other cuisine has this range of flavours. There is also a widespread misconception, which is also the reason why we are here today, that Bengali cuisine means fish, fish and more fish. Many would not know that Bengali vegetarian cuisine was developed by the widows of Bengal. This is largely because they had no other recourse but to eat the leftovers, and the ends of what men folk would leave. That is how the shaaker gora, skins of potatoes, skins of gourds ended up as delicious dishes that they made for themselves. Among their creations are also items such as chhyachra and chocchori, posto diye lau er chilka bhaja (bottle gourd skin fried with posto), posto diye alur chilka bhaja (potato skin fried with posto) and many many more."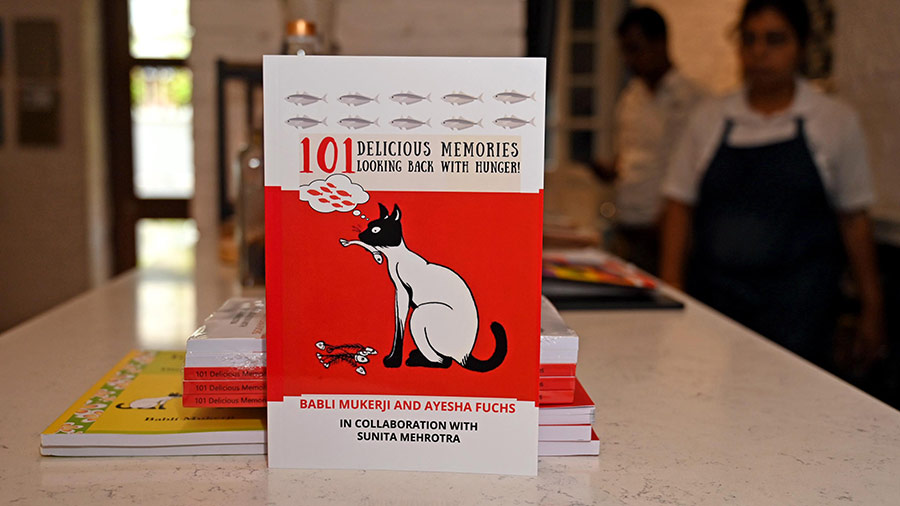 Babli Mukherji's book has recipes passed on to her from her grandmother-in-law
Stressing on the variety of flavours in Bengali cuisine, she added, "This spectrum of flavours is hardly noticeable in any cuisine anywhere in the world. Yes, there are many delectable cuisines across the globe but they don't have the range, and no state in India has the variety that Bengali cuisine has. That sets it apart from all others."
Talking about her fondness for all things culinary, Mukherji added that she enjoys both cooking and eating. "You have got to be a greedy person to enjoy cooking, you must enjoy eating as you must know what the flavours taste like. Therefore both are directly related to each other but the most satisfying part of cooking is when you cook something and somebody says it is 'lip smacking, finger-licking good' — that makes your day. Today's event is mainly to showcase to non-Bengali Kolkatans that Bengali cuisine also has an array of exquisite vegetarian dishes to crave for."
Asked to single out one signature Bengali dish, Mukerji picked her Didi Sasuri's' Cutlet Curry. "It is a prawn cutlet served on a tray of narkeler kheer topped with lemon juice, salt, dried chilli flakes and a dash of Bengali bhaja jeera masala. The end result is divine — sweet, sour, creamy and more, all at the same time."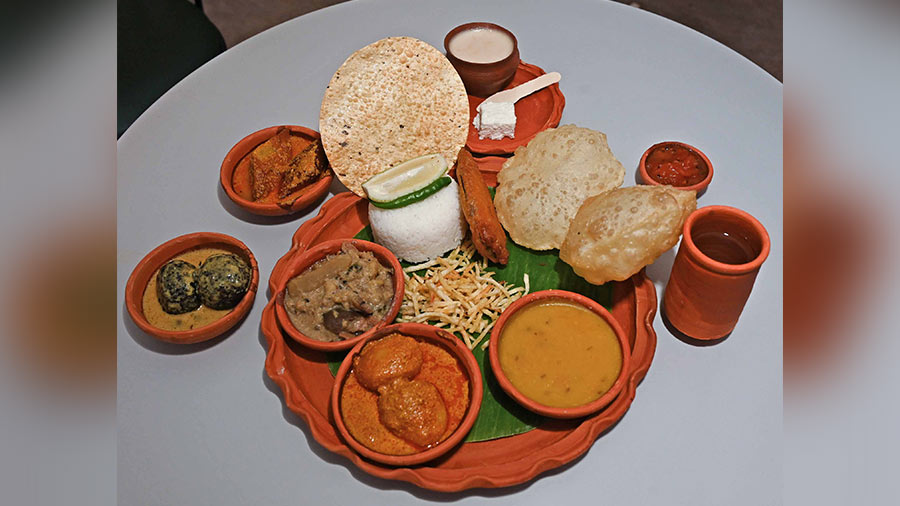 The vegetarian fare served at the pop-up
Preserving the traditions of Bengali cuisine
Rakhi Purnima Dasgupta, the other culinary genius behind the event, hails from a family with four generations of cooks and gourmands. Her mother Minakshie (Kewpie) DasGupta's legendary Bangla Ranna (The Bengali Cookbook) and her other books on Bengali and Kolkata cuisine are world-wide best sellers. She, with her family, opened Kewpie's Kitchen, the restaurant in Elgin Lane that has been serving authentic Bengali cuisine for two decades.
Asked whether Bengali cuisine and its many new practitioners were headed in the right direction, Rakhi Purnima Dasgupta said, "I will not comment on other people's way of looking at Bangla khabar but what we do is traditional Bengali food. When we prepared today's dishes, it was all without onion and garlic, as is the tradition of Bengali vegetarian cuisine. This is what our elders and those from the previous generations have taught us. We have maintained the traditional practices to the fullest and in this we are different from fellow compatriots as many among them resort to the use of items that add a sort of Punjabi or fusion style to their cooking."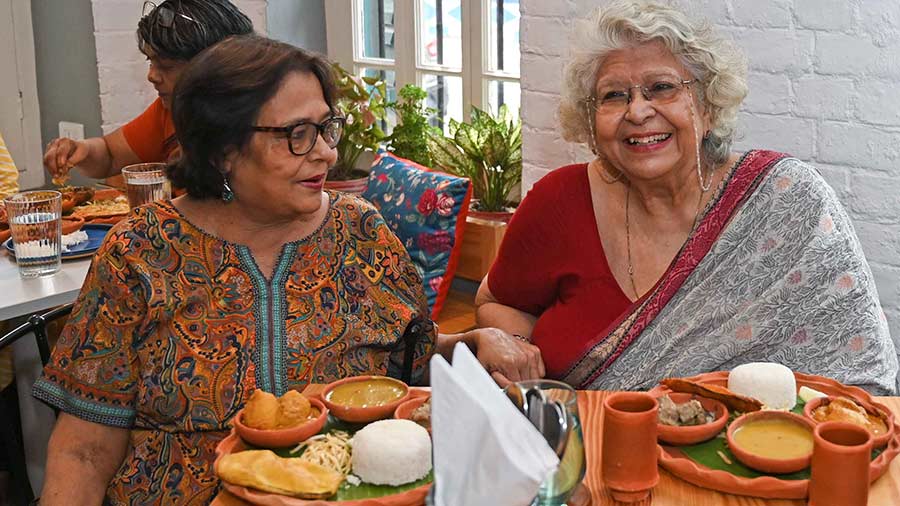 Dasgupta and Mukherji brought with them their knowledge of generations of Bengali cooking
Responding to what sets apart Bengali cooking on a world platform, Dasgupta said, "Bengali cuisine is already on a sound footing on the world platform and I made sure it went there. Bengali cuisine does not use too much masala or oil but is instead based on what is called phoron or tempering. Since it is simplistic to the core, it is also a hard task to attain the right balance and thus hard to cook. In the modern context, with people turning towards veganism and vegetarianism, it is important for all of us to showcase Bengali vegetarian food, which can be ideal for them."
Foodie speak
Among those relishing the gourmet food on offer was photographer and filmmaker Rajesh Gupta who stated, "I am a pure vegetarian and I attended this pop-up instinctively as I always jump at the chance to attend events involving vegetarian food. I am completely bowled over by the way food items are made. After many days, I got the grand feeling and satisfaction of a home-cooked meal. No onion, no garlic, food served in an ethnic way — all of which have contributed to an amazing experience. What now worries me is when and where we can have a similar experience again. We remain hopeful that these sort of pop-ups will continue and we look forward to hosting our friends here when we can."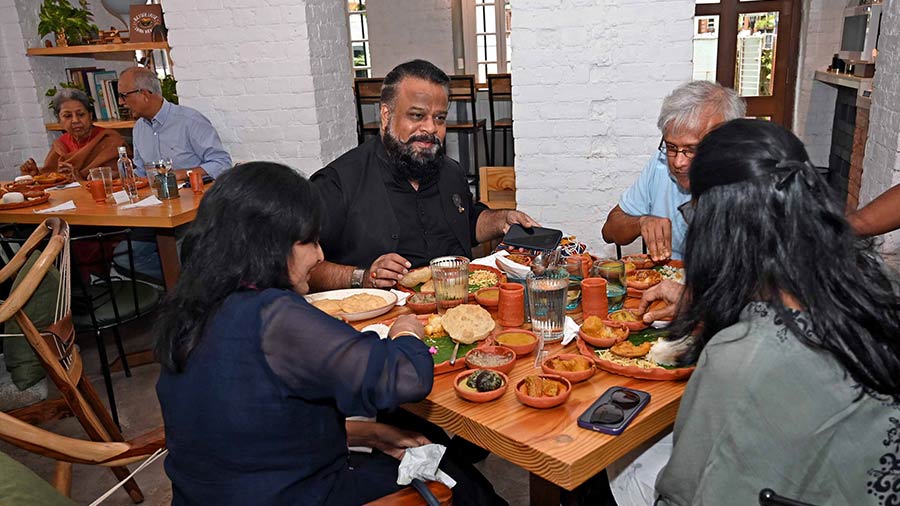 Filmmaker Rajesh Gupta (in black) and other guests enjoying the spread
Also among the others was author and English language exponent Caroline Servaia who happily stated that it was a marvellous experience. "What else can one expect from two sterling ladies Babli Mukerji and Rakhi Purnima Dasgupta. I ate my fill and enjoyed it thoroughly. This was indeed a soul satisfying event and very glad to have been a part of it."