The title poem of Acrobat, a collection of Nabaneeta Dev Sen's poetry translated into English by her daughter Nandana Dev Sen, reflects on fragility of life and could not have been more apt for an evening that was meant to be joyful but began on a tragic note.
Nandana read out some of Nabaneeta's original works at the event and also her translations. She was joined by poet and lyricist Srijato Bandyopadhyay, who recited some poetry as well.
The session at Oxford Bookstore, Kolkata, on July 20 unfolded with Nandana paying tribute to her mother as well as her cousin and Jadavpur University pro-vice-chancellor, Samantak Das. The family shared a close relationship with Samantak, who passed away earlier on Wednesday.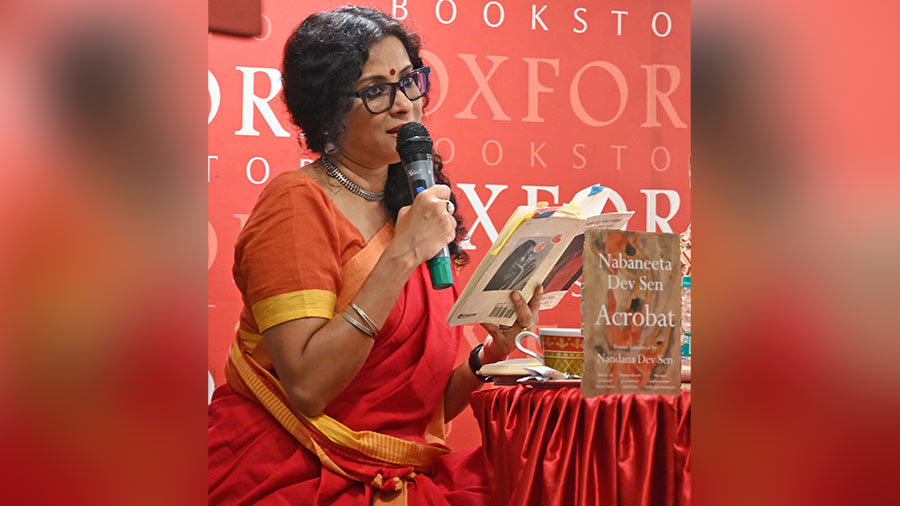 Nandana Dev Sen reads out translations of her mother Nabaneeta Dev Sen's poetry from 'Acrobat'
''We were just taking a moment earlier to absorb the fact that even though this was meant to be a joyful occasion, a celebration of my mother's poetry, a tribute to her work, we have all got some very heartbreaking news. We are still processing it a bit. We are still trying to absorb this devastating news of losing Samantak who was my cousin, a friend to most people in this room, a teacher, a really beloved person in our community," Nandana said. "I want to admit I don't have the heart to read the poems that I had planned to read before, because they will just not ring true to me just now but my mother has all of 60 years of poetry to choose from…. We are dedicating this coming together, this reading, this soiree to his memory and to the love and brilliance and joy and humour that he (Samantak) brought to everybody.''
The first poem Nandana read out was Acrobat, which reflected on a lot of things, including the fragility of life and how easy it is to slip from one's safe space. Her next recitation was The Lamp, written by Nabaneeta after her mother's death. Nandana then went on to read from the poem Rather Melay, which is about unkept promises.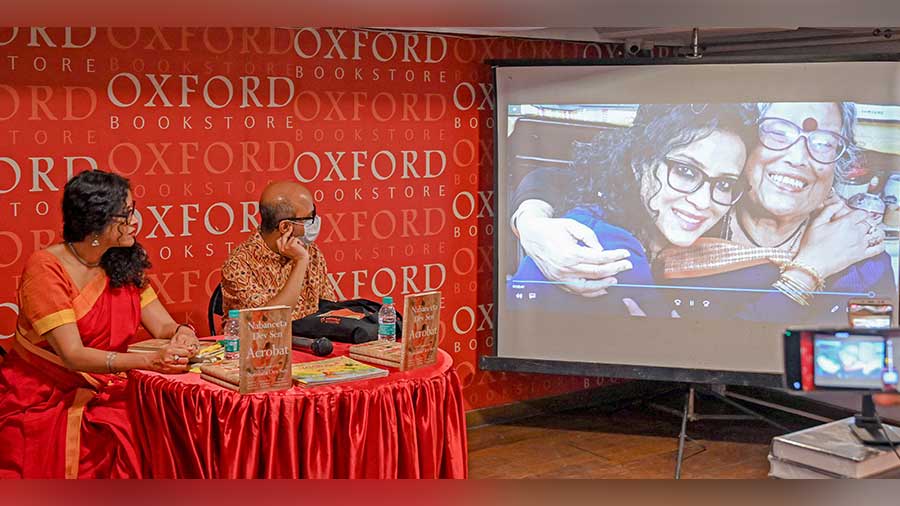 Nandana Dev Sen and Srijato Bandyopadhyay watch a montage of pictures of Nabaneeta Dev Sen before the start of the session at Oxford Bookstore
Srijato read out Panigrahan among other poems. "Nabaneetadi was such a person with whom you never felt that she would not be among us one day. Her presence was so lively. Nabaneetadi was alive. There's a difference between existing and living and we were reminded of that every time we met her," he said.
The poet described Acrobat as a "collectible". "The work Nandana has done is by no means easy. It is difficult to translate a poet, but even more difficult to translate a mother. Nandana has done both together.''
Many in the room shared Srijato's curiosity when he asked: Has it been advantageous or disadvantageous as a translator to translate not only a poet but also your mother?
''The process of translation was difficult because we signed the book two weeks before Ma died. We were going to work on this together and Ma was very excited about it and wrote about this in her Sunday column. After her death, I didn't feel like I could work on anything else. But, at the same time, Ma left us and then COVID struck. That time was a very dark time around the world. So, while translating Ma there was no distance because I could feel Ma standing next to me and talking. But I also had to accept that Ma had left us. It was an emotionally wrenching process because I was doing it while I was grieving," Nandana said.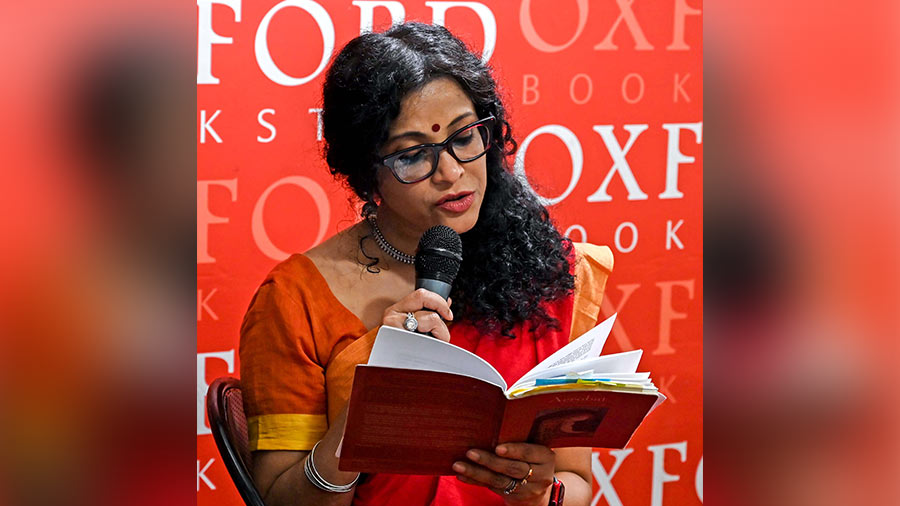 'Sometimes when I would translate Acrobat, rather than looking at it too closely, the distance that I created from the poetry used the closeness I had with Ma,' said Nandana
Nandana also shared what helped her as a translator. "I had the good fortune of having a sense of how she would respond to changes, the liberties that I took. Sometimes when I would translate Acrobat, rather than looking at it too closely, the distance that I created from the poetry used the closeness I had with Ma. Rather than translating a poem literally, I would say I know my mother's work. Let me step back and think about how she would write this poem in English. Rather than translating it line by line, word by word, she would take the same kernel of thought, the same emotion and then say it in English. And so those poems became adaptations, they weren't really translations. They were inspired by her poetry but they became different poems,'' she said. 
The poetry reading was followed by an interaction with the audience, where many shared personal accounts of their association with Nabaneeta — from naughty students to junior colleagues.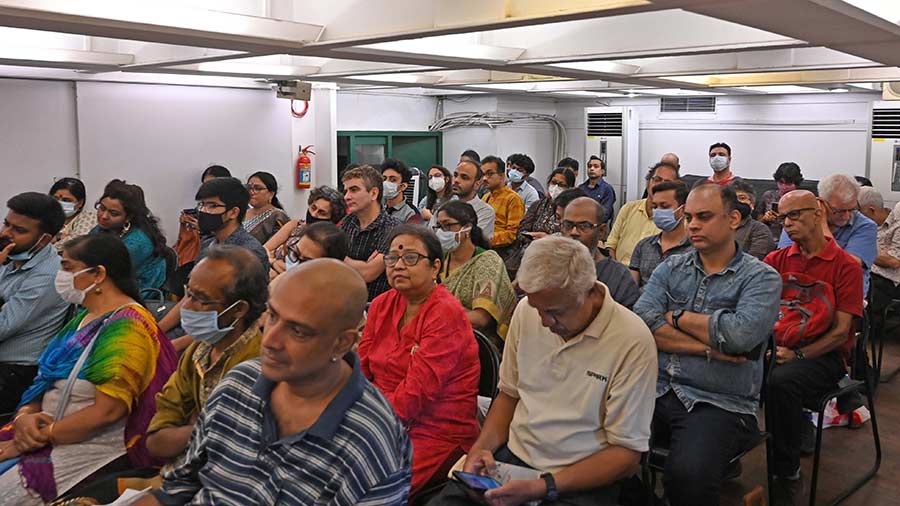 Many in the audience shared personal accounts of their association with Nabaneeta Dev Sen
Nandana wrapped up the session by urging more people to translate Nabaneeta's works. ''I would also like to encourage young writers, translators, lovers of poetry and fiction to come and translate. I love translating her work but I feel that this is a democracy. I think others should translate her work as well because there is so much of it, there is so much love for her work. So many of you love her work. I'm sure many of you would be great translators if that is something that you really wanted to do. I think translating Nabaneeta should not be a family project, it should be a community wide-project,'' she said.
Acrobat, published recently by Juggernaut, is a collection of Nabaneeta's works reflecting on feminism, womanhood, emotions and more.