World Environment Day
Merlin Group and Siddha Group usher in World Environment Day with plantation drives
Mango, neem, jackfruit, arjun and sal trees were planted in New Town; ball and eco brick making workshops held for slum children
By
Vedant Karia
| Published 04.06.23, 05:37 PM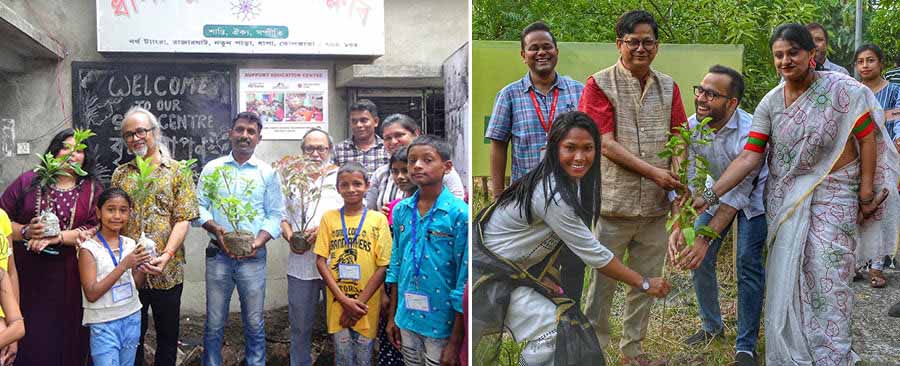 Siddha Group and Merlin Group conducted plantation drives in Kolkata on June 3 in the run-up to World Environment Day, which is observed on June 5.
All photos by Amit Datta and Merlin Group
The plantation drive by Siddha group was held at New Town Kolkata Development Authority (NKDA) Green Verge No. 5, near the bustling Owl More in New Town. An average person consumes oxygen from 16 trees throughout their lifetime, so it is our responsibility to give back — this was the mission statement that brought together Siddha Group, Mrittika Earthy Talks and Harimitti for the green drive.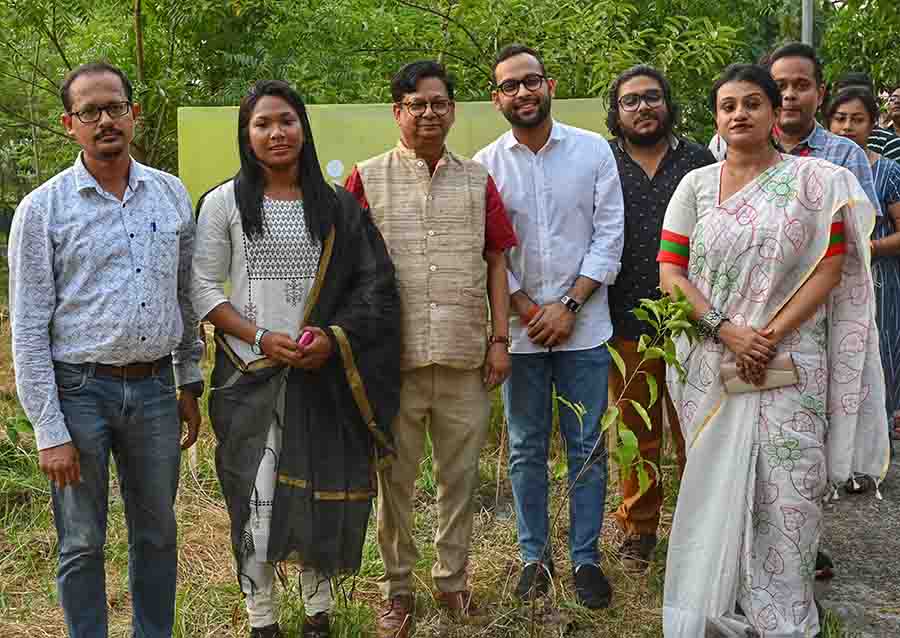 (From left) Indian heptathlete and Arjuna awardee Swapna Barman, NKDA chairman Debashis Sen, Siddha Group director Aadish Jain, and environmental scientist and Cantonment Board consultant Swati Nandi Chakraborty after planting saplings. Indian heptathlete and Arjuna awardee Swapna Barman, NKDA chairman Debashis Sen, Siddha Group director Aadish Jain, environmental scientist and Cantonment Board consultant Swati Nandi Chakraborty, and Mrittika founder director Somini Sen Dua planted saplings on the occasion. 'We have seen a lot of activity in and around New Town in recent years to preserve the environment and corporates like Siddha are playing a major role. It is important to remember that planting a tree isn't just a one-day affair. It is like a small child that needs constant care. I appreciate the campaign motto which asks us to 'Be Selfish', because without these trees, we will not be here,' Sen said. Chakraborty also lauded the initiative, "This year, our main goal is to curb plastic pollution. We need to be careful of our unconscious actions, where we unknowingly harm the environment. We don't just need small plants, but big trees too, in order to save the environment.'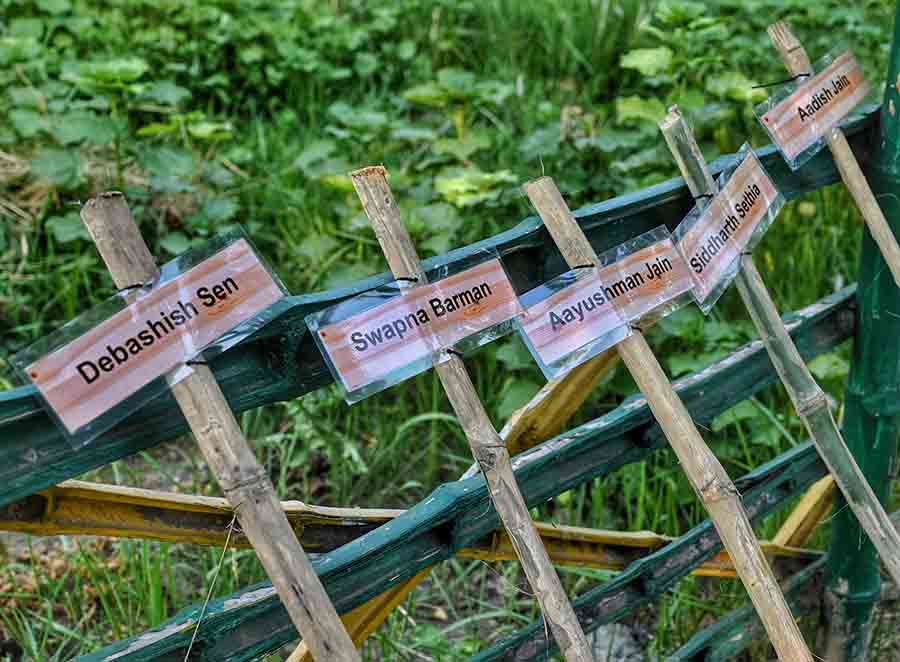 Mango, neem, jackfruit, arjun and sal saplings were provided by Mrittika Earthy Talks and Harimitti. The NGOs will maintain the saplings for the first two years, until they grow into trees. This initiative was a part of Siddha Group's 'Be Selfish' campaign, which stems from the need to protect the environment, because it protects us. 'We took an oath to plant 50,000 trees, and achieved that goal by boosting greenery all over the state with large scale plantation drives around the Race Course and Red Road. Today's initiative is an extension of that united effort to withstand climate change and create a cleaner and greener environment. With World Environment Day upon us, let us all be more mindful and conscious of what we have, and waste less,' Jain signed off.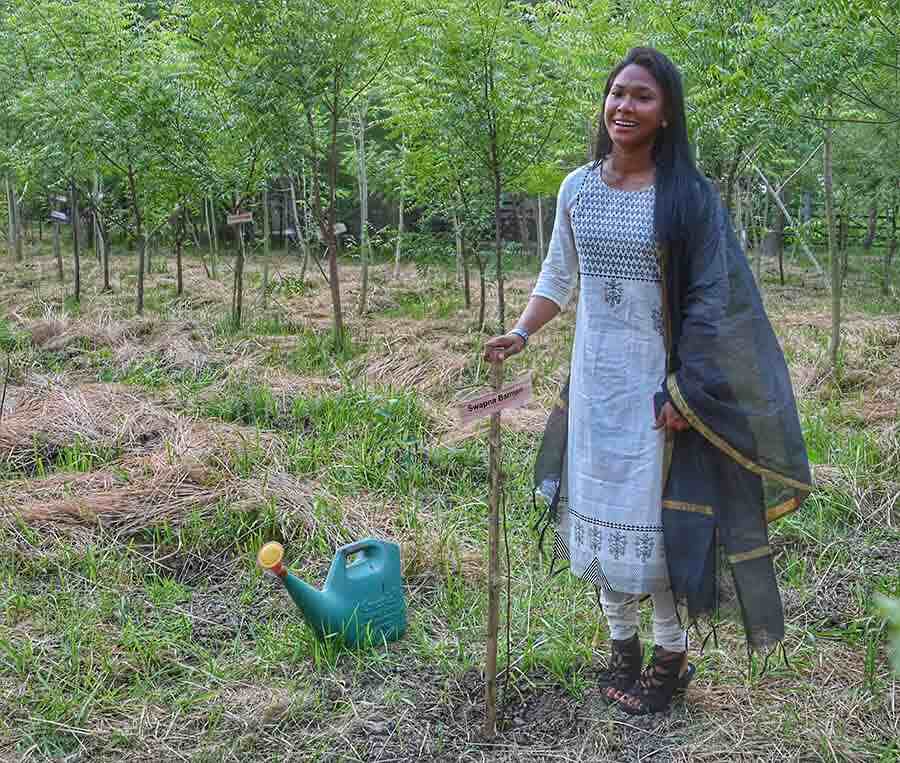 Arjuna awardee Swapna Barman proudly stood with a sapling she planted. 'Oxygen, which we get from trees, is a basic necessity for survival. This initiative by Siddha Group is very important as the number of trees is outnumbered by humans.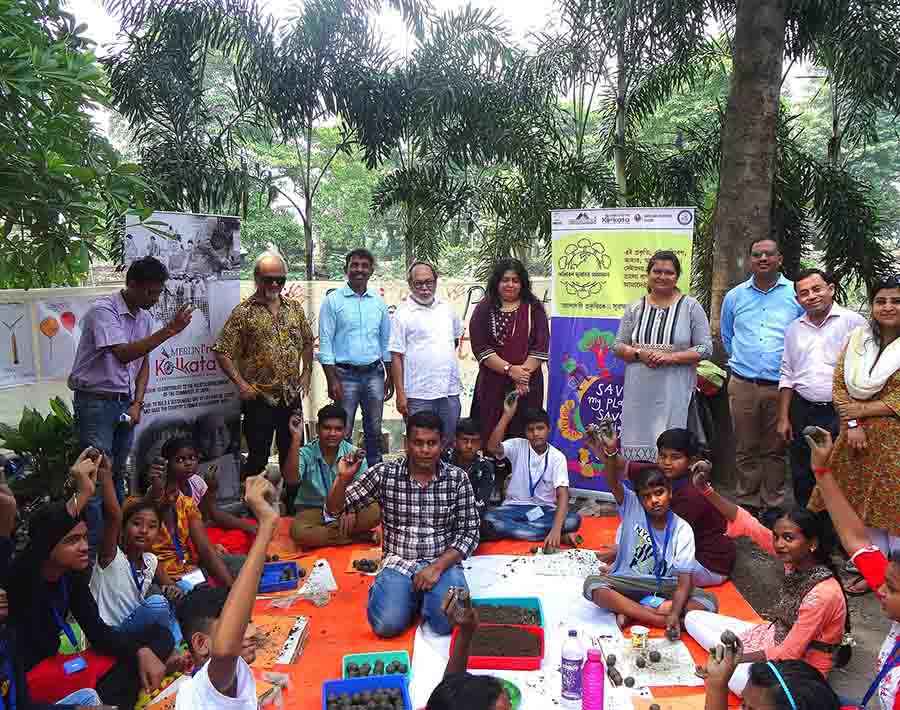 Merlin Group began its World Environment Day celebrations with a series of workshops for slum children, followed by a plantation drive. The CSR wing of Merlin Group joined hands with international child rights organisation Terre des Hommes Suisse and Development Research Communication and Services Centre (DRCSC) to protect the planet and make the city greener. The organisation decided to educate and sensitise 20 children from slums about the importance of nature through workshops on seed-ball making, eco-brick making, and a plantation drive. The event started with a seed ball making workshop, where the children were taught an ancient Japanese technique of natural farming where indigenous seeds layered with compost are rolled into a ball of clay to assist germination. This was followed by the dignitaries planting trees and donating saplings to the children. After this, the children were taught how to make eco bricks, where a plastic bottle is densely packed with used plastic to create reusable building blocks, which are used in garden walls, furniture and even teaching materials. The event concluded with a street theatre presentation by the children on the theme, 'Save Trees, Save Earth'.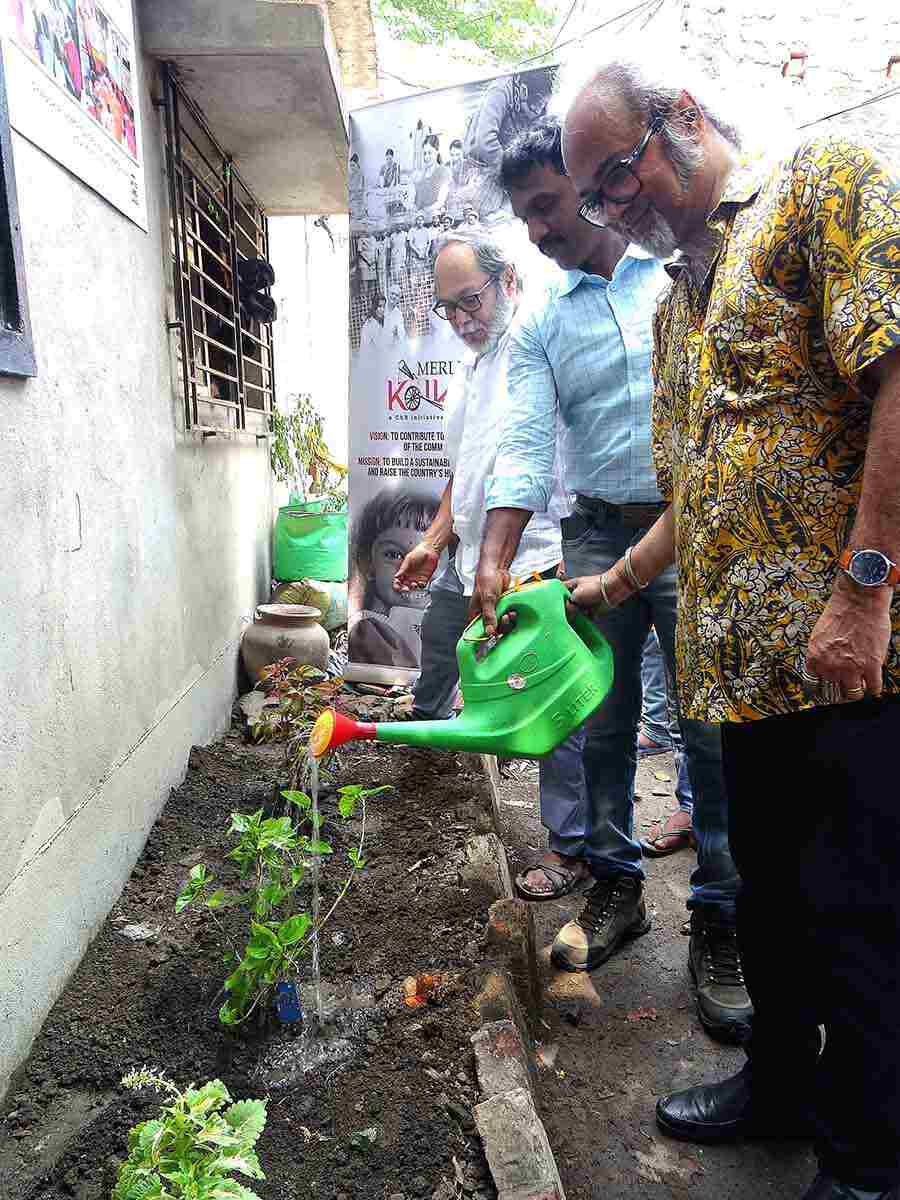 Soumitra Roy from Bhoomi enjoyed watering the plants and being close to nature. The guests, including West Bengal government chief environment officer K. Balamurugan and Bhoomi singer Soumitra Roy, participated in a plantation drive and gifted the children saplings. The event was also attended by Sugata Hazra, former professor of oceanographic studies at Jadavpur University; and Sarbani Bhattacharya, vice-president of corporate communications and CSR at Merlin Group. 'It is crucial to educate children about the pressing issues of climate change. They are the future of our nation and they need to learn measures to add to the green movement. Together we can tackle the issues of global warming and plastic waste management,' said Saket Mohta, managing director, Merlin Group. Ashish Ghosh, regional coordinator (Asia) of Terre des Hommes Suisse added, 'This collaboration will allow us to take a concrete step towards the achievement of education for sustainable development of the most marginalised children of urban slums in Kolkata.'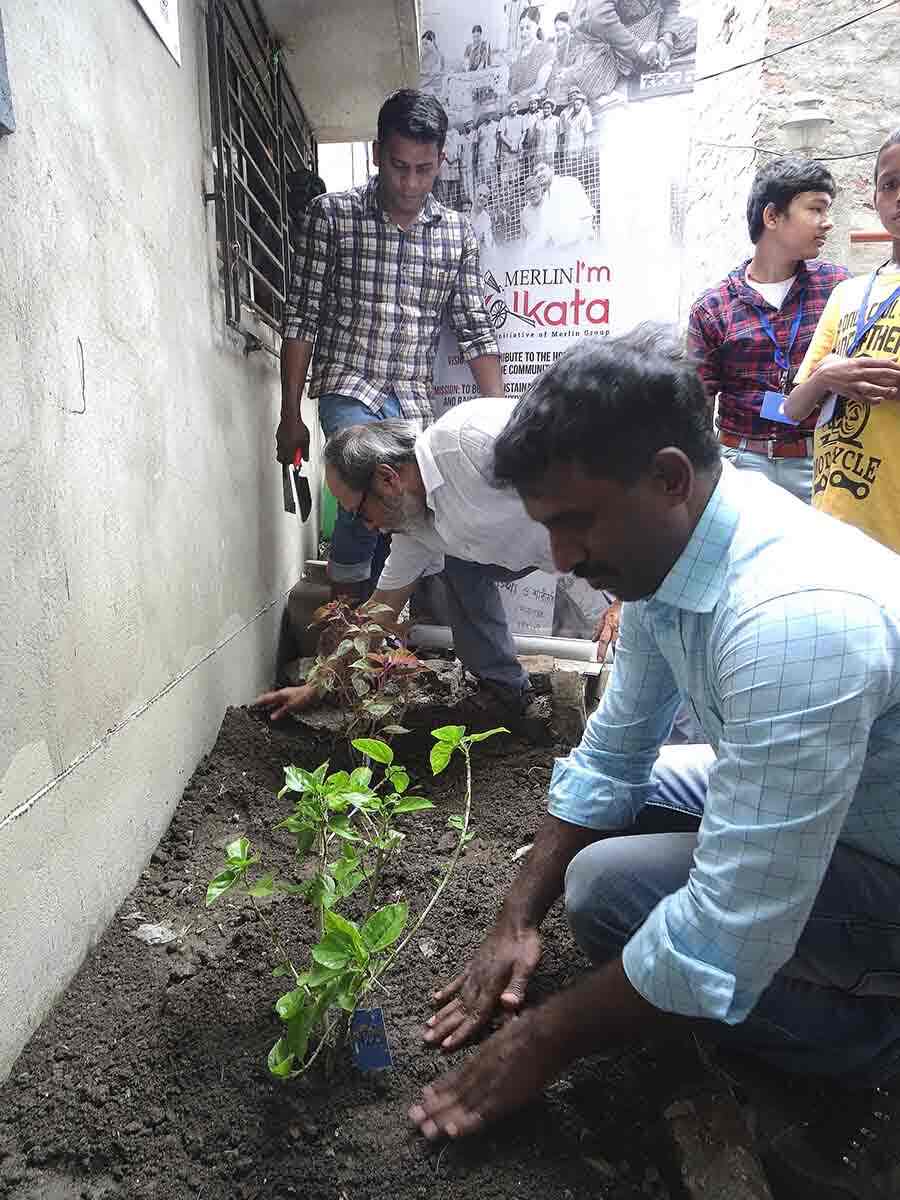 The objective of the event was to help raise awareness among children about the preservation of nature and maintaining an ecological balance. Merlin Group also announced its association with Terre des Hommes Suisse and DRCSC to support the education of children from wards 57 and 58 in Kolkata, covering Dhapadipi, Bethbagan, Kulia Tangra, Tangra Camp and Rajarhat Notunpara. Under this collaboration, the group will support five education centres, impacting the lives of over 400 children.