"When I'm on the court, age and experience don't matter for me. Everyone's the same. I play my game and I play to win," says Sujoy Dutta, the solitary player from Bengal in the line-up of the Kolkata Thunderbolts, partnered by The Telegraph My Kolkata, for the inaugural season of the Prime Volleyball League (PVL).
Born and brought up in Santipur in the Nadia district of Bengal, Dutta, just 22, is delighted to play for his home franchise in the PVL. "I'm extremely grateful that I was chosen to play for the Thunderbolts. It means a lot to me to represent the part of the country where I've spent most of my life," smiles Dutta.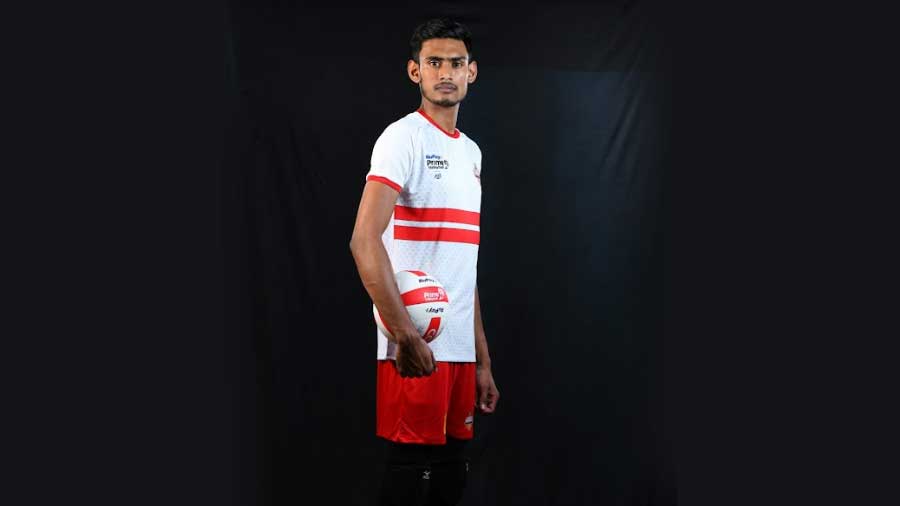 The time Dutta spent in Kerala during his late teens had a massive impact on his game
Kolkata Thunderbolts
Growing towards and through volleyball
At 6'3", Dutta is an integral part of the Thunderbolts's attack, with an estimated spike height of 340 centimetres and a block height of 322 centimetres. But Dutta wasn't always on the taller side. Or interested in volleyball.
"My height shot up rather quickly after I completed my Madhyamik (Class X board examinations). That's when my appetite for volleyball began to grow, too." As a kid, Dutta had mostly played cricket and football with his friends in the locality, before his father enrolled him in a club where volleyball facilities were available.
"It was a lot of hard work and I didn't really have fun initially," admits Dutta, who would barely get to play with the senior players for the first few years. It was only after his increase in stature that volleyball became the passion it is today. "Once I started liking the sport, there was no question of slackening. I'd travel by train for three hours a day to go to Hooghly and practice."
As Dutta's game began to improve, he was advised by friends and well-wishers to go to Kerala to take the next step. "Volleyball has a lot more exposure in Kerala, but I was reluctant to go. Eventually, people around me convinced me and I made the move," recalls Dutta, who went on to represent the Kochi Blue Spikers in the 2019 Pro Volleyball League, where he was part of a group that made it to the last four.
"The Pro Volleyball League was great, but I have no doubts that the standards for this year's PVL are higher. All seven teams are capable of winning the title. There are no easy matches," says Dutta.
Before he became a player to watch out for among volleyball enthusiasts in 2019, Dutta had his breakthrough year in 2018, when he was part of the Indian contingent at the 2018 Asia Men's U-20 Volleyball Championship. An intense tournament in Bahrain made for a "formative experience" for Dutta as India registered wins over New Zealand, Hong Kong and Saudi Arabia, but lost crucial ties to Iran and Japan, which saw them finish 15th out of 23 nations.
First meeting with Ashwal Rai
Playing as a counter, Dutta's role in Thunderbolts is simple — try to make something out of nothing. "The position I play in is often called the 'dustbin' role," chuckles Dutta, before elaborating that "the counter on the court has to receive most of the bad passes and somehow find a way to score points off them".
But Dutta relishes the challenge, especially the adreanline rush of nailing a shot and winning a match-turning point. Surrounded by players who are mostly senior to him, Dutta is trying to be a sponge right now, absorbing as much knowledge as possible from his teammates.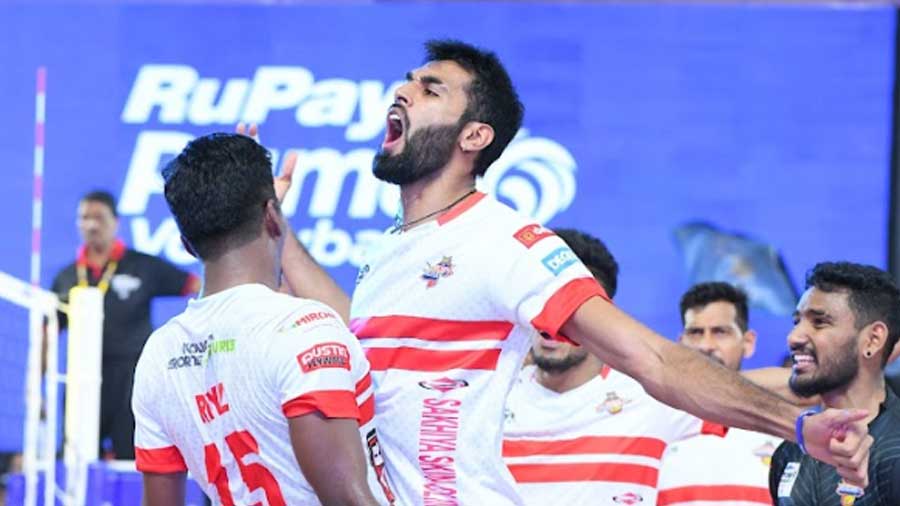 Teammates for the Thunderbolts, Dutta and Ashwal Rai started off on the opposite sides of the court
Kolkata Thunderbolts
"All the players and the coaching personnel at the Thunderbolts are incredibly supportive. Our captain Ashwal Rai is always there to guide youngsters like me. It's a joy to be around him," says Dutta, whose first meeting with Rai was as an opponent. "It was in Sikkim in an exhibition match, where I was playing for the income tax department and he was a part of the Indian Railways team."
Who came out on top in that one? Dutta lets out an embarrassed laugh, before muttering: "He (Rai) did."
As an employee at the income tax office in Kolkata since March 2020, Dutta follows a rigorous schedule when he is not away from the city playing tournaments. "I have an early start on most days and leave my office around half past two in the afternoon. Then I head off to the gym on some days and to the ground on others. Practice is usually between 7:30 and 9 in the evening, which means that I end up going to bed relatively late," explains Dutta.
How difficult is it to juggle his day job and his emerging status as one of India's finest young attackers?
"I won't lie, it's quite hard. More so because I don't often get the sleep I need to recover properly. But I don't have any complaints. I get all the cooperation from my office that I can ask for."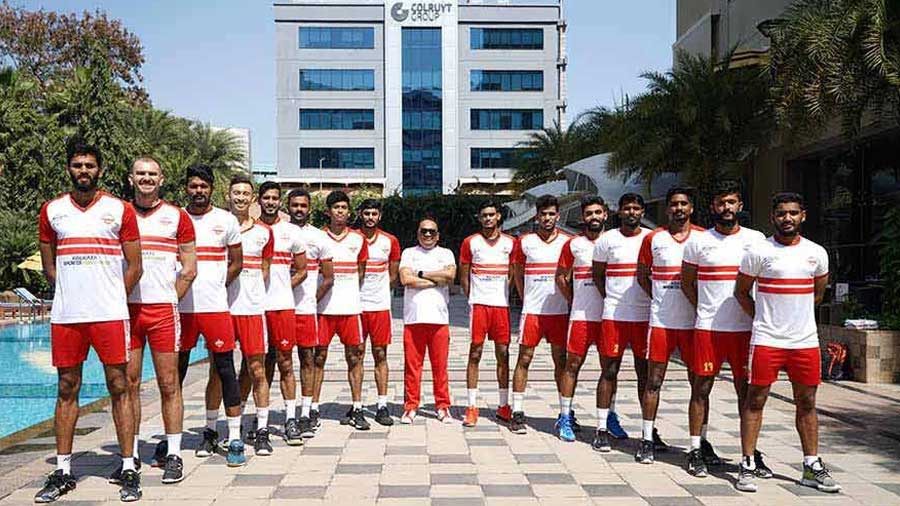 According to Dutta, everything from training to diet is extremely well regulated under the supervision of the Thunderbolts' support staff
Kolkata Thunderbolts
Dutta identifies his lack of regular sleep as one reason he took longer to recover from a disastrous shoulder injury last year (the MRI report showed a crack), which forced him to spend months on the sidelines and ruled him out of contention for a spot in the Indian team.
"I had to make a choice. Do I play through the injury and risk aggravating it or do I focus on the bigger picture and recover completely?"
Dutta went with the second option, something that is already starting to pay dividends.
Love for rajbaris, chicken and MSD
Besides volleyball, Dutta enjoys travelling, with his dream destinations being Indonesia, Malaysia and the Maldives. "I'd also love to go to France to meet my hero Earvin N'Gapeth (a volleyball player with the French national team who is an Olympic and European champion). I'm also keen to go to places of historical importance, like palaces or rajbaris."
A diehard chicken fan — "I wish I could eat more of it but I've got to look after my diet" — Dutta takes inspiration from Lionel "God" Messi and Mahendra Singh Dhoni.
"The fact that people like Dhoni have encouraged so many youngsters to become cricketers in India is amazing. I want to help do something similar for volleyball. My biggest goal is to help volleyball to grow in India so that more youngsters can take up the sport."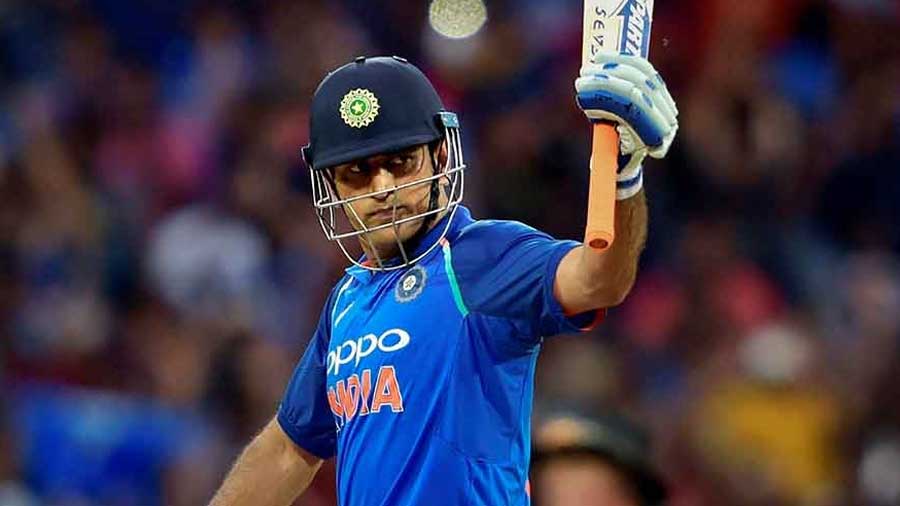 Dutta cites Mahendra Singh Dhoni as one of his major inspirations in life
TT Archives