Every IPL season provides a platform for young prodigies to showcase their talents and the ongoing season isn't any exception. While veterans like Virat Kohli continued to shine on and off, tons of youngsters showed up and played match-winning innings which elucidated their worth and ensured a bright future for cricket as well.  
As this season of the Indian Premier League is drawing close to a curtain call, here's The Telegraph's take on the Top Ten Best Performing Players in this year's edition of the IPL.
YASHASVI JAISWAL
Team: Rajasthan Royals
Style of Play: Jaiswal is a young Indian batsman well known for his fierce and aggressive batting prowess. He is adept at finding the gaps in the field during the powerplay over and slogging quick runs. He is an embodiment of someone who clubs power with precision, making him a treat to watch in limited-overs cricket.
Past High points: While playing for Rajasthan Royals he had some special moments to cherish. In 2020, he became the youngest batsman to score a half-century, displaying his batting calibre. Jaiswal's performance brought plaudits for his elegant gameplay and maturity for a player of his age. While he encountered difficulties in the last few seasons, his potential as a top-order batsman continued to emerge, and he was still a player to keep an eye on in the subsequent IPL seasons.
Performance in this IPL: As of today, Jaiswal is the stand-out player in this edition of the IPL. Some might argue that being a batsman, Jaiswal is nowhere close to the Orange Cap holder list, but Jaiswal definitely tops the list for the Impact Player of the Season. Jaiswal keeps on breaking records as he recently became the first uncapped player to score the most runs in IPL. He broke the 15-year-old record which was held by Shaun Marsh of Australia. With this, Jaiswal has now amassed 625 runs overall in 14 games, scoring runs at a 48.07 average. He has also bagged one century and five half-centuries in this season with the best score of 124.
FAF DU PLESSIS
Team: Royal Challengers Banaglore
Style of Play: The South African possesses a solid and disciplined style of play. Known for his technical proficiency, he combines a sound defence with an array of attacking shots. Du Plessis excels in building partnerships and displaying a calm temperament, making him a dependable middle-order batsman in all formats of the game.
Past High Points: Du Plessis has some memorable knocks to his name in the IPL while playing for CSK and now for RCB. Over the years, he exhibited his talent and dependability as a top-order batter. Du Plessis was a key contributor to the team's accomplishments, guiding them to several finals and titles. Du Plessis also holds records for his outstanding fielding abilities and amazing catches. He has established a reputation as one of the IPL's most dependable players because of his efforts and leadership abilities.
Performance in this IPL: Du Plessis has touched the 1,000-run mark for RCB in this edition of the IPL. He is currently leading the Orange Cap table with 730 runs scored in this season. Du Plessis has played as an opener for RCB but still has a strike rate of more than 150, which makes him a threat against the opponent teams in the powerplay overs.
RASHID KHAN
Team: Gujarat Titans
Style of Play: The mystery spinner from Afghanistan has a wide array of variations in spin, primarily leg spin. Known for his attacking and aggressive playing style, he routinely confuses batsmen with his deceptive variations, quick spin, and precise line and length. Rashid is a formidable wicket-taking danger in limited-overs cricket, thanks to his fast arm action and fearless demeanour.
Past High Points: He emerged as a standout player for the Sunrisers Hyderabad. Rashid continuously delivered economical and effective spells, confusing the batsmen with his variation. He now owns the record for the greatest IPL spin bowling statistics, taking three wickets for only seven runs.
Performance in this IPL: Rashid Khan in this season of the Tata IPL has been phenomenal with both the bat and the ball. His match-winning knock in the game against Mumbai Indians earned him laurels as he hit a plethora of boundaries, making him the highest-scoring No. 8 batsman in IPL history. Additionally, Rashid took four wickets in the first innings as well. He became the first Gujarat Titans batsman to score most sixes in an innings and also second bowler in T20 cricket history to take 550 wickets. He also has 25 wickets to his name as he eyes the Purple Cap.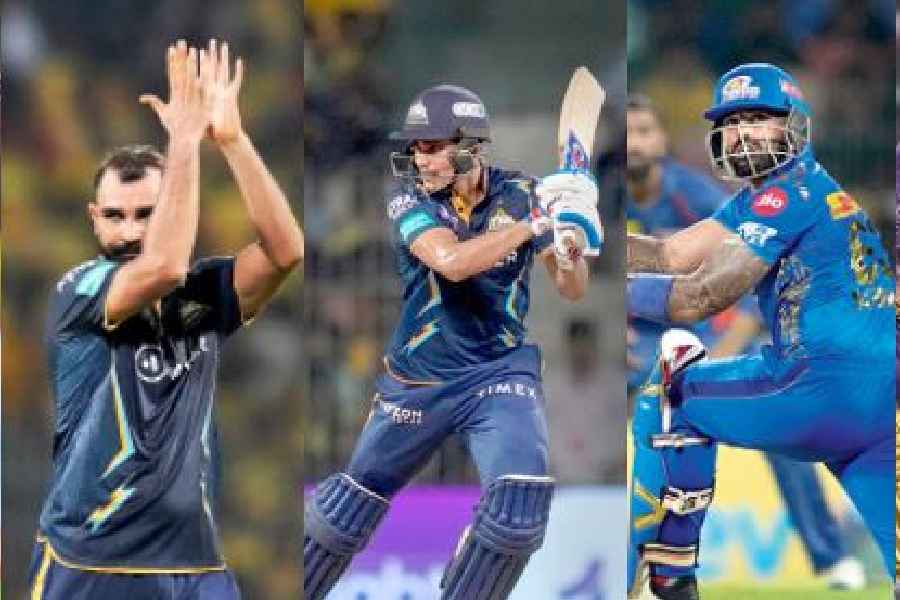 MOHAMMED SHAMI
Team: Gujarat Titans
Style of Play: Shami, the Indian fast bowler, exhibits a skilful and aggressive style of play. With his exceptional pace, swing and accuracy, he poses a constant threat to batsmen. Shami's ability to generate movement and extract bounce makes him a formidable force, often leading to crucial breakthroughs for his team.
Past High Points: Shami has frequently performed well under pressure, making significant breakthroughs in emergency situations. Notably, he has been effective in the death overs, displaying his ability to bowl yorkers and restrict scoring opportunities. Shami's performances have earned him accolades for his consistent line and length, along with his knack for generating movement.
Performance in this IPL: With one wicket against RCB, Shami moved into first place in the battle for the Purple Cap. With 26 wickets, Shami is one ahead of his partner Rashid Khan and heads the leaderboard. The top order of Delhi Capitals was torn apart by 32-year-old Shami.
SHUBMAN GILL
Team: Gujarat Titans
Style of Play: Gill, the young Indian prodigy, exhibits a stylish and composed style of play. With his elegant strokeplay and solid technique, Gill displays a calm demeanor at the crease. He combines solid defense with fluent stroke-making, showcasing his ability to handle both pace and spin with confidence and precision.
Past High Points: Gill has had several standout performances in IPL over the years. He has shown a remarkable ability to build innings and play anchor roles, often providing a solid foundation for his team's batting line-up. He has played some crucial match-winning knocks. Gill's strokeplay, impeccable timing, and ability to find gaps in the field have earned him accolades. By hitting a century in a Test, an ODI, a T20 International, and the IPL all within the same calendar year, Gill made cricket history.
Performance in this IPL: Gill made headlines as he scored a century in two consecutive matches for his side Gujarat Titans. Gill is a very important future prospect for the Indian national team as the pundits heavily praised him for his maturity while playing even at such a young age. Gill has already scored 722 runs this season, making this a personal best and he has an average of 55 runs right now.
SURYAKUMAR YADAV
Team: Mumbai Indians
Style of Play: Suryakumar Yadav, an aggressive right-handed batsman, exhibits a captivating style of play characterised by elegant strokeplay, fearless aggression, and a wide array of shots. He combines innovation with classical technique, displaying superb timing and placement, making him a dynamic force in the middle order.
Past High Points: Suryakumar Yadav (popularly known as SKY) has been a part of some memorable run-chases at the Eden Garden. His versatility of shots makes him a class apart from the other Indian batsmen.
Performance in this IPL: The 16th edition of the Indian Premier League will always be close to Surya Kumar Yadav as he bagged his maiden IPL century. The World No.1 T20 batter scored the century with some Suryakumar-esque batting which shall be cherished by the Mumbai loyalists for some time. SKY has also scored 544 runs this season. Yadav also has a fierce strike rate of 183, which makes him a formidable force down the batting order. SKY would desire to continue his pace as the most successful franchise has reached yet another level.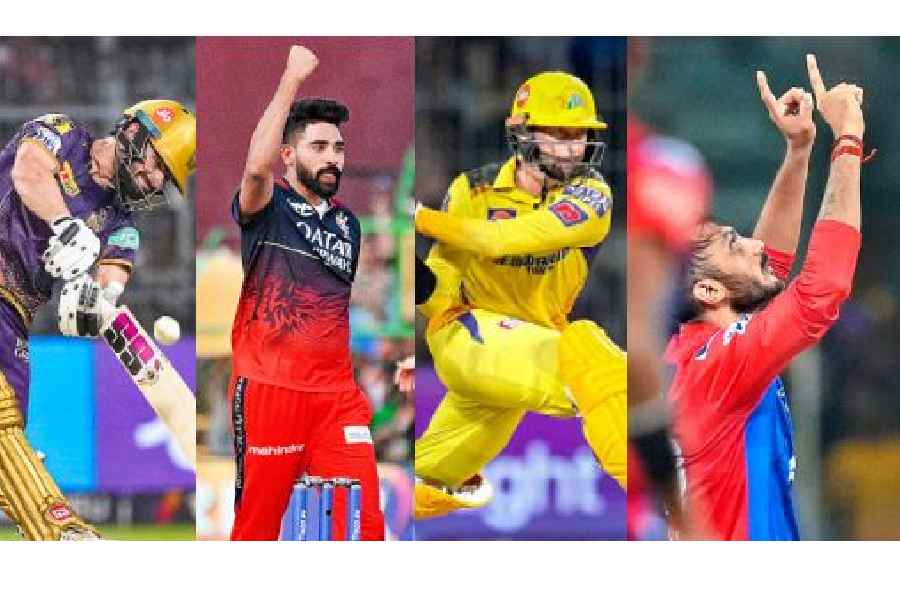 RINKU SINGH
Team: Kolkata Knight Riders
Style of Play: Singh, a left-handed batsman, showcases a powerful and aggressive style of play. He possesses a wide range of shots and is known for his ability to hit the ball with brute force. Rinku often plays attacking strokes, targeting boundaries and clearing the ropes, making him an exciting player to watch in the middle order.
Past High Points: Rinku debuted in the 2018 season of the IPL. Although he had a bumpy start to his IPL, he tried to capitalise whenever he was given an opportunity.
Performance in this IPL: Rinku has turned out to be an absolute cheat-code for Kolkata Knight Riders this season. He was the only shimmering hope throughout the tournament. From hitting five straight sixes to scoring formidable knocks at crucial points of the season, Rinku has done it all. The only bright spot in KKR was Rinku Singh. Scoring around four half-centuries with a vicious strike rate of 149, Rinku must be incorporated into the national team, we think.
MOHAMMED SIRAJ
Team: Royal Challengers Bangalore
Style of Play: Mohammed Siraj, an Indian fast bowler, is known for his aggressive and disciplined style of play. He has a natural ability to generate pace and bounce, making him a formidable force in the bowling attack. Siraj has the skill to swing the ball both ways and is known for his accuracy and ability to consistently hit the right areas, creating pressure on the batsmen.
Past High Points: In 2020, he became the first bowler to bowl two maiden overs in a single IPL match against Kolkata Knight Riders. He also recorded the best bowling figures by an Indian in IPL history, taking four wickets for two runs. Siraj's ability to generate swing, maintain accuracy, and deliver crucial breakthroughs has made him a key player for Royal Challengers Bangalore.
Performance in this IPL: With 19 wickets in 14 games, Siraj has established a reputation for being a sure-fire wicket-taker in the powerplay with a top economy rate. Siraj has bowled a phenomenal 64 dot balls out of the 96 balls he has delivered, conceding runs at a rate of less than 5 per over at that stage.
DEVON CONWAY
Team: Chennai Super Kings
Style of Play: Devon Conway is a left-handed batsman known for his elegant strokeplay and solid technique. He combines a classical approach with modern aggressive shots, making him effective in all formats of the game. Conway is particularly strong on the front foot, playing drives and punches with precision. He possesses a wide range of shots and is adept at rotating the strike, making him a versatile and reliable batsman.
Past High Points: Conway is pretty new to IPL. He had a decent start to his IPL career last year with a daunting strike and caught the eyes of the different franchises as well. There was a bidding war for Conway in this year's auction but Chennai retained his services. Conway bagged his maiden T20 century in his debut match against England.
Performance in this IPL: Currently ranked fourth in the Orange cap holder rankings. He has already bagged 625 runs in 14 appearances this season with a considerable average of just over 50 runs. Currently, Conway has scored the most runs for Chennai Super Kings and will look to add more runs to his tally. He has already scored six fifties this season.
AXAR PATEL
Team: Delhi Capitals
Style of Play: Axar Patel is a left-arm orthodox spinner and a handy lower-order batsman. Known for his accuracy and ability to generate sharp turn, Patel employs a disciplined line and length, making it challenging for batsmen to score freely. He often bowls with a flatter trajectory, aiming to deceive the batsmen through subtle variations in pace and flight. Patel's economical bowling and occasional big hits make him a valuable asset in limited-overs formats.
Past High Performances: In 2014, playing for Kings XI Punjab, Patel scored 369 runs and took 17 wickets. In 2020, representing the Delhi Capitals, he claimed a hat-trick against Sunrisers Hyderabad and finished the tournament with nine wickets in 15 matches at an economy rate of 6.41. He has always turned out to be a valuable asset as a bowler and has also shown his heroics as a middle-order batsman as well.
Performance in this IPL: Although the Delhi-based franchise was not that successful this season, Patel was one of those stand-out players. Patel made some crucial knocks and also took some vital wickets. His phenomenal all-round performance of 34 runs off 20 balls and taking two wickets against Hyderabad speaks volumes of his talent. Patel also had decent bowling statistics as he took 11 wickets in this season.