The dance of joy, unbridled, unfettered. Like the Fountain of Joy at Dhirubhai Ambani Square, Jio World Centre. Like Anamika Khanna's AK-OK which it serenaded on Tuesday night, at the opening show of Lakme Fashion Week in partnership with FDCI. Fashion Design Council of India and Lakme Fashion Week presented AK-OK, a magical mood board of freedom and a nonchalant spirit. Soaring in all its ecstasy, boundless, embracing the call of the heart and throwing caution to the wind. Anamika Khanna breaking free. The risktaker Anamika who leaves you with the ultimate realisation— zindagi na milegi dobara. One life; do what brings joy to your soul. Like the colourful fountain that was an interplay of lights and firework. The warmth of the fire comforting you from behind the water curtain of marvellous colours. The excitement of chasing your passion and the comfort in knowing "everything is AK-OK".
And she wowed with her audacious spirit. Fun and how! With her white cottons, prints in silk, handmade shiboris, uneven hems, embroidery, 3D floral shapes, draped dresses, pyjama sets, caps, jholas, ripped pants, boots, the hint of denim, chunky accessories, the occasional reds and yellow, and abundant mogras. The laid-back charm was a personality in its own as was the enviable Anamika conviction in being your own person. Not fearing judgement or criticism. An effortless ease that was #soattractive.
Just like how Anamika dressed herself. In various shades of white. Top to toe. #socool
We caught up with Anamika for a quick post-show tete-e-tete...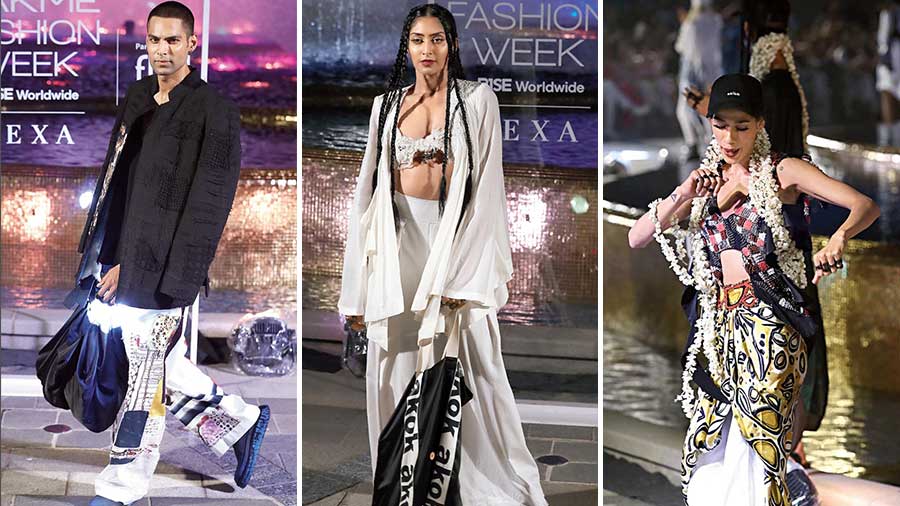 What's the mindset now?
I started having fun. When I am doing my collections, I am forgetting what people are going to say and how people are going to react, what are they going to think. I have actually just started designing clothes only for the love of it. Not for social media, not for people's reaction of it, not for selling it. Nothing. With this spirit of love and freedom and that's what I have started doing. As I am growing up and doing more and more, this spirit becomes stronger and stronger in me. Like my last collection, that's where I started, what's going to happen... maximum this will be my worst. That's where I start. I don't keep that pressure on me that when I design this collection, what's going to happen. We'll see.
Does it permeate to all other aspects of your life also?
It's starting to. I have actually started feeling that freedom now that there is no need to prove a point... that you must do this and must not do this. Of course, I have a great respect for a lot of things... for relationships, for people, the way we live our lives, our culture, but at the same time I also feel that I am not going to live to prove to other people. And that's really percolating in my life. I have been through an episode and ever since I have realised that this life is so momentary. We are here today and gone tomorrow...
Has that set you free?
It has, because I know I might be gone tomorrow. And, it's showing in my clothes and the way I am designing... I am literally saying what will happen... let's do this. This time too I was extremely sick and out for 10 days.... so, what's going to happen, just do it. If it doesn't work, it doesn't work. Life has become like that. What's going to happen?
Happy to see the quintessential Kolkata jhola out there!
Like I said, I don't want to forget my roots and I just feel it's not just about big brands but about what you feel comfortable in. I have reached that stage where nothing matters any more. I will carry a jhola from anywhere and go out easily. I am not worried about are you going to see my brand.... I am wearing a bag, I don't know where it came from. So, it's about that thing that it's okay. What are you going to see if I have this big branded bag... are you going to change your opinion of me? No, right? And, if you do, then you are not even worth it. You are going to respect me for me, my work, how I live and relate with you and whether I am able to give you love or not... that's what is important. And, like I said, I have started having fun. I am still very nervous before a show, but by the time the show started, I was dancing at the back.
The clothes were eminently wearable...
AK-OK is about that. It's ready-to-wear. It is a statement of life that it's a lifestyle that will percolate to wherever and we are leaving it free. We are not putting any age or geographical boundaries. Tomorrow I might present you with a kettle and say, it's AK-OK.
Life is a party, right?
That's how it should be, no? What are we complaining about? We might go tomorrow, we might go tonight....
Your sons were telling us that you probably won't talk to anyone for the next one week...
I think I need that downtime... not just the collection, the stress of it and then the invitations... I need that downtime otherwise I cannot go on with design. You just feel overwhelmed. I am not that person who needs to be seen and I am comfortable going back home and just being. I just feel that freedom in it. I'll be there if I want to be there, but if it's telling on me, my health and work, I'll not be there.
What is success to you now?
I don't think success was a word in my life ever. It never was relevant and it's not relevant still. I hope it's never relevant.... I have just started. Where is the success? When we go out of the country, I am starting from scratch again as an unknown person. I just do this for the love of it. I just love the spirit of what I do. The day I'll finish off, is the day I can't make clothes. The day I feel I am done.
Tell us about your look tonight...
I had no clothes. Literally a ganjee from somewhere... the jacket I managed somehow and the skirt which I had and sneakers I had decided. Last time I wore heels and died! (Laughs)
Pictures: Sandip Das
In the audience....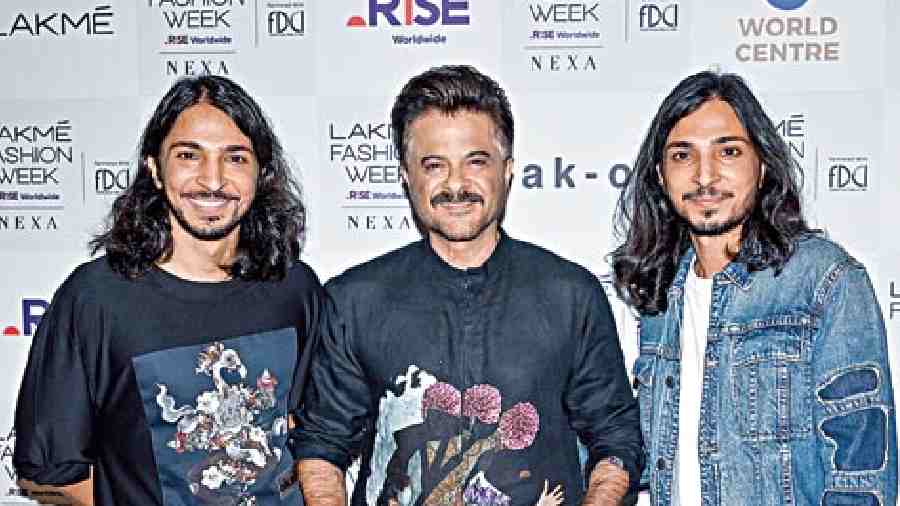 Anil Kapoor dropped by. Seen here with Anamika's twins Viraj and Vishesh
(Picture by: Lakme Fashion Week and FDCI)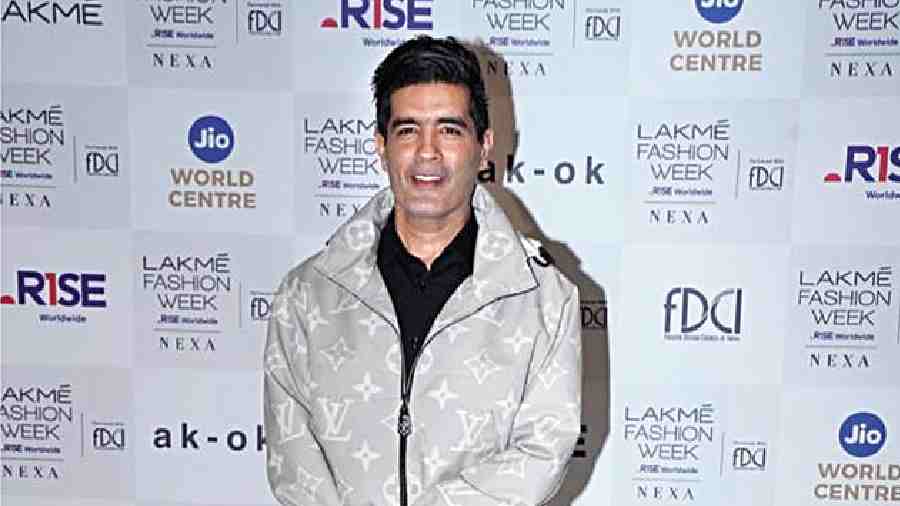 Manish Malhotra was there to watch the show. "AK-OK is a very young brand, Anamika is a popular designer, a friend and we are all here to support her... for the entire design fraternity, you should always come and support and celebrate Indian fashion together," Manish told The Telegraph