Food is a universal unifier. Whether it's chocolate choux pastry at a quaint cafe, a heaped plate of gravy chow and chilli chicken, kathi rolls on the kerb on a balmy afternoon, or a nostalgia-ridden home-cooked meal — good food has the power to bring people together from different walks of life and different corners of the world.
On April 22, 23 and 24, the grounds of Biswa Bangla Mela Prangan will turn into a melting pot of flavours and culture as celebrated chefs from 14 countries will participate in the International Institute of Hotel Management's (IIHM) annual International Food Festival. The three-day event will take place from 4pm-10pm  every day and the final day will also celebrate International Hospitality Day 2022. 
Presented by the Confederation of Indian Industries (CII) and supported by the West Bengal Industrial Development Corporation (WBIDC), the International Food Festival will be inaugurated by state ministers Chandrima Bhattacharya and Sovandeb Chattopadhyay on April 22 at 4pm.
'Experience the camaraderie'
"We are delighted to be able to organise this International Food Festival live in Kolkata. International Hospitality Day is an occasion for the hospitality fraternity across the world to come together and experience the camaraderie that we have shared. The support of CII and WBIDC has added to the event's glamour and prestige," said Dr Suborno Bose, chairman and chief mentor at IIHM.
"This is an unique initiative taken by WBIDC for the first time, and as a food entrepreneur, it feels great to be a part of this team along with Dr Suborno Bose. This is a platform that will showcase some of the best international cuisine in Kolkata," said Debaditya Chaudhury, MD, Chowman Hospitality, who helped initiate this year's edition by proposing the idea to WBIDC. 
A toast to global cuisines
The food festival will raise a toast to global cultures, cuisines and flavours. The chefs, donning native attire, will serve fare that is traditional to their countries for Kolkatans to explore and experience. Participating countries include Malaysia, Sweden, Turkey, Armenia, Mexico, Bangladesh, Namibia, Italy, Iran, Uzbekistan, Afghanistan, Japan, England and India.
"It's a privilege to provide Kolkatans with the tastes and traditions of Namibia! I would love to eat Kolkata's local food and street food, especially the kathi rolls," said chef Terry Jenkinson, the head of culinary arts at Silver Spoon Hospitality Academy, Namibia. Watch his video below: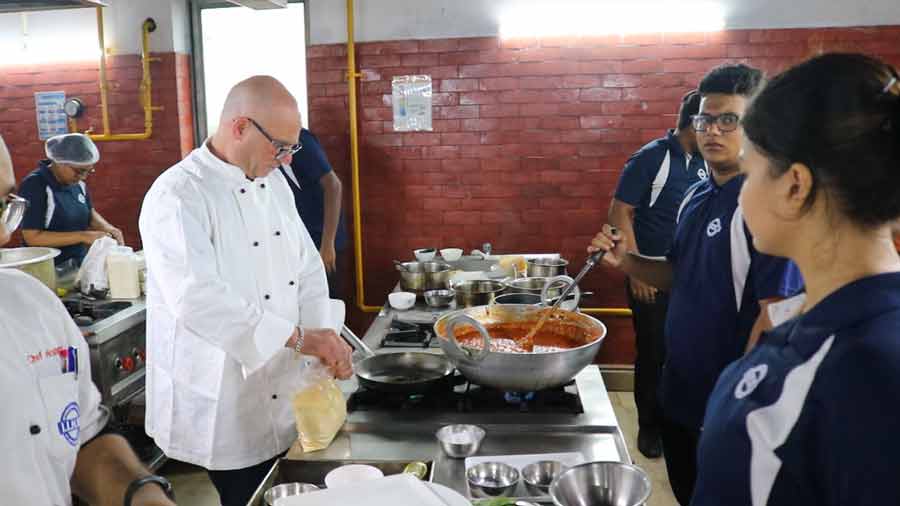 "Seafood is what I like best and Kolkata is known for fish so I'm really looking forward to tasting the local catch!" said Italian chef Enzo Oliveri (in picture above), who owns several restaurants in London and Sicily. 
"I'm extremely curious to see what Kolkata's street vendors have to offer to the public. Kolkata is such a culturally rich place! I am really excited to taste new flavours," said chef Jahida Begum from Bangladesh. 
IIHM's team of chefs, headed by Sudipta Mazumder, will represent India at the food festival. "India's pavilion will have local Bengali specialties with a focus on north Bengal. We'll also incorporate a few dishes that have British and Chinese influences," he said. 
Live music, dance performances and fashion shows organised by the students of IIHM will punctuate the food festival on the evenings of April 23 and 24, adding merriment to the munch.