Students of six Kolkata schools narrated fairy tales with a twist as they explored themes such as consent, sisterhood, jealousy, choice and more at "Where is HERstory?", a digital storytelling workshop organised by the US consulate Kolkata and United Nations Initiative Girl Up, at the American Center on August 25. The workshop emphasised the power of storytelling as a tool in shaping young minds, forming perceptions in public diplomacy and communication. 
The workshop, part of Girl Up — a one-of-a-kind leadership development programme organised globally — was facilitated by Aditi Arora, country manager, India, Girl Up and Siddhi Pal, associate programme manager, Girl Up.
"The Storytelling Bootcamp talks about how the skill (storytelling) can be used for social change and how women and girls in particular are never centred and their narratives are never told. We are connecting young students and changemakers to build a community and friendships. We are trying to train them in the skill of storytelling by giving them thought questions so that they can start analysing all the media that they consume from a feminist perspective. We are trying to encourage them to take this learning back to their peers," Arora said.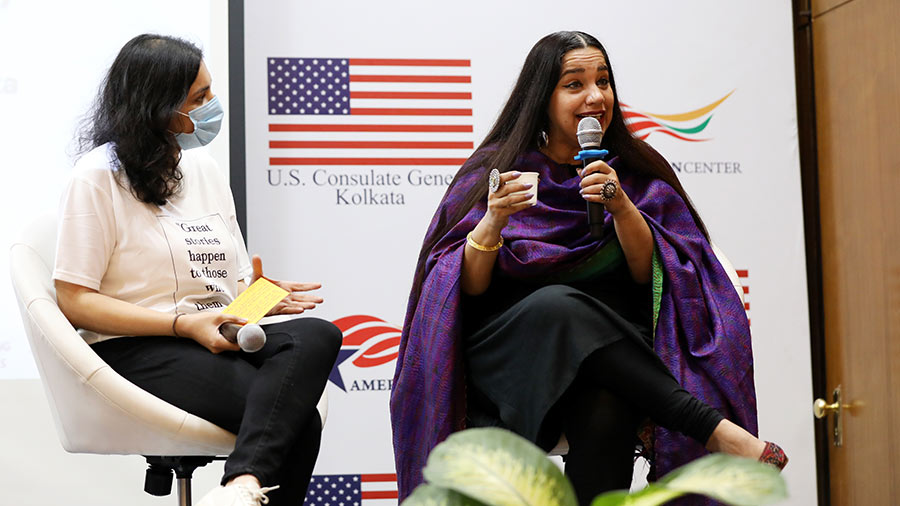 Ramanjit Kaur addresses students at the workshop
Expert talk
Students of La Martiniere for Girls; Loreto Day School, Dharamtala; Shri Shikshayatan School; South City International School; Delhi Public School, Ruby Park; and St Thomas' Girls' School, Kidderpore took part in the four-hour workshop. The workshop kicked off with a talk by Ramanjit Kaur, theatre actor and director and founder-director of The Creative Arts.
Kaur's narration of her journey left students with some valuable insights. ''As long as my art stirs you in the head and the heart, my work is done. Ask questions, that's the one thing I want to leave you with. Follow your heart always. Don't be scared of choosing a career others may not be pursuing. Question yourself, what you would like to do in the next 50 to 60 years and have a smile on your faces," Kaur told the students.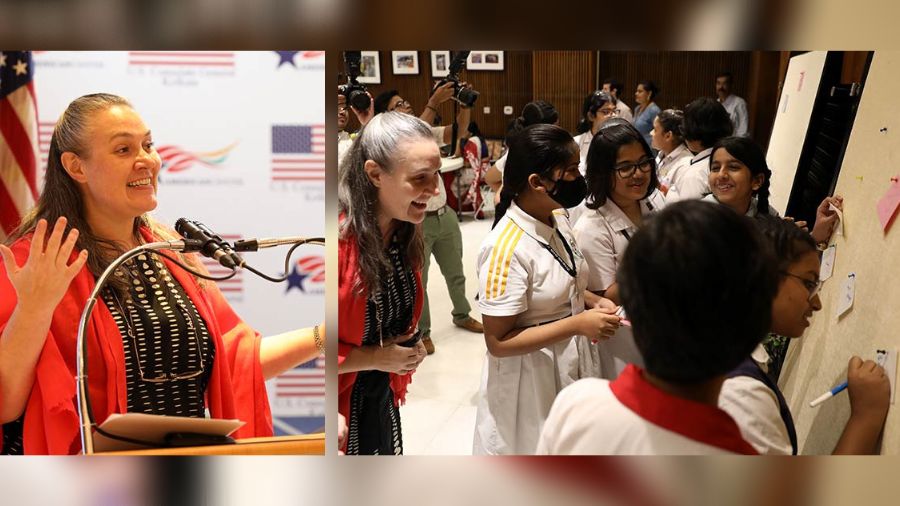 Teams prepare for their presentation as US consul-general Melinda Pavek looks on and (right) Pavek speaks after the performances
Students' turn
The second segment included a re-look at some traditional fairy tales from a girl's point of view. Students were divided into five teams and given 30 minutes to prepare a short skit and present it in front of the chief guest, US consul-general in Kolkata Melinda Pavek.
"I was really touched with all the things you came up with. You did a great job, having some excellent themes. Today, what you did in addition to narrating feminist stories is that you also honed your public speaking skills. Public speaking skills are of utmost importance no matter what profession you get into. It is one of those core skills that everybody needs to have, but it takes practice,'' Pavek said.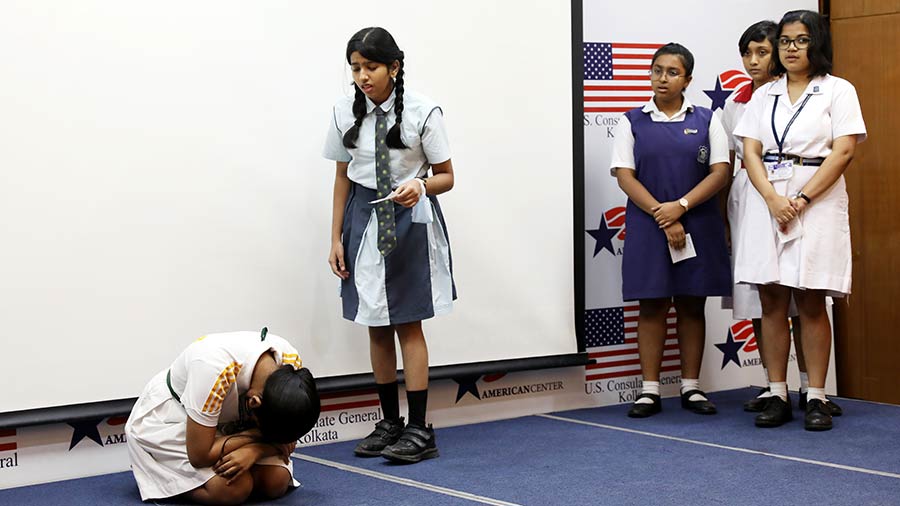 Students retell 'The Sleeping Beauty' from a feminist point of view
Stories retold
The students presented stories like Beauty and the Beast, Sleeping Beauty, Snow White and the Seven Dwarves, Cinderella and The Little Mermaid. They were given five minutes for the presentation. The students explored the themes of consent, sisterhood, jealousy, choice and more through revised twisted narratives.
In the students' retelling of Cinderella, moments before the grand ball, one of the step sisters realises how cruel they had been to her and starts considering her with a humane approach.
In The Little Mermaid, Ariel tries to find an ally in Ursula but realises that Ursula wants her [Ariel's] voice, her greatest asset, in exchange. The play ended with Ariel asking "Why can't I have it all", raising the question why women need to compromise to live on their terms.
Maanya Kejriwal, a Class XI student at La Martiniere for Girls, described her experience as very "empowering". "I feel that in India we live in a patriarchal society and this was very necessary for students of a girls' school. Learning more about how to tell our stories, how to empower those who are not as privileged as us and using storytelling techniques was a great learning opportunity," she said.