The Rotary Club of Calcutta Midtown's annual fundraiser, the Kolkata Kettle, in association with The Telegraph, was a two-day lifestyle exhibition hosted on January 12 and 13 at Erwin Bart on Gurusaday Road. Presenting a beautiful amalgamation of couture, art and craft, the exhibition was a unique experience for visitors where apart from shopping, they had the opportunity to participate and learn through workshops and panel discussions. Craftsmen, artisans and designers from across the country presented their unique products that drew attention. The organisers held panel discussions on the art, craft and tradition of couture in India. The food corner, with bakery stalls offering home-baked goodies and other food stalls, was the perfect spot to chill and indulge in delish delights. Snapshots: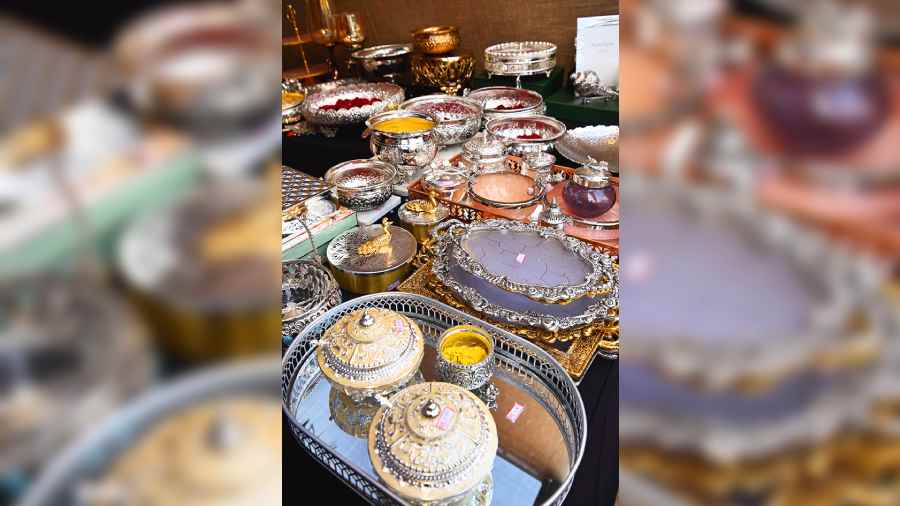 From puja purpose to home decor and gifting, these German silver and silver-plated vessels by Barn by Seema Sanei and Yash Vardhan Sanei come in the rose gold shade, too. Rs 300 onwards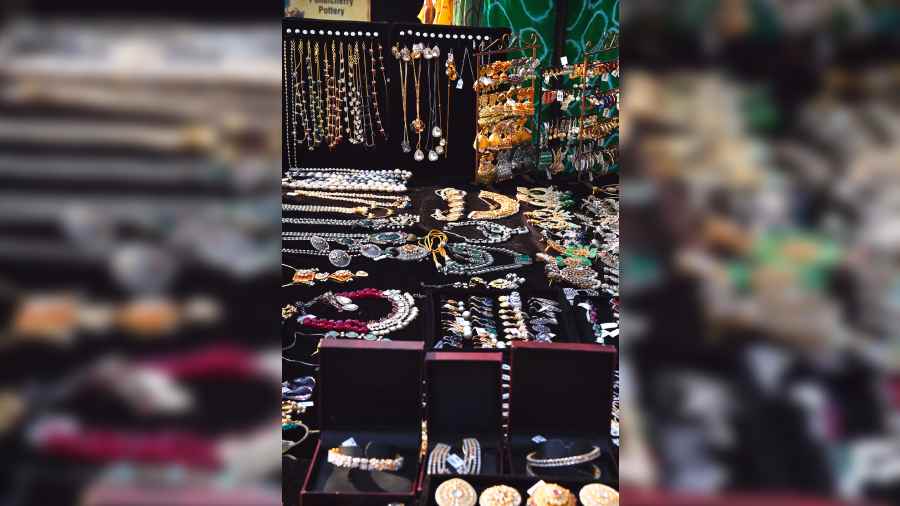 Dori by Meghna Maniar presented a variety of ornaments in pure silver, Swarovski, and polki and was a stop for all the jewellery shopping for the wedding season ahead. Rs 500 onwards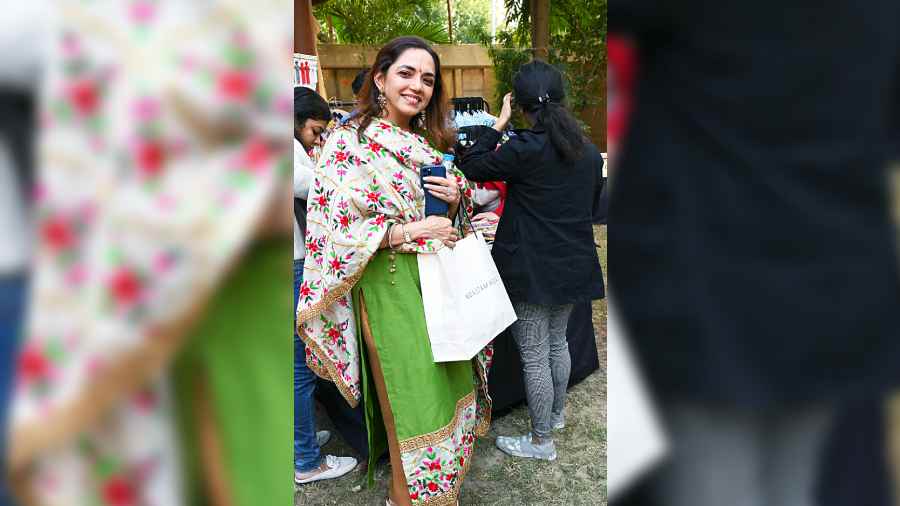 "It is always a pleasure to come to such exhibitions as we can see lots of art and craft products here. It is a wonderful experience to see the team grow every year. I bought a very nice kurta that has unique antique work on it. I also got some beaded earrings to match it," said Poonam Khandelwal.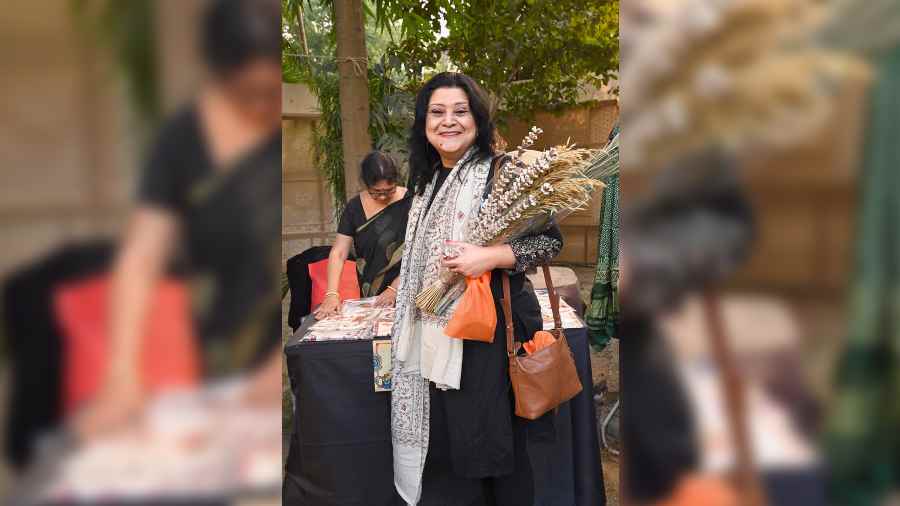 "Seeing how people are empowering not only handicrafts but the artisans and budding entrepreneurs feels nice. I am loving how traditional crafts are upgrading to high fashion. I bought a kantha notebook and shola art," said Suniti Khastgir, executive committee member of the Crafts Council of West Bengal.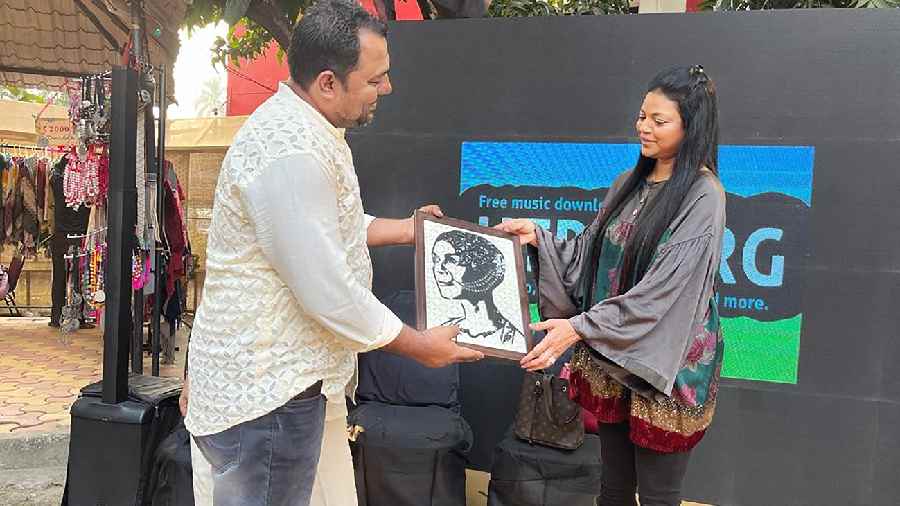 Supermodel Nayanika Chatterjee hosted a workshop and talk session called 'Walk with supermodel Nayanika Chatterjee', where she discussed grooming and how to present oneself in front of others.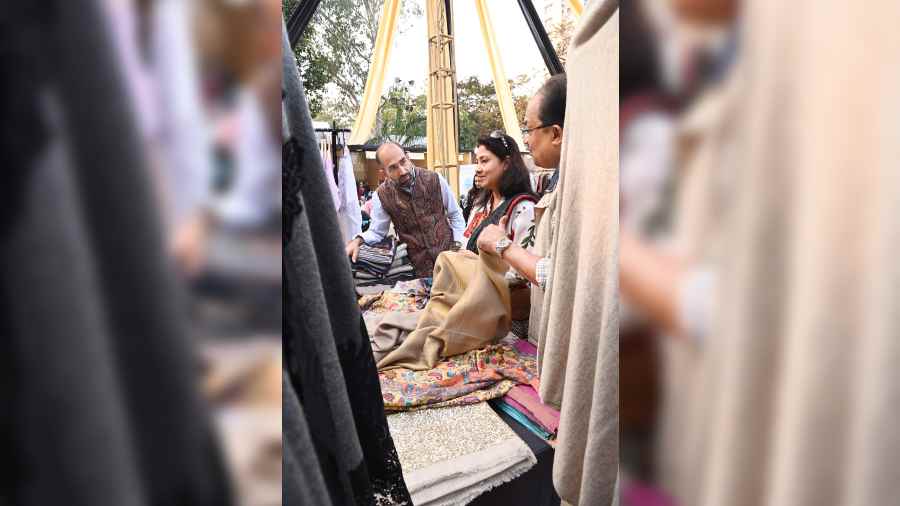 "The exhibition is beautifully arranged and all under one roof. I am thinking of taking this stole and buying a pair of juti. I have come here before and this time my goal is to buy good quality products," said Sharmista Goho, who came with her husband Kaustav Goho.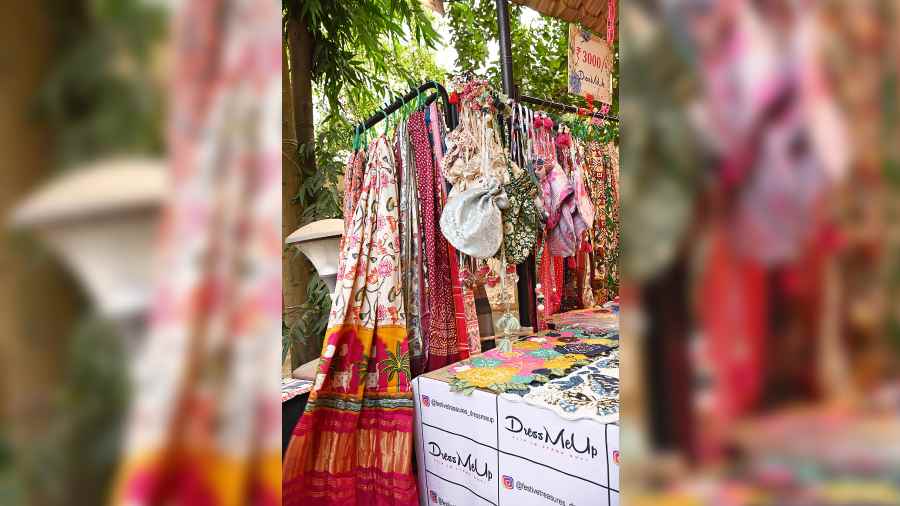 Dress Me Up by Harshita Parasrampiria was a sustainable corner at the exhibition that displayed beautiful potlis and scarfs made of waste and leftover fabric material, perfect for teaming up with both Indian and Indo-western wear. Rs 500 onwards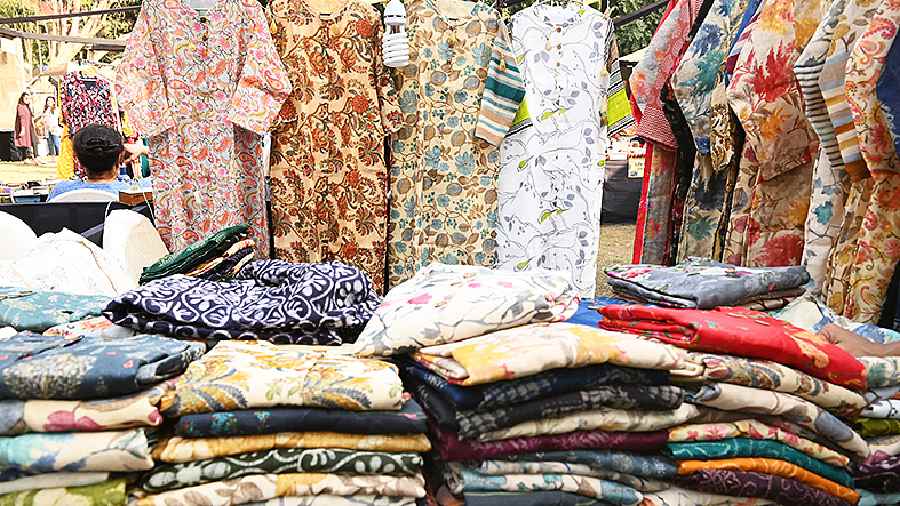 Handloom kurtis from Shambhavi by Chitra Kalanoria are apt as daily workwear. Digital printed, these are easy to wash and maintain and come in beautiful prints and patterns. Rs 2,000 onwards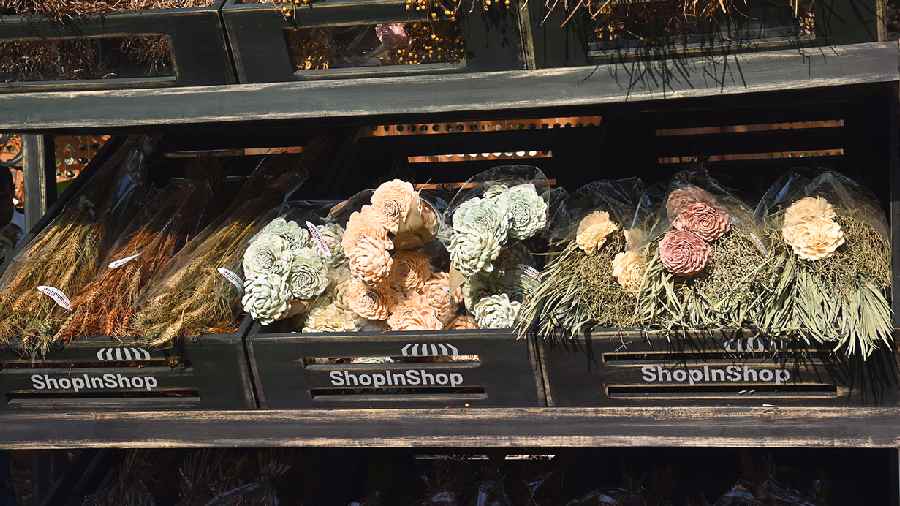 These beautiful natural dried flower bouquets specially designed by Holland designers from ShopInShop are perfect for decorating your house, office or events at home. Rs 290 onwards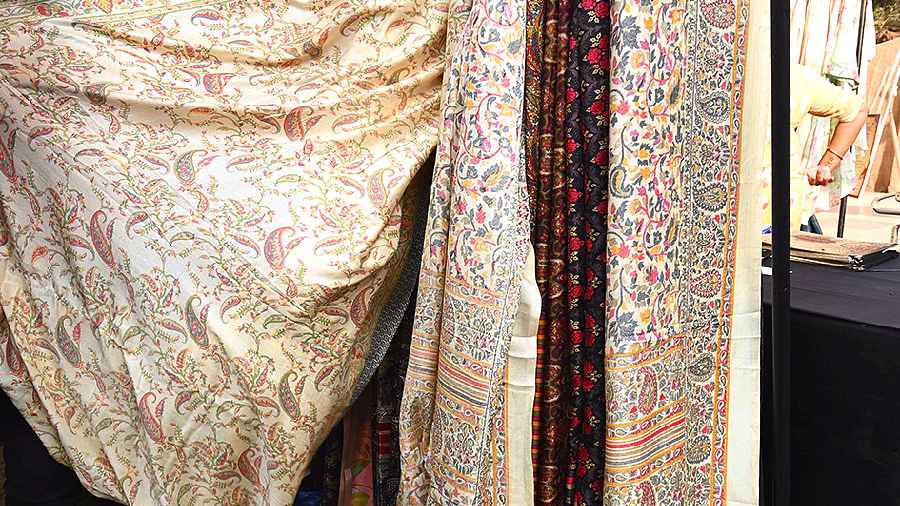 These handloom digital-printed saris in ghicha, pashmina and cotton from Swayamvar by Khushboo Khemka are all about comfort to the skin and are easy to carry. Rs 3,800 onwards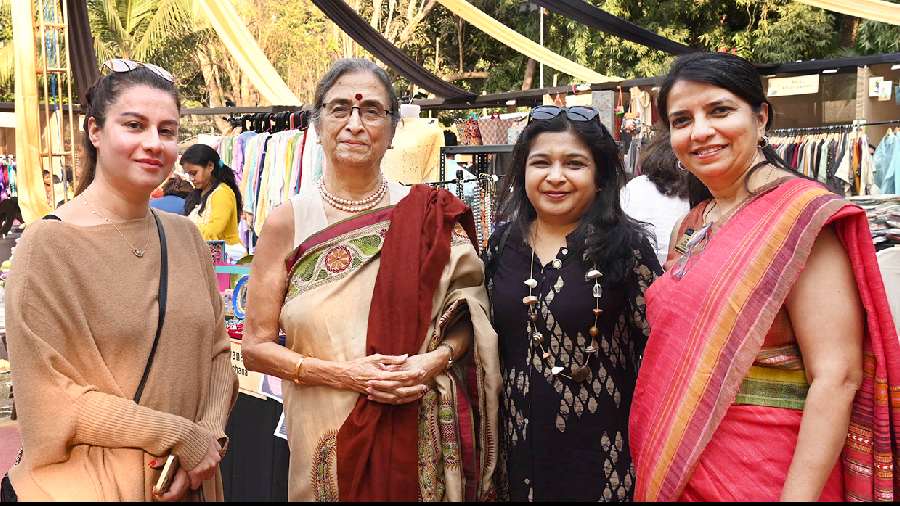 (L-R) Suchi Narula, Shamlu Dudeja, Shalini Agarwal and Mayuri Modi Doshi. "This is the fourth edition of Kolkata Kettle. This time we have a good collection of craftsmen from Gujarat, Delhi and all over the country. The best part is the fun of organising the exhibition. We also raise funds which help us in our projects. This year's resolution is to do more projects," said Mayuri Modi Doshi, president of Rotary club.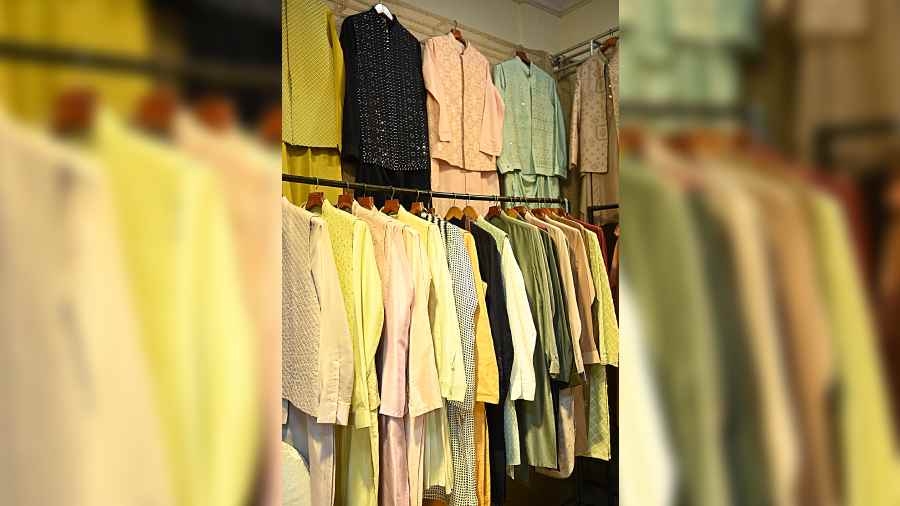 Hand-embroidered kurtas, pyjamas and jackets at Darshika by Radhika Agarwal are apt as occasionwear, be it for weddings or festivals. Rs 4,000 onwards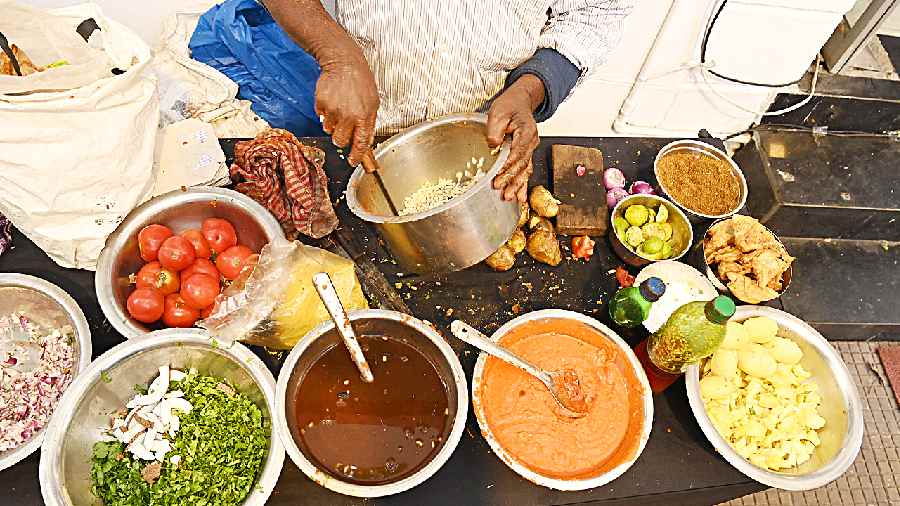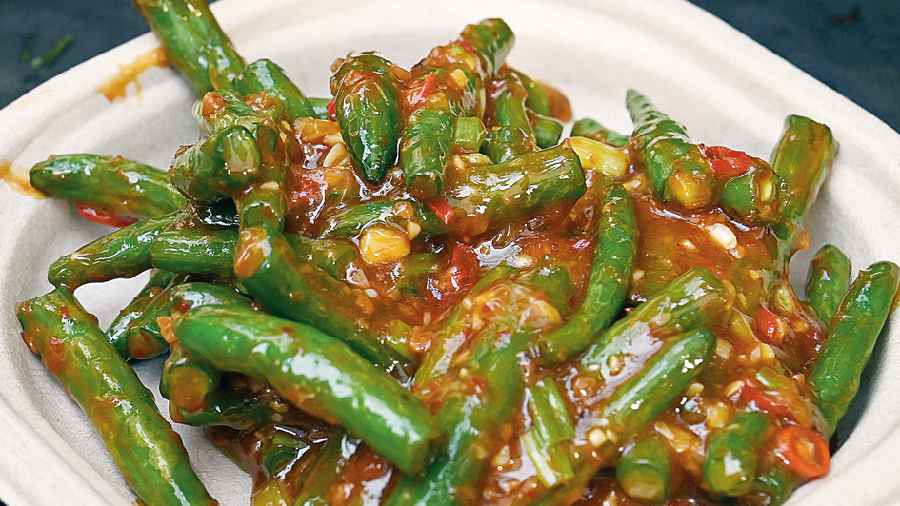 The food corner had options like Masala muri, aloo tikki chaat and Royal China serving dim sum, rice and noodles.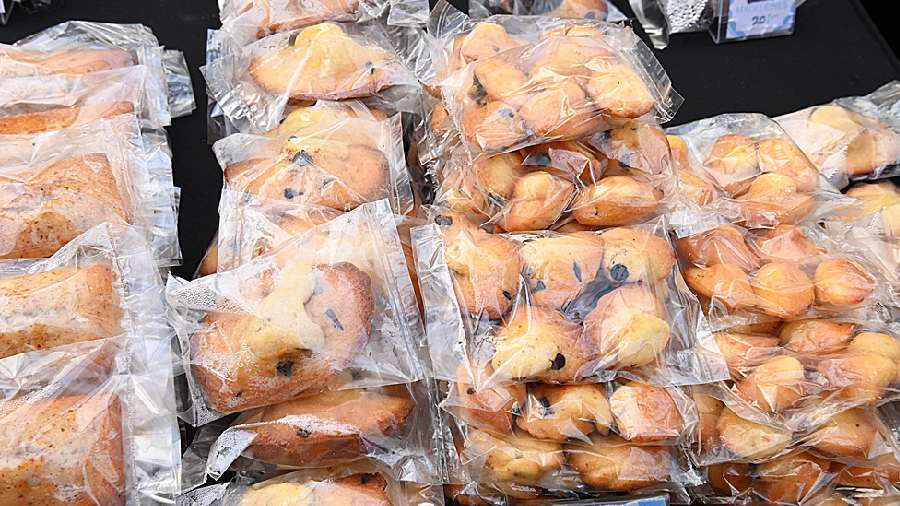 Shuktara brought their delicious bakery items made by differently-abled children. Rs 20 onwards