Nandalal Bose's postcards to his students, his search for spirituality in nature and the influence of the Tagore family on the artist and his works are in focus at an exhibition at Akar Prakar gallery.  
Affectionately called Mastermoshai by his students, Bose introduced his students and fellow professors to the art of postcard drawing. He himself drew on cards and postcards. Most of his postcard drawings are in monochrome — free from the bindings of colours. 
"One of Nandalal Bose's favourite students at Kala Bhavana was Pratibha Sengupta. Not only the students, he also corresponded with their children through postcards. One among them was Babli or Ratnaboli Ghosh, daughter of Pratibha Sengupta," said Debdutta Gupta the curator of the exhibition. 
The exhibition boasts a series of postcards drawn by Bose for Babli. The postcards have images of toys, sceneries and everything a child's mind can think of. The letters end on a sweet intimate note, signed 'tomar Nandadadu'.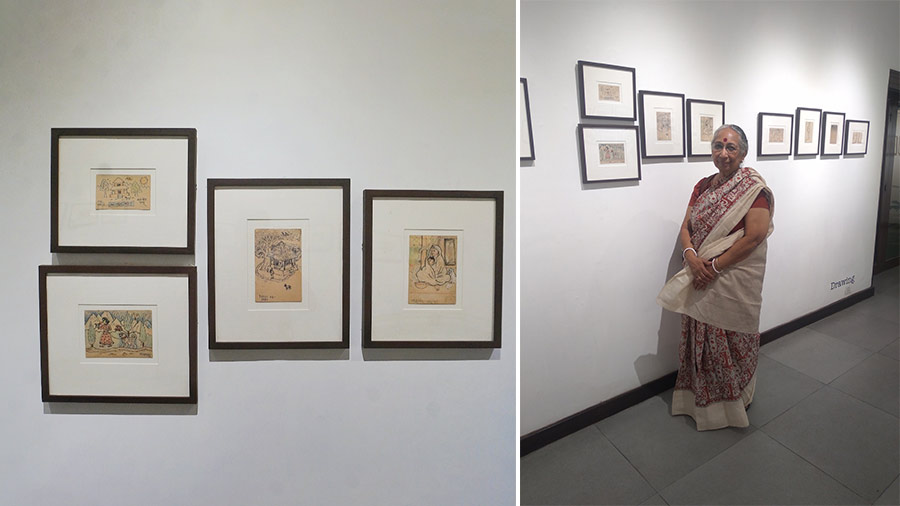 (Left) Letters from Nandadadu to Ratnaboli 'Babli' Ghosh. (Right) Ratnaboli Ghosh at the exhibition
Soumyajit Dey/Barnini Maitra Chakraborty
Babli was present at the exhibition and shared her association with the maestro. "I was only seven or eight years old when I last met Nandadadu. Every year, we tried to visit him on December 3, his birthday. That year, too, we went to Santiniketan. On our way my mother was constantly nagging me with 'don't do this' and 'don't do that'. As we got down from the rickshaw, I wanted to have some narkeli kul from a nearby tree. My mother did not allow me. She said I would have to meet dadu first. I still remember he was drawing in his studio and as Ma entered and told him 'Mastermoshai ami esechhi', he replied 'oma Pushu tumi esechho'. I still remember the love and affection in his eyes," she said.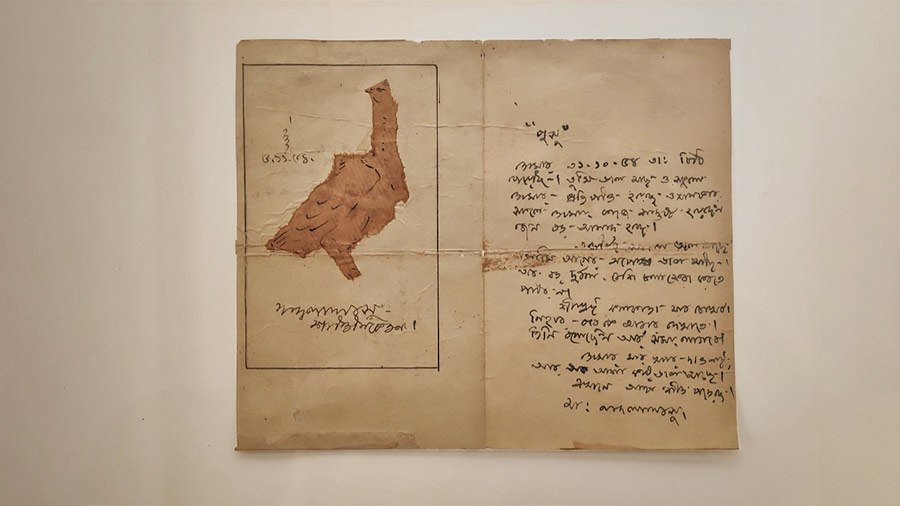 A letter written to Pratibha Sengupta whom Nandalal lovingly called Pushu
Soumyajit Dey
All Bose's postcards to Pratibha Sengupta were addressed to "Pratibha Sengupta, artist". "Nandadadu used to write a lot of postcards to me. I also used to write to him. In one of the letters he wrote 'Tumi amake enke pathale amio tomake enke pathalam (You drew for me, so I too am sending you my drawing'. Such was his affection," Babli recalled.
The exhibition has on display one of Bose's most iconic works — a linocut of Mahatma Gandhi walking with a staff in his hand to mark Gandhi's arrest for protesting British tax on salt. This became an iconic image for the non-violence movement.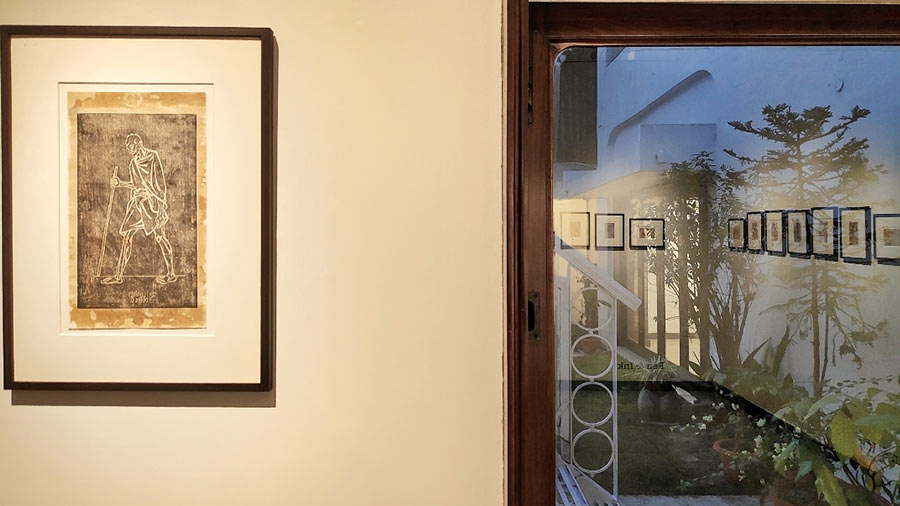 A linocut painting of Mahatma Gandhi
Bose also became known for designing and executing the venues of the Indian National Congress conventions in Lucknow, Faizpur and Haripura from 1935 to 1938. He was asked by Jawaharlal Nehru to sketch the emblems of Bharat Ratna and Padma Shri.
Bose's travels to East Asia eventually paved the way for his huge body of work in brush and ink and strengthened his belief that black and white contain within them the potentialities of all other colours.
One of his most striking paintings is that of a ship and a tree. These two were etched by Ramkrishna Deb on the walls of his mud house at Jairambati. Bose restored the drawing by tracing it.
The exhibition will be open till February 28, 2pm to 7pm, except on Sundays and public holidays.