Effingut Brewpub on Park Street provided a night of nostalgia on June 23 as they introduced a new five-piece Hindi rock band, Punch. Although the word "new" might not be the apt way to define this band as the members are in fact senior muscians of English group Kryptic, which had a successful four-year run till 2010. The gig felt like a breath of fresh air, as after 12 years, vocalist Wriddh, drummer Sayantan Roy, and guitar player Agniva Sen reunited along with multi-instrumentalist Ayan Mukherjee and bass player Tamal Bhattacharjee.
With this new arranagement, the band performed their renditions of popular songs like Dil se, Wake Up Sid, Dil chahta hai and Pichle saat dino mein. The second half of the set saw Ayan pick up his flute and play to the tunes of songs like Saathiya and Tu hi meri shab hai. Besides the experimental covers, the band paid tribute to late singer KK with a mash-up comprising Yaaron, Tu aashiqui hai and Aashayein.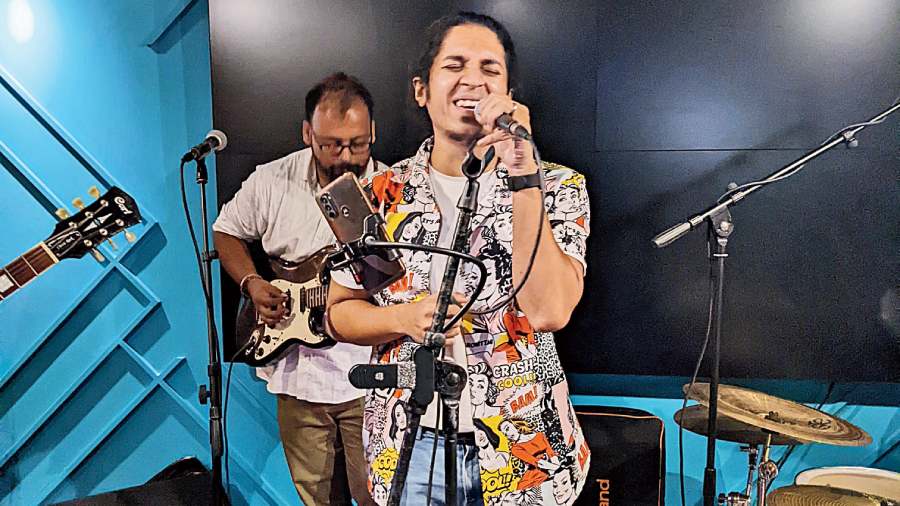 Wriddh in performance at Effingut. "We also want to tour across India to make people dance. I love dancing on stage while performing. We will be open for private and corporate gigs, besides the pubs, clubs and colleges," he said.
Singer-songwriter Rupsha Roy, who had followed Kryptic's journey back in the day, was present in the audience. "I used to watch these guys on stage during college days. At that time, they were Kryptic, a young band that covered classic rock. It's been 16 years since their first gig at Jadavpur University and watching them again is a delight. Their sound and genre have changed, but what surprised me tonight was their energy on stage. Ayan's flute added a fresh sound to Punch; hats off to Wriddh too, who was playing solo gigs in Mumbai in the past few years. His love for live gigs made it happen in Kolkata," she said.
Punch plans to record its originals Sau saal, Ballygunge blues and a few more songs in the coming months.