Dancer, poet, songwriter, scriptwriter, university lecturer, and intellectual property rights lawyer, Dahlia Sen Oberoi juggled her many roles with ease till she felt herself heading towards burnout. A life-changing experience of a month-long yoga teacher's training course led her to pen her takeaways in the candid Ashramed: From Chaos to Calm (Hachette India).
The probashi Bengali unveiled her debut novel at The Sonnet, Kolkata, in the presence of singer Usha Uthup, actress Ritabhari Chakraborty, and her brother Palash Sen of Euphoria.
Sen Oberoi did go back to her career in law after a month at the ashram, but the break allowed her to recognise herself and motivated her to share her insights on work-life balance through her book.
'Why I call it the 'ashramed' state of mind'
In each of the 13 chapters, the author writes about one day of hers at the ashram, highlighting how she had to wake up at 5am, practise difficult yoga postures and attend lectures on the Bhagavad Gita.
"The book is about how a month at the ashram drove me not just towards physical wellness, but also mental, emotional and spiritual wellness. The break allowed me to recognise myself. It made me feel very young and rejuvenated. I'm constantly in that state which I achieved two years ago and that is why I call it the 'ashramed' state of mind," said Sen Oberoi, before reading an excerpt from a chapter that found humour in the way Westerners mispronounce Sanskrit words. 
The title of the book owes something to Sen Oberoi's profession. "The word 'Ashramed' doesn't exist in the dictionary. As trademark lawyers, we encourage people to use words that have no meaning. I created this word based on my transformational feeling at the ashram, for which I could not find any pre-existing English word. 'Ashramed' is an adjective for a state of mind that you can be in anywhere, even outside an ashram. All it requires is to be in touch with yourself, to look inwards, and to be consistent as people," she said.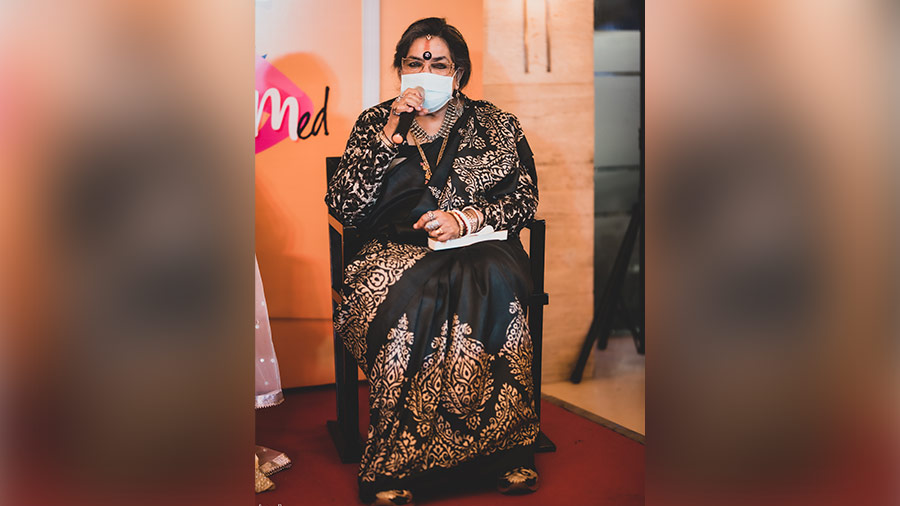 Usha Uthup, too, elucidated the importance of finding an 'ashramed' state of mind
Usha Uthup drew upon her experience of spending 53 years in the entertainment industry to elucidate the importance of finding an 'ashramed' state of mind. She also shared how maintaining a routine had helped her deal with the pandemic.
"I continued to wake up at 4.45am for my recitation. For two whole years, I would get ready and realise that I had nowhere to go. So I ended up walking around my dining room (chuckles). When someone like Dahlia writes about her experiences in a manner that connects with the people without being preachy, that goes a long way. I look forward to being Ashramed for sure," the singer smiled, before singing a few lines from her hit song Darling.
Ritabhari Chakraborty talked about growing up in a house with conflicted notions of faith and how Sen Oberoi's book personally spoke to her. "I believed that yoga would give me a great body and meditation would help me manifest the things that I wanted. It was all about instant gratification. But they had more deep-rooted effects. I can say from my own experiences of taking my body for granted that this book is for everyone," she said.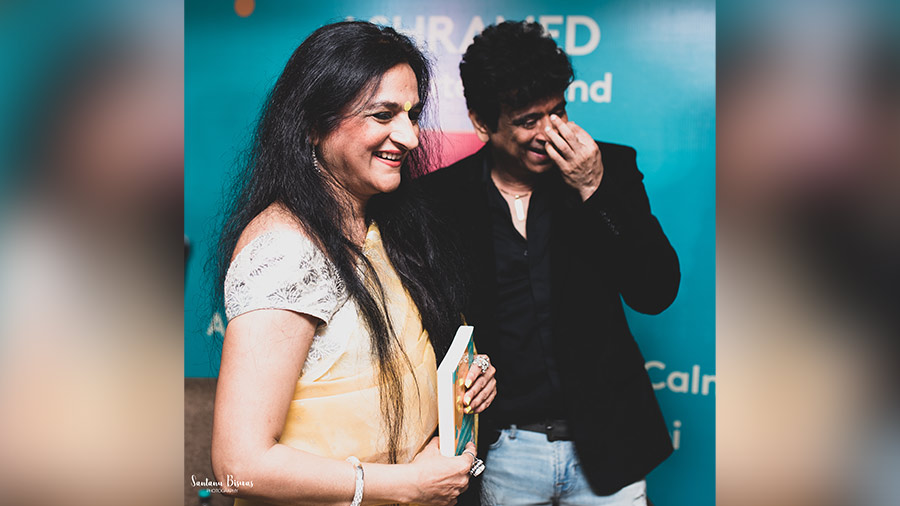 Palash Sen was all praises for his sister and was the first one to read her book
Palash Sen was all praises for his sister, whom he credited with the lyrics of some of Euphoria's finest songs and the scripts for both his short films. "The real force behind me is my sister. Writing was always her forte and my only dream was for her to become an author. After so many years of dedicating herself to her work and family, she got 'Ashramed', came back as a yoga guru, found calm from chaos and is showing all of us the way. I was the first one to read this book and the one thing I can say with absolute pride is that Dahlia is the most honest person in the world, this is an honest book about an honest woman who wants to do something very honestly to make the society more progressively honest."