Bakharkhani and Nankhatai to Halwa Puri and Mawa Laddu and, of course, kebabs and biryani — all these gastronomic delights can be found at Kidderpore and its nearby areas.
Kidderpore and Metiabruz have had several communities living together for over 200 years now and this has had a great impact on the food of the area. From the now popular Awadhi/Mughlai cuisine — the Calcutta Biryani was born here after all — to traditional Bengali fare, from humble idli and dosa in the south Indian households to puff pastries and local breads baked by the Anglo Indians and Europeans who settled here, Kidderpore cuisine is a melting pot of cultures.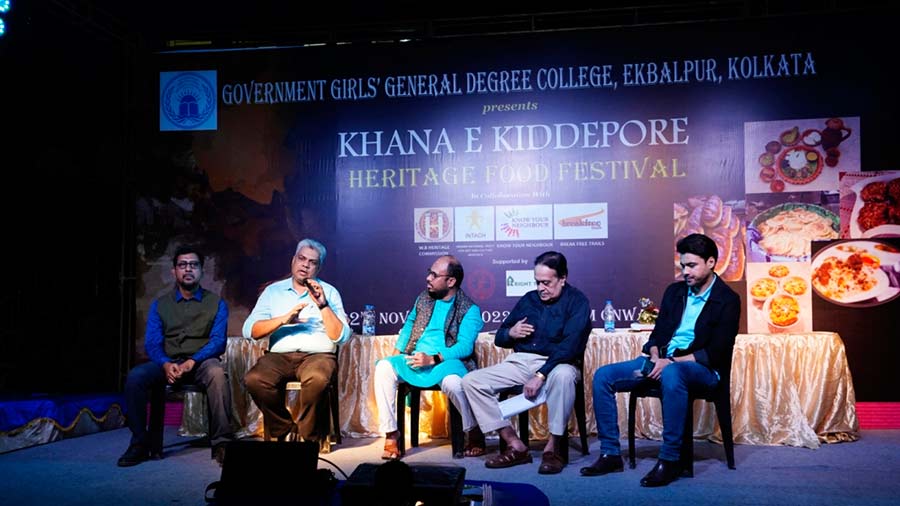 Panel discussion on various aspects of food at Kidderpore. (L -R) Sabir Ahmed, Indrajit Lahiri, Shaikh Sohail,Biswajit Motilal and Asif Ali
Kidderpore is home to K Ali Bakery, the only place in Kolkata where you can buy German bread. Made of flour, milk and butter, the uniqueness of the bread is that its outer part is hard while the inside is very soft. It became popular in Kolkata during blackouts during World War II period in 1942. Local Anglo Indians would stock up on two or three pounds at a time.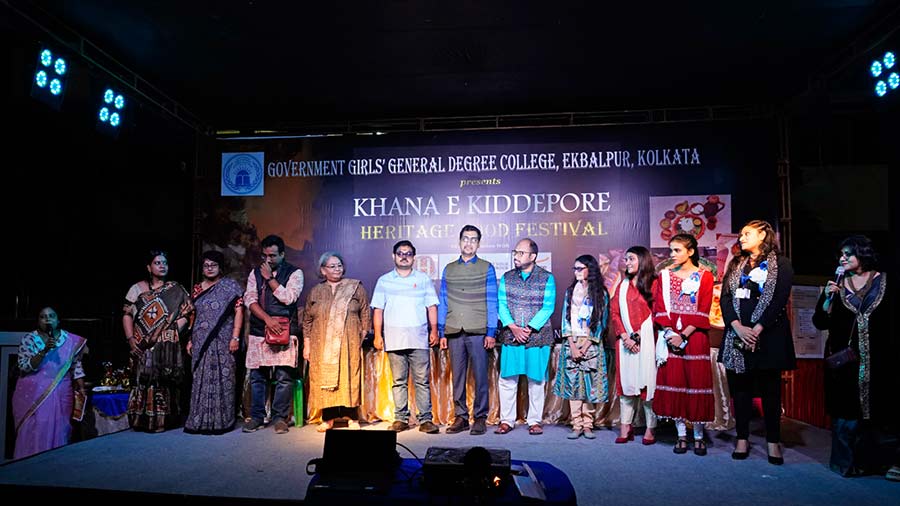 The entire team of Government Girls' General Degree College with main thinktank Antara Mukherjee (Extreme left) and senior journalist Monideepa Banerjie (fifth from left)
On November 22, the Government Girls' General Degree College at Ekbalpore in the Kidderpore area hosted a heritage food fest, Khana-e-Kidderpore, as part of World Heritage Week. The festival was supported by the West Bengal Heritage Commission and INTACH and organised with active inputs from initiatives like Know Your Neighbour and Break Free Trails.
Antara Mukherjee, an assistant professor of English at the college and one of the brains behind the festival, said Khana-e-Kidderpore was different from other popular food fests. The basic intent of the festival was to build cultural ties and act as a bridge between communities.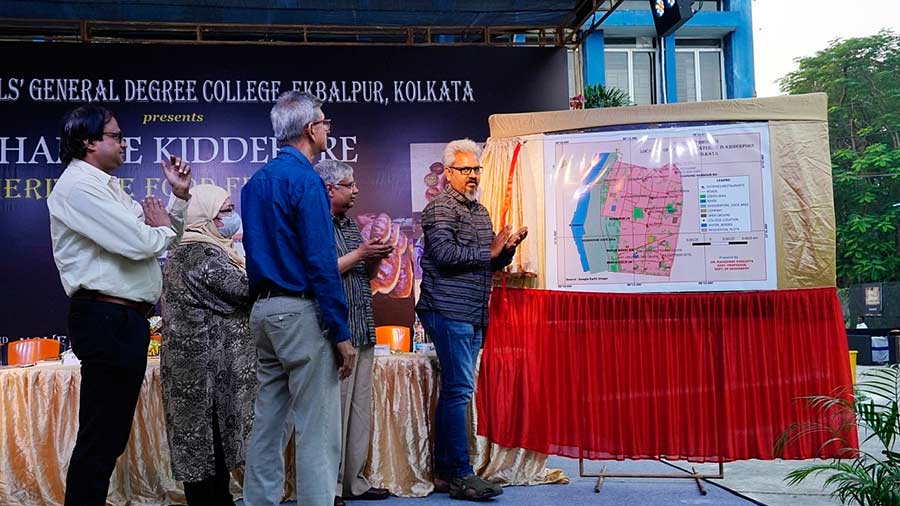 Inaugaration of Food map of Kidderpore area by eminent guests and principal Dr. Syeda Shariqatul Moula Alquadri
The event included a food photography competition where students showcased local food, a cooking competition that had students cooking dishes popular in their family, food-related discussions and stalls set up by local eateries showcasing a wide variety of food that Kidderpore is known for.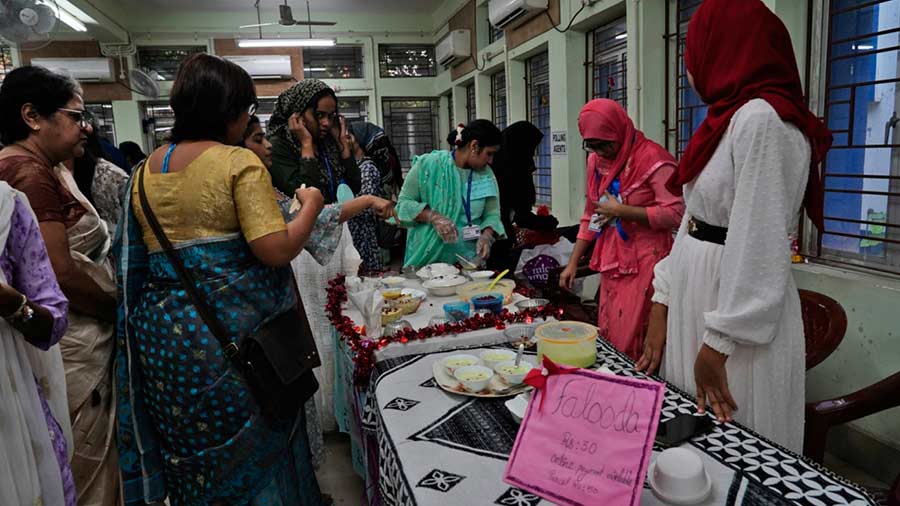 Visitors at the event take a look (and taste) at food prepared by the students
"This food festival has two sides — a social side and an academic side. Coming to the academic part, we have been involved in a detailed food study of the area. This involves creating a unique food map of Kidderpore area, publishing a 20- page food newsletter and a documentary of different types of foods of Kidderpore which includes interviews of different food shop owners of the area. The social side involves asking the local food joints to display their best dishes in the festival which helps the local community to take their products to more people," Mukherjee said.
The documentary was shot over two days by four teachers, four students and one office staff from the school. They were assisted by Sabir Ahmed of Know Your Neighbour and Shaikh Sohail from Break Free Trails.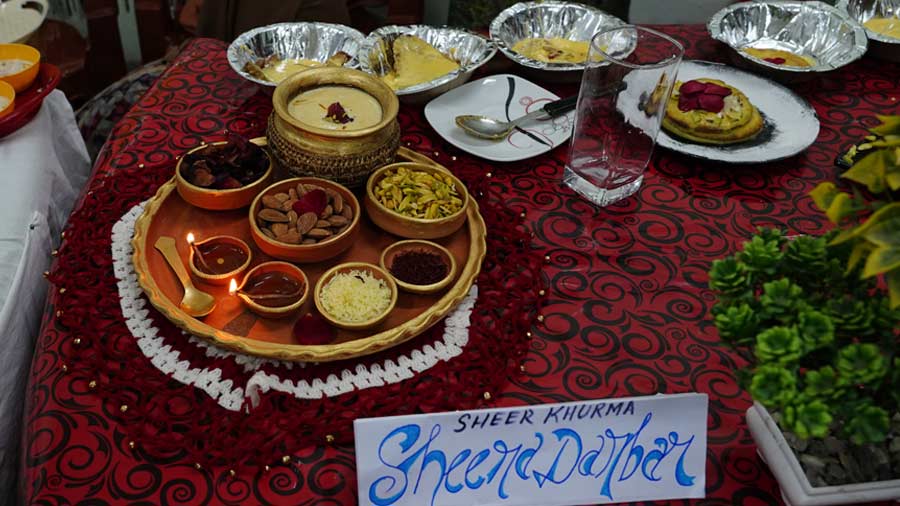 Presentation of home cooked recipes by students in the food festival
"Principal Shariqatul Moula Alquadri has been very supportive throughout the project," Mukherjee added.
The photo competition was judged by blogger, travel writer and photographer Rangan Datta and the cookery competition by Manzilat Fatima. "The Heritage Food Festival Khana-e-Khidderpore was a novel initiative to showcase the heritage food and culture of Khidderpore and adjoining areas. I felt privileged to be a part of this event and congratulate the organiser GGGDC, sponsors and individuals for their efforts towards preservation of the food culture and to create awareness of the same among the new generation," said Manzilat.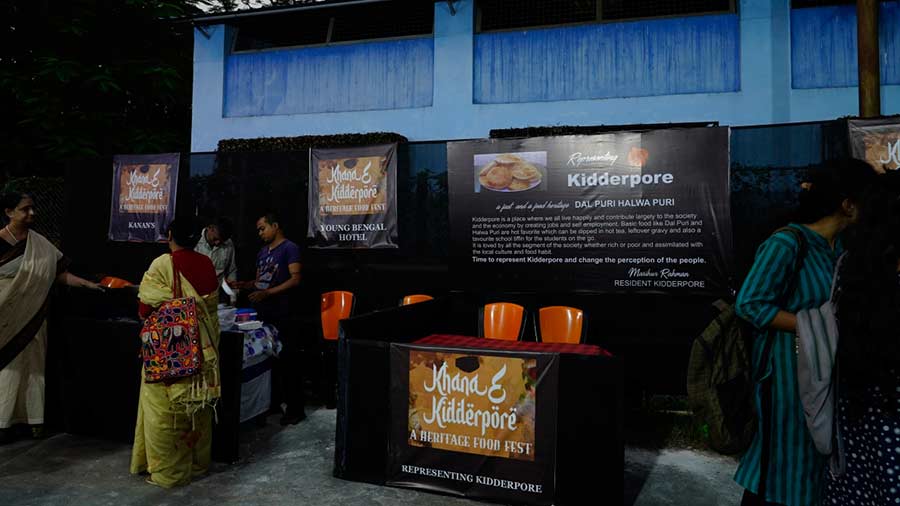 Stalls given in the campus by local joints showcasing their speciality food
The students had opted for desserts as a theme and served Awadhi-Mughlai and West Asian Eastern items. From the staple Sheer Khurma — a vermicelli pudding made during Eid — and Sewaiyan to Khunafa — made with fine semolina dough, soaked in a sugar syrup — the dishes were prepared at home with help from their families and the result was nothing short of spectacular.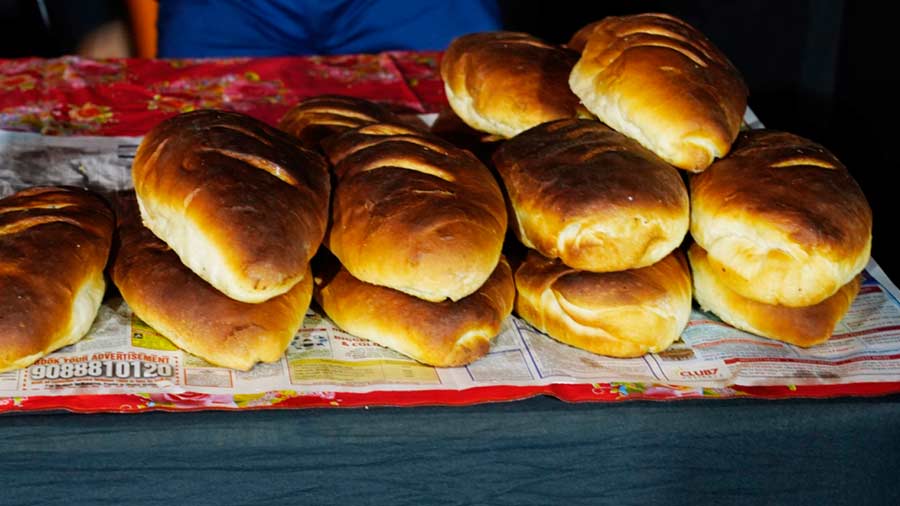 The German Bread from K Ali Bakery, which was once high in demand
A food map of Kidderpore was officially released on the occasion along with a 20- page food newsletter, Dastarkhwan.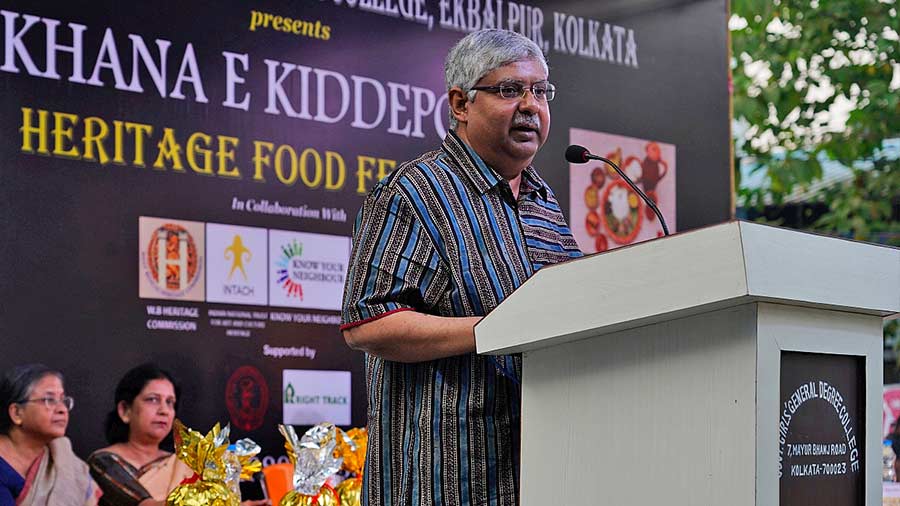 Chief Speaker Nilanjan Hazra speaking at Khana-e-Kidderpore heritage food festival in the school campus of Government Girls' General Degree College in Ekbalpore
Writer, poet and critic Nilanjan Hazra spoke on the origin of biryani and khichdi, tracing them back to Mughal kitchens. He also talked about various types of khichdi prepared with meat.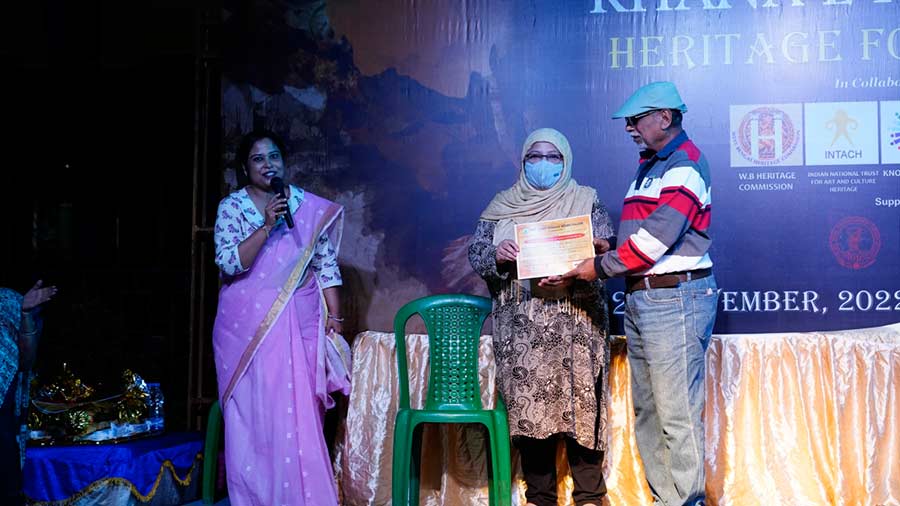 Teacher Antara Mukherjee and and principal Dr. Syeda Shariqatul Moula Alquadri felicitating the owner of a local heritage food joint
A panel discussion on opportunities to promote local cuisines and the changing face of pice hotels were also held. A documentary film on local eateries, like Dipali Cabin, Young Bengal, K. Ali Bakery, Panchu Babu Tea Shop, Haji Allauddin Sweets were screened.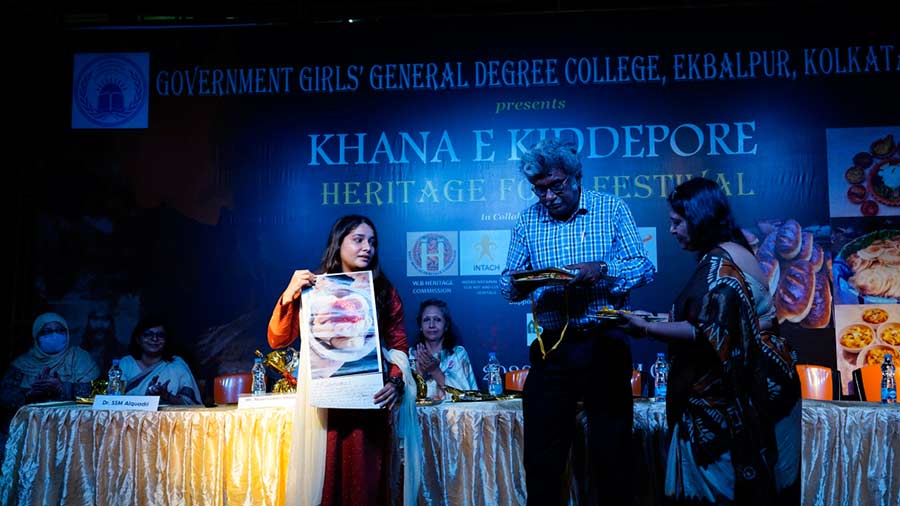 A student showcasing her winning food photograph at Khana-e-Kidderpore heritage food festival
Madhuri Katti from Know Your Neighbour said such programmes will encourage local eateries to sustain their culinary traditions.