A few days ago, I saw updates on a popular Instagram page about Beyoncé's ongoing Renaissance world tour, specifically her concert in Brussels. I shared them with a friend who is a Beyoncé loyalist. He had, of course, been following the updates already. "Awe and wonder as always," he said. "But I also feel sad that she'll never come to India." 
This is a common, and not inaccurate, refrain among music lovers in the country. Beyonce is, indeed, unlikely to come to India to perform, much like other genre-defining musicians and bands who often give Asia (and most certainly South Asia) a miss on their 'world tours'. In India, several factors contribute to this: a paucity of good venues, sky-high entertainment taxes that translate to steep ticket prices, India's reputation for poor management at such events (who remembers the disastrous Metallica concert-that-never-happened in Gurgaon in October 2011?), and, interestingly, the widespread assumption among Western musicians that turnouts at gigs in India will be low. This immediately affects their inclination to play here. 
Then there are scheduling concerns and, of course, profit-related worries: India may be emerging as a market for live music, but promoters still cannot rely on ticket sales to bring in a profit without a big sponsor. Adding to this are the production costs and performance fees of big acts – in 2018, an event management company that had brought Joe Satriani (2005), Sepultura (2007) and Dream Theater (2017) to India said that the expenses for such acts range from Rs 2 crore to more than Rs 13 crore.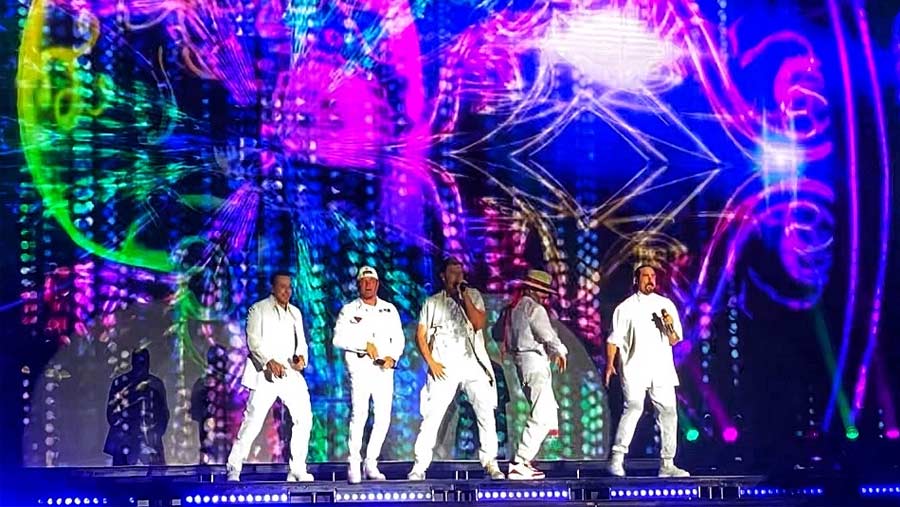 The Backstreet Boys perform in Gurgaon on their DNA World Tour
Photos: Nayantara Mazumder
Finally, a real world tour
Thus, even though the likes of the Rolling Stones, Mark Knopfler, Iron Maiden, Megadeth and U2 have performed in India, these shows are few and far between – and, having been at the U2 gig myself in 2019, it is not difficult to see why. The show itself was tight, and watching Bono live was surreal, but everything else – from the less-than-ideal management to a turnout that was lower than expected – stuck out like a sore thumb.
This is also part of the reason why I always believed that I'd never get to see the pop icons of my childhood live in India, least of all the Backstreet Boys. They had played in Delhi in 2010, but that was sans Kevin Richardson – my favourite – who had taken a sabbatical from the band in 2006. I was sure that the only way they'd ever return was if they were on a mega tour of the world (the actual world, not just Europe and North America).
And then, in May 2023, that happened: the Backstreet Boys – all five of them – came to India to perform as part of their DNA World Tour.
Inventors of the boy band game
I was 10 or 11 when I heard the Backstreet Boys for the first time. Their first, eponymously-titled album had been released in Europe and Asia, and for Indian pre-teens and teenagers living through the 'golden era' of music television in the late 1990s, Quit Playing Games (With My Heart) hitting the airwaves and our screens proved to be a gamechanger in our introduction to bubblegum pop, along with the Spice Girls. And even though they weren't really the first ever boy band – the names New Edition and New Kids on The Block would come to mind first – it can safely be said that they invented the boy band game: the 'guilty pleasure' music acts that few would own up to having loved, but who have, nevertheless, been some of the most successful musicians in history. The Backstreet Boys walked so that the likes of NSync, One Direction and The Jonas Brothers could run. If anything, the only other group of boys who have really defined the boy band genre with their own stamp, one that no other has been able to replicate, is BTS.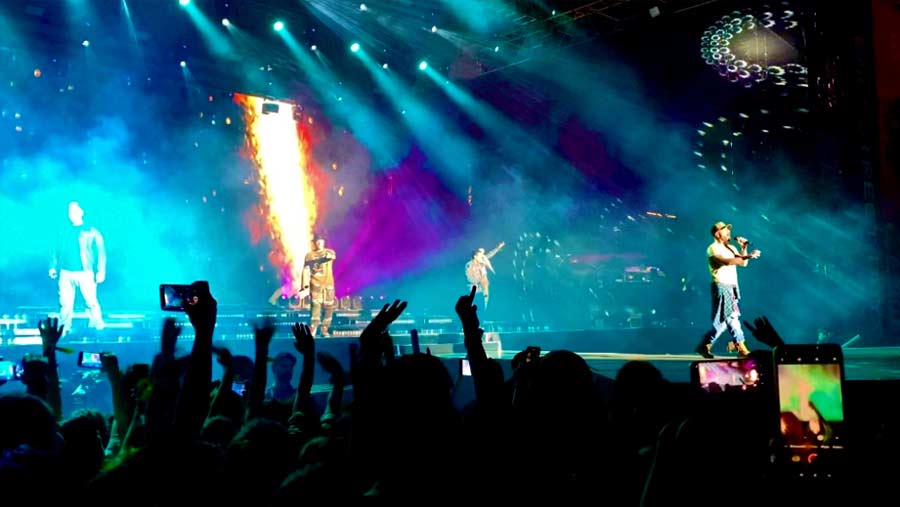 The boys perform 'Show Me The Meaning of Being Lonely' from their album 'Millennium'
In fact, the Backstreet Boys never really wanted to be called a boy band; they preferred to be called a vocal harmony group, and this is evident in their singing – they regularly employ polyphonic harmony, which distinguishes them from many other vocals-based outfits. Their advent signalled the beginning of a new era in pop, one which brought together the success of boys in R&B – think Boyz II Men – and the heart-fluttering appeal of New Kids on the Block. Even the BSB album covers – now all relics! – hark back to the '90s and 2000s boy band aesthetic: brooding stares, monochromatic or colourblocked outfits, questionable haircuts and the underlying message of a handful of young boys ready to destroy several million hearts.
Back from the pop music wilderness
But one of the most admirable qualities of the Backstreet Boys is their defiance of the inevitable fate of such musical groups: the disbanding and subsequent irrelevance after 5-7 years. Even at their peak, the lifespan of the average boy band is less than seven years, giving them just enough time to become incredibly popular, rake in the money, squabble with one another or with their recording labels, and then disband, only to embark on their solo projects (looking at you, NSync). This has been the unfailing trajectory since the 1980s.
The Backstreet Boys defied this trend. They did, admittedly, roam the pop music wilderness for a while after their 2000 album, Black & Blue, and Kevin did leave for a few years. But they reunited, and their willingness to observe, learn from and implement the changes in the rapidly-transforming pop music landscape is what stood them in good stead – their 2019 album, DNA (which led to their biggest-ever world tour, spanning four years), burst onto the scene, went to Number One, and earned them their ninth Grammy nomination. It mastered the game of contemporary chart sounds – pop, R&B, '80s synths, country and EDM influences – while also hitting listeners hard with the staple BSB pitch-perfect harmony. It reminds you why they're still here more than 20 years later, and proves the truth of their immortal line: "As long as there'll be music, we'll be coming back again."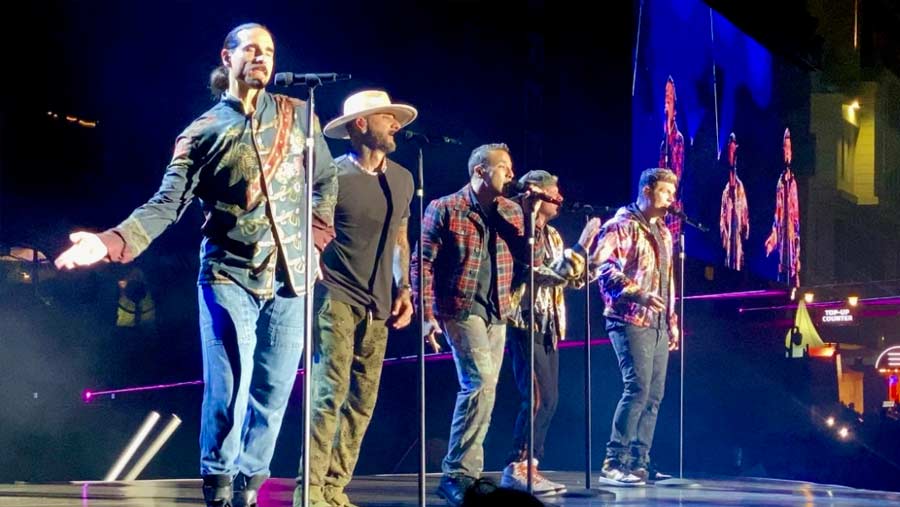 Kevin, AJ, Howie, Brian and Nick perform acapella
This, in fact, was what stood out the most at their packed concert in Gurgaon, which they performed a day after their gig in Mumbai – a band of middle-aged 'boys', facing an adoring audience comprising members of more than one generation, offering them music that still appeals to every single person standing there. That they can sing was never in question – they have always been known for their acapella style and melodic vocal thrusts that were only augmented further by the deliciously fat synth harmonies.
And even onstage, in the Gurgaon heat, with Brian growing redder by the minute, their vocals never wavered. There was nary a false note; if anything, Howie Dorough – the band member whom many of us always viewed as a sort of sympathy addition to the band – proved to us that he's got a solid set of vocal pipes! My apologies, Howie!
The classics and the new hits
To say that the concert was electric would be putting it mildly. Yes, the boys were on their DNA tour, which meant a lot of the songs they performed were from their newest album (and we were not complaining, because Don't Go Breaking My Heart and Chances, the latter written by Shawn Mendes, are possibly two of their best songs ever). But they ensured that they gave their older millennial fans ample reason to cry, scream and sing along hoarsely – we were treated to everything from Everybody (Backstreet's Back), The Call, Larger Than Life, Show Me The Meaning of Being Lonely, Quit Playing Games, Shape of My Heart and, of course, I Want It That Way.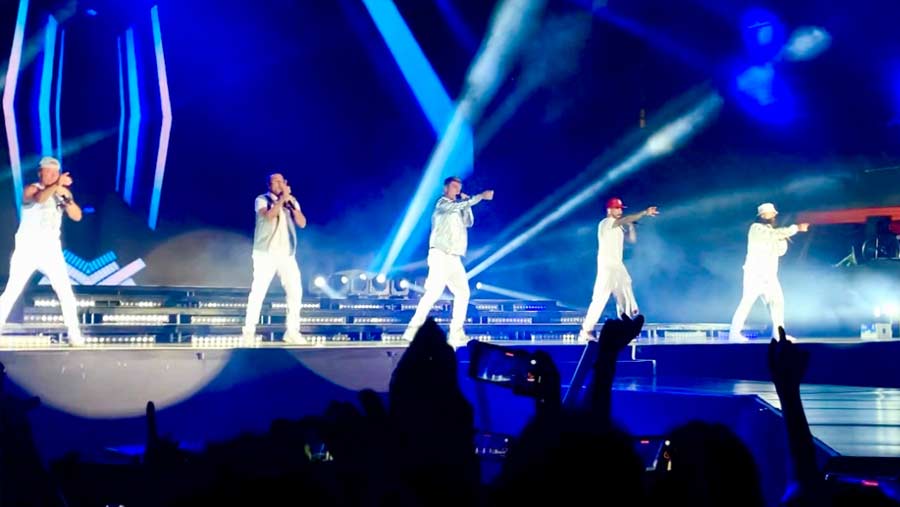 A performance of 'Everybody' from the album 'Backstreet's Back'
The visual effects were stupendous, and, as has been their mainstay through the majority of their touring life, the Boys made do without backup dancers. It was enthralling to watch five middle-aged men – the youngest is 42, the eldest 51 – hold an entire audience rapt simply on the basis of their vocals and their near-ridiculous dance steps. Yes, nostalgia and a yearning for a time that will never return formed a part of it; but this was happening now, and we were all fully present in the moment.
The shape of our hearts
Most importantly, being women who love music can be exhausting; your taste is regularly questioned by gatekeepers of music, you're asked to prove if you've really heard so-and-so band, and you can get pushed to the side for other fans (mainly men) whose support enables a band to be taken more 'seriously'. And yet, a marker of bands such as the Backstreet Boys is their unwavering acknowledgement of how far the support of young women has taken them. They readily agree that they would not be nearly as successful without the women who buy their music in droves. Does this acknowledgement hinge on the fact that these female fans make them truckloads of money? I am sure that is a part of it, maybe even a large part. But what ultimately matters is that their fans feel appreciated, seen and heard – which is, essentially, the only thing that fans ever really want.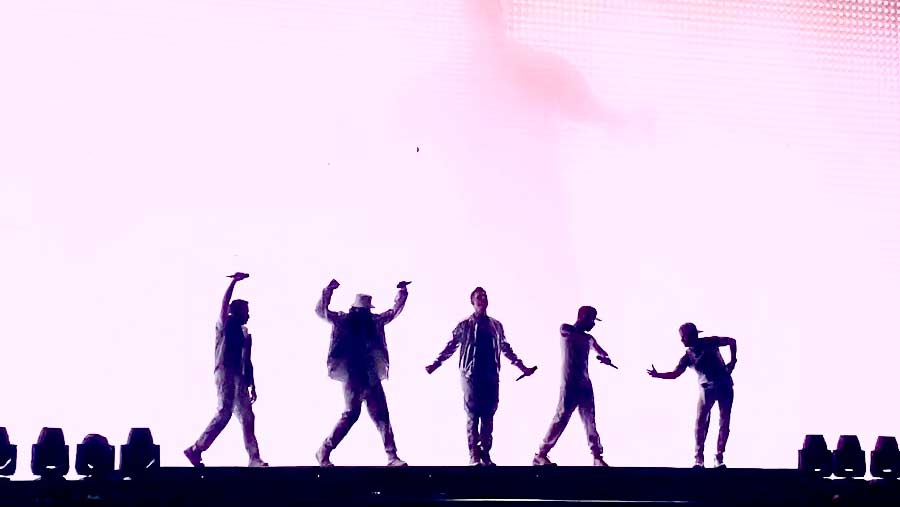 The last set of the concert, consisting from songs from 'DNA' and 'Black & Blue'
I did have a chance to go watch the Boys live in Berlin last year, when I was in Germany. I passed on that chance because I was already going to see Porcupine Tree live (another dream come true), and, well, concert tickets are expensive!
I am glad I didn't go; in many ways, it made bittersweet sense to watch my childhood idols, now men in their 40s and 50s, make my teenage dreams come true in my own country. For those of us who remember the struggles and the magic of our musical awakenings in the 1990s – from saving for months on end to be able to afford one cassette, to diligently learning the lyrics of every song via repeat playing – this was everything we could have hoped for.