I stood outside the largest stadium in Australia, the Melbourne Cricket Ground, with a chocolate-dipped vanilla soft serve in my hand, Thinking Out Loud how I could get a ticket to the sold-out Ed Sheeran concert. 
The British music superstar is best known for Shape of You, a song that describes a relationship that begins in the bar and ends in the bedroom. As of today, it is the fifth-most viewed YouTube video in the world with 5.92 billion views and counting. 
The concert on March 2 and 3, 2023, was expected to smash the record for being not just Australia's biggest-ever ticketed gig, but Ed Sheeran's too. And it did. 
"Try Facebook," mumbled a passer-by, one of the many Beautiful People attending the performance at MCG. I spent the next hour Dive-ing into Facebook groups in search of a ticket – only to realise that most sellers were scammers. So I turned to my old friend, Twitter.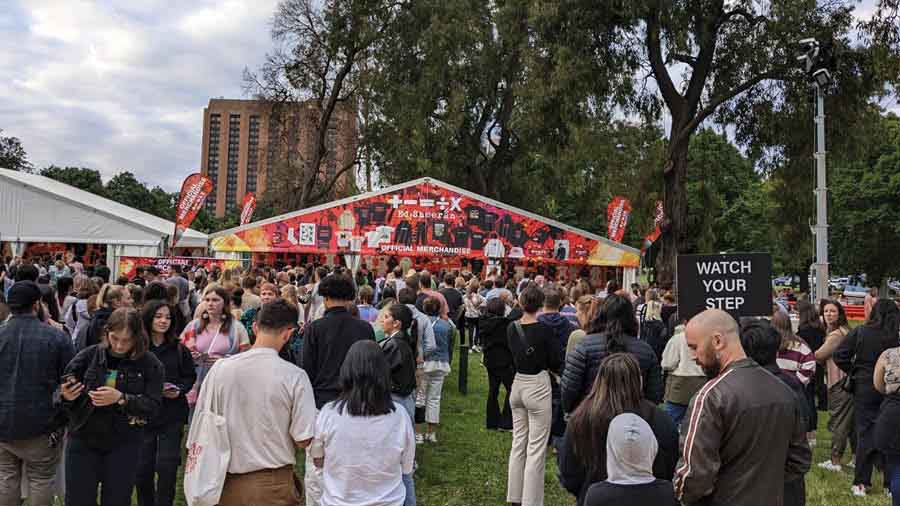 Fans buying Ed Sheeran merchandise outside The G
Karo Christine Kumar
A search for 'Ed Sheeran + ticket' threw up a tweet by a Sydney sider. She had one ticket and could only confirm its availability by 10am on March 3. By midday, I had a solo ticket on the Ticketek app for the Ed Sheeran concert that same evening… and a big smile on my face. I couldn't be Happier. Thank you, Sheree from Sydney. I hope your friend who cancelled gets well soon.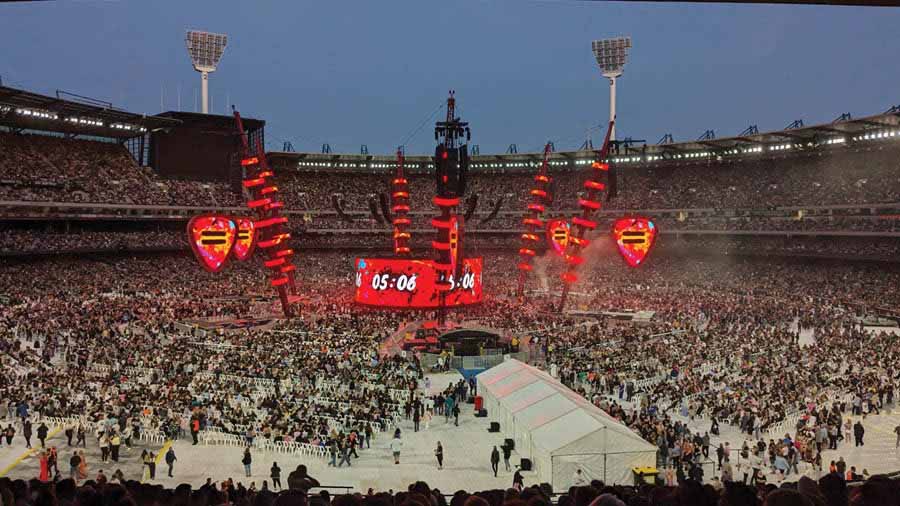 The countdown to Ed Sheeran's + - = ÷ X TOUR (pronounced the Mathematics Tour)
Karo Christine Kumar
Ed Sheeran, a one-man band
The massive Melbourne Cricket Ground, referred to as 'The G' by locals, packed in a whopping 109,500 people on March 3, 2023. To put that into perspective, Eden Gardens can accommodate around 68,000 heads. The energy was palpable.
"My first gig in Sydney was in 2011 and it had 30 people. I was praying it would go well and that people in Australia would like me," said Sheeran to a roaring crowd.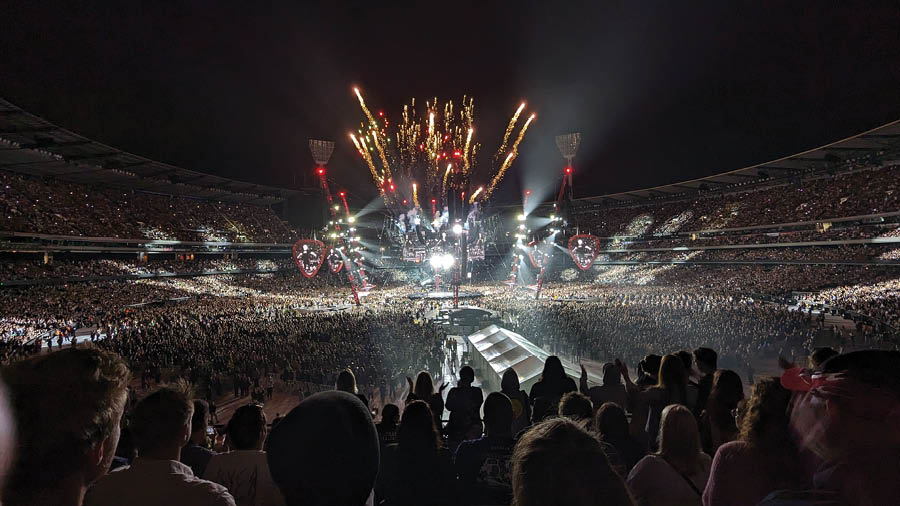 Fireworks revved up the packed stadium and added to the spectacle
Karo Christine Kumar
Fans cheered the 32-year-old as he performed at the centre of the arena on a 360-degree rotating stage. The stadium was dotted with thousands of mobile phone torchlights. It was Celestial.
There were many more magical moments in those 90 minutes, even for someone like me, who enjoys Sheeran's music, but wouldn't call myself a 'Sheerio' (what his fans call themselves).
As Sheeran belted out I Don't Care, he strode around the stage with carefree abandon. Everyone joined in as he sang Love Yourself, a song he wrote for Justin Bieber in 2017. And fans went click-click as they captured the moment in a Photograph one too many.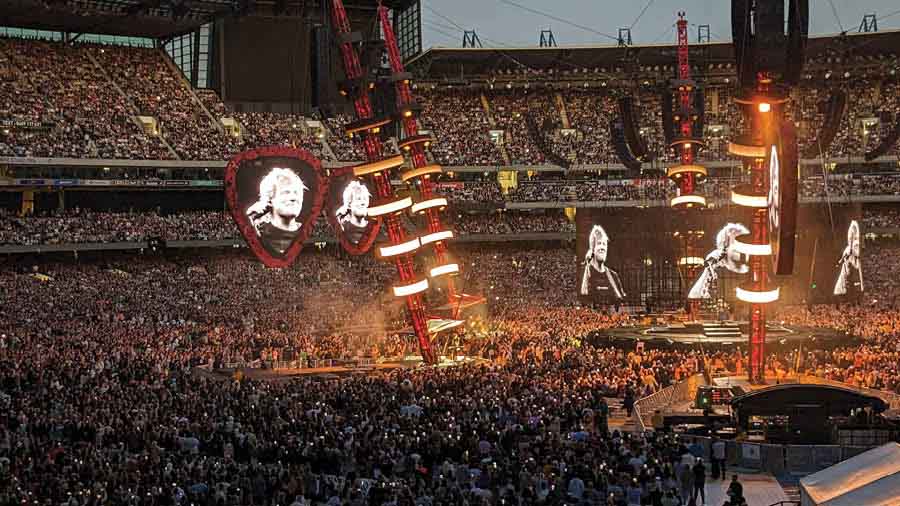 Many of the stadium screens were shaped like guitar picks. 'If you know the words, sing it!' screamed the singer-songwriter, whose fifth album 'Subtract' is coming up in May. The crowd complied
Karo Christine Kumar
Melbourne is special to Ed Sheeran, because it is home to two close friends he recently lost – Michael Gudinski, co-founder of Mushroom Records whom he called his "mate and father figure" and cricket legend Shane Warne. It was an emotional moment to play in the same stadium where Warne had spent so much time. He dedicated Visiting Hours to Gudinski and The A Team to Warne. In fact, Warne's children were also present at the concert.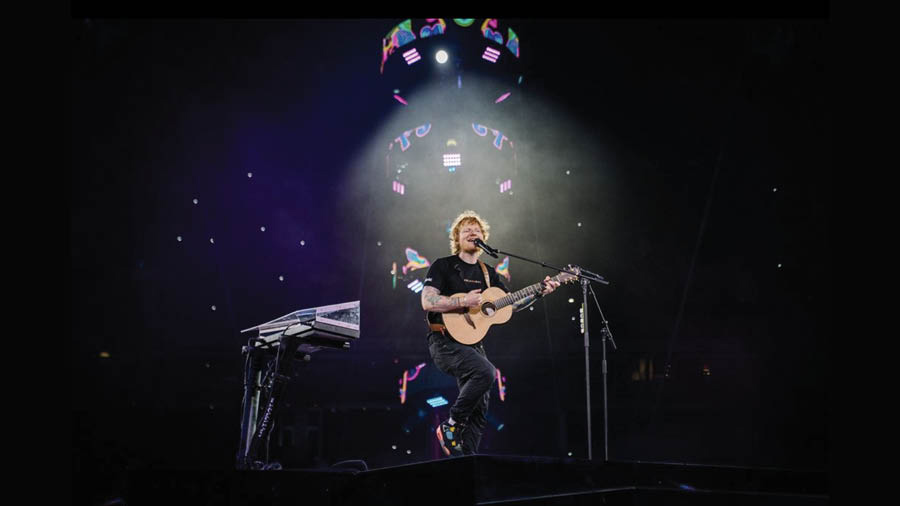 Ed Sheeran, just a ginger-haired man in a T-shirt playing his guitar. The concert was special because it was the 2nd death anniversary of Sheeran's mentor and music promoter Michael Gudinski. He also paid tribute to cricket legend Shane Warne
Instagram
"I love how music brings everyone together. Different stories, same song," said Sheeran to the crowd as he sang, I found the love for me from Perfect, the perfect track for that moment.
But it was Shape of You that really brought the crowd to their feet, the same crowd that held on to the Afterglow of the concert long after the final beat had faded. I may be crazy, don't mind me.