CIMA Gallery's annual pre-Puja lifestyle exhibition, Art in Life, is back with its collection of gorgeous saris, stunning jewellery, trendy bags, designer clothes, curatable artefacts and home decor items from across India. A treasure trove for discerning shoppers, the month-long Art in Life exhibition is a showcase for both India's oldest weaving and crafting traditions and contemporary adaptations both by master craftsmen and young designers.
This year the focus of Art in Life is on the artistic traditions of Lucknow in Uttar Pradesh and Udaipur in Rajasthan. "Every year, we focus on the weaving and crafting traditions of certain states. This year we have focused on Lucknow and Udaipur, going deep into the cities to bring to audiences in Kolkata traditional artforms that are struggling to survive," said Rakhi Sarkar, director, CIMA Gallery.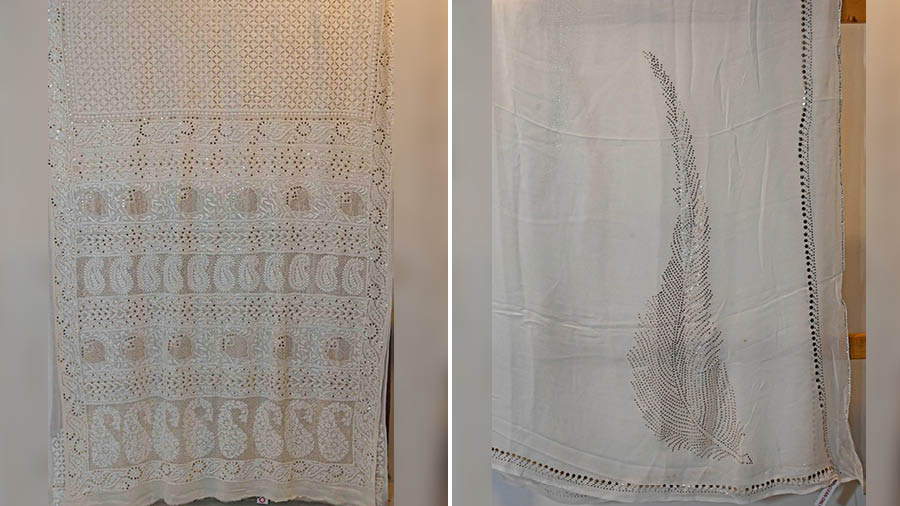 An intricate chikankari sari (left) and a zardosi and badla work dupatta from Lucknow
Photos: Amit Datta
Under the spotlight is exquisite zardosi and badla work done by the women of Lucknow — from scarves to dupattas to saris. There is also a wide but unique and exclusive range of chikankari saris for women and shirts and kurtis for men. "Most of these works have been done by the women of Mahmudabad under the aegis of a trust run by the Nawab and Begum of Mahmudabad. We have acquired some of the most exquisite saris and scarves made by the women of Mahmudabad," said Sarkar. The saris and scarves are some of the most expensive items on display at Art in Life, but Sarkar believes that the role of Art in Life is not just about selling exclusive items but also making people aware of the kind of work that is happening across the country.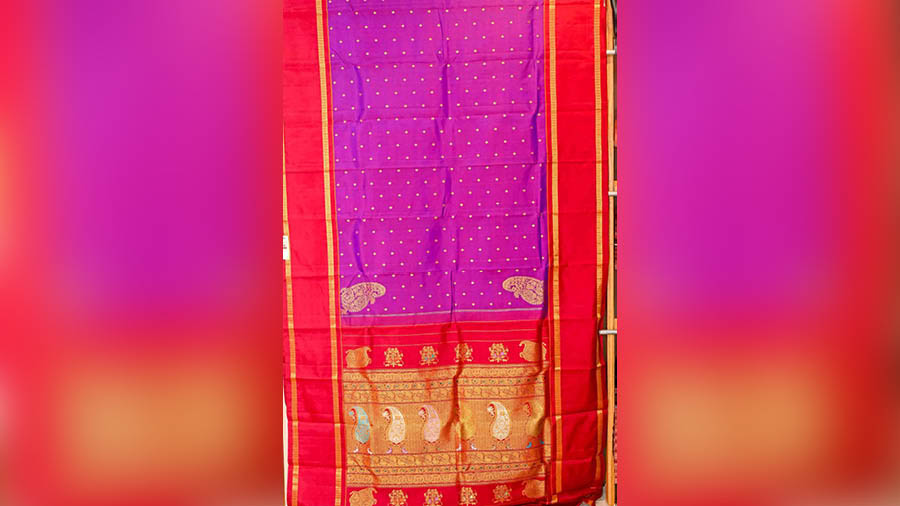 A National Award-winning sari by a master weaver from Andhra Pradesh
"We have saris from award-winning master weavers from Andhra Pradesh this year as well, and these are items that might seem dearly priced but acquiring an award-winning sari is not just about having a unique piece that cannot be store-bought, or about supporting the master weavers, which is important, but not the only aim. We wanted to showcase some of the most exquisite weaving and crafting traditions of the country that people normally don't get to see in commercial outlets," said Sarkar.
Apart from apparel, Art in Life also has beautiful inlay work items both on metal and on marble from Uttar Pradesh.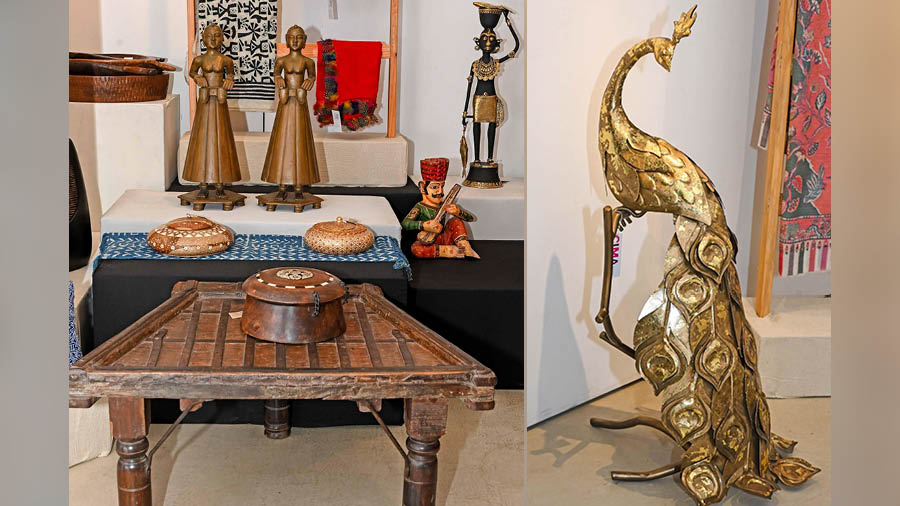 Metal and wood work from Udaipur, one of the focus sites for Art in Life 2023
Udaipur is another city from which CIMA has sourced some exclusive handicraft items, from antique wooden puppets and dolls to metal vases, hand-painted shields to metal sculptures, from bonework boxes to antique silver jewellery. "Udaipur has a long tradition of handcrafting on wood, bone, metal and textile. We are very lucky to have acquired some of the finest works I have seen," said Sarkar.
Over the last few editions, Art in Life has also focused on kantha work from various parts of West Bengal — from Murshidabad to Birbhum. This year Art in Life is displaying kantha work by artists like Mahua Lahiri, an award-winning kantha artist whose works have been shown in places like the Victoria and Albert Museum, the Royal Academy of Arts and the Philadelphia Museum. "Mahua is one of the finest kantha-makers today. Her work is intricate and very detailed, some of them taking five to 10 years to complete. We have one of her award-winning pieces with us as well," said Sarkar.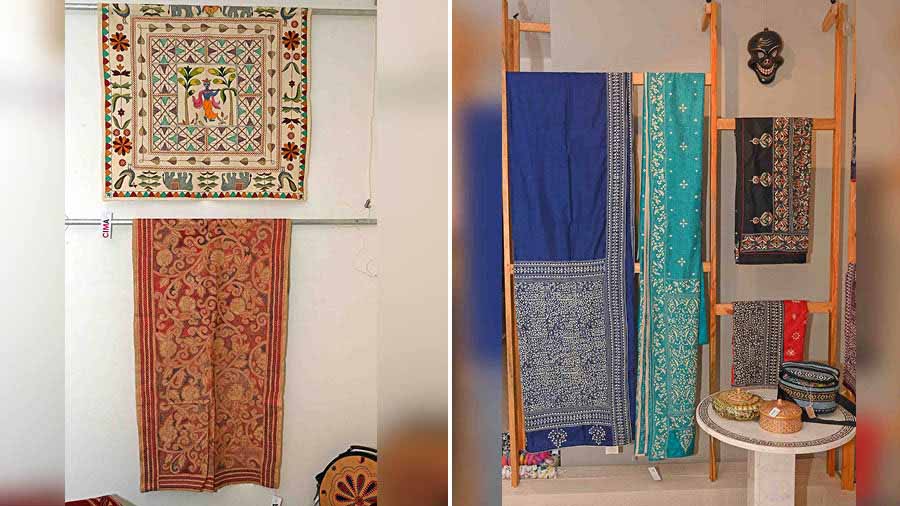 Art in Life has an exquisite collection of kantha work from artists like Mahua Lahiri (left) and NGOs like SHE Kantha (right)
Art in life also has a collection of saris, scarves, jackets and more from SHE Kantha. "Shamlu Dudeja has for years so courageously encouraged kantha work by women. Her NGO has spread kantha-making across the world and we are very proud that this year we are featuring their works at Art in Life," said Sarkar.
Apart from these major focus areas, Art in Life has its usual collection of saris from across the country that boasts not just of variety and quality but also exclusivity, uniqueness, from boutique mekhlas, to contemporary masterwoven ikkats, from telias to dhakai jamdanis. You can accessorise your apparel purchases with traditional and contemporary bags and jewellery. CIMA Art in Life 2023 also has an exhaustive collection of home decor items from brass and wood knick-knacks to duhrees and rugs and bed linen to give homes a festive feel.
CIMA Art in Life opens on September 11 and will be on till October 20, 11am to 8pm every day.