FICCI YFLO Kolkata hosted the Be Real, Be You — a candid conversation with Mira Kapoor on April 25, at the Taj Bengal. Following the theme of the year, 'Be', Shilpa Sethi, chairperson of YFLO Kolkata organised the event keeping in mind the opportunity for everyone to interact, learn and gather some key takeaways from the session pertaining to being true to yourself.
The highlights from the conversation included Mira discussing her educational experience by sharing her personal anecdote regarding making her decision and following through with it. "I really honed my liking and my passion for writing only because I actually went and did it. So sometimes you have a block against doing something and till you don't actually do it, you don't realise that that can become your biggest strength!" she elaborated. Another key takeaway from Mira's conversation was "do whatever you want to do, pursue whatever you like to do". She backed it up with her experience of picking English as her major and the spontaneity of it. Another point of emphasis was planning and being open. Mira shared an opinion, stating that "sometimes it is great to have a plan, a structure but it is also nice to have an open point of view". She further discussed how her college experience embedded in her and peers a strong sense of self. The conversation further diverted into her marriage with Bollywood star Shahid Kapoor and how that came to be and adjusting to the change. While discussing handling media attention she stated that "...you take it as it is and move ahead with the rest of your life. If you make it everything, the be all and end all of your life, you are then only thinking about what other people think of you, you will lose yourself. It is easy to get swayed by everybody around but I am very glad that we had that little distance. It was always about being confident, being true to who you are and holding on to where you come from".
The conversation further delved into how Mira deals with trolls, social media and more, keeping the crowd absolutely engaged. The audience absolutely loved the segment where Mira delved into her take on lifestyle choices, shedding light on her views on intermittent fasting, yoga, skincare and more, and how she balances her personal time with her responsibilities as a mother.
Mira emphasised that in order to be true to oneself, you have to have that me time, for it's crucial to get to know yourself better. The candid conversation ended with an interactive Q & A session along with a high tea.
"The event went just as planned. It was truly nice to have someone so real, someone who is so warm. It was nice to hear Mira because everybody could relate to her very well. That was the biggest plus! She had some really fun takeaways as a mother, and as an individual who is just being herself, making her own identity. I was really happy with how everything panned out," said Shilpa Sethi, chairperson of YFLO Kolkata.
"The theme of this year is 'Be'. The idea is to do events that bring out a different facet with everyone. I want to do events that have a lot to explore so that people can learn from these events, connect with each other. I want it to be truly interactive, impactful and meaningful! Every event I host should have a great value addition," added Shilpa.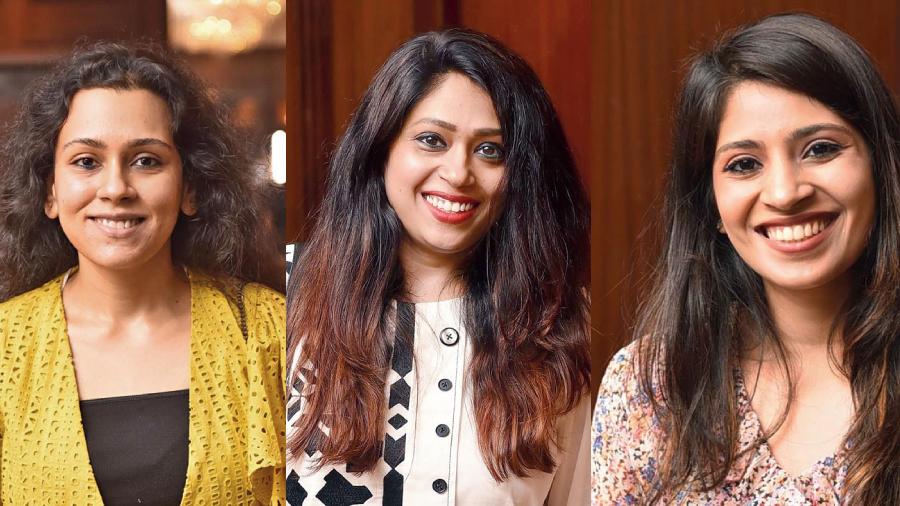 (L-R) Anusha Khandelwal, Vedika Himmatramka, Nikita Bardia
"I'm looking forward to a wonderful year with YFLO. The session had me all excited," said Anusha Khandelwal. 
"It's Shilpa's first event and she had a great candid conversation with Mira, which was something I truly appreciated," said Vedika Himmatramka.
"The theme of the event is 'Be You' so it is all about being yourself and believing in yourself. This entire year is something I'm truly looking forward to and Mira Kapoor being here made me truly happy! She's the perfect person to talk about the topic," chimed Nikita Bardia.
Pictures: B. Halder