Our car came to a stop inside a bustling market. Google Maps showed we had reached our destination, New Light, 162 Kalighat Road. A narrow lane led us to a 'terrace of a temple deep inside the red-light district of Kalighat' from where the NGO founded by Urmi Basu has been functioning for more than two decades. The aroma of maachher jhol that left the cats intoxicated as much as the mid-day lull and an unmistakable warmth, wafted in the air. The lane we had just walked past didn't seem dingy. Rather cosy and fiercely protective of its residents, standing guard against the 'dream merchants' of the busy bazaar. We walked by a group of cute kids studying. Oblivious to our presence, they kept at drawing out alphabets perfectly before settling down for lunch and then dozing off blissfully in minutes.
Urmi Basu's office which bears the unique stamp of the temple architecture was the hub of all activities for the day. Make-up laid out across the table. A giant suitcase full of saris and blouses. Sitting patiently and waiting were three "mischievous friends" who chat a lot and party when together — Pooja, Lakshmi and Soma, our muses for this special shoot with the survivors of gender-based violence, as creative director Pushpak Sen fixed the blouses. They looked radiant with their kohl-lined eyes and red bindis. Spearheading it all was Ushoshi Sengupta, Miss India Universe 2010, who had been associated with New Light for the last six years and for the last three years been their goodwill ambassador. "Soma was the first to arrive and even her daughter has shot for The Telegraph," smiled Ushoshi.
While the first look was all about striking luxe, Look Two was pastel power. Shyam Sundar Co Jewellers, which collaborated with The Telegraph for the shoot, brought out their "designer collections of traditional yellow gold bridal jewellery and other exclusive collections for the fashionistas of the day".
Full of sprightly confidence, the women pulled off the shoot, like pros, mobile phone cameras from friendly neighbours capturing it all for the inquisitive folks back home.
Having planned and executed innumerable fashion features over the years, for us, their smile took the shoot a notch above. The smile of unabashedly owning the past, present and future. The dream that wasn't embers but a full-on bonfire, glowing with hope. The hope of freedom and respect and a shining future for their children. Just like the sheen on their saris and twinkle in their eyes. Or, more.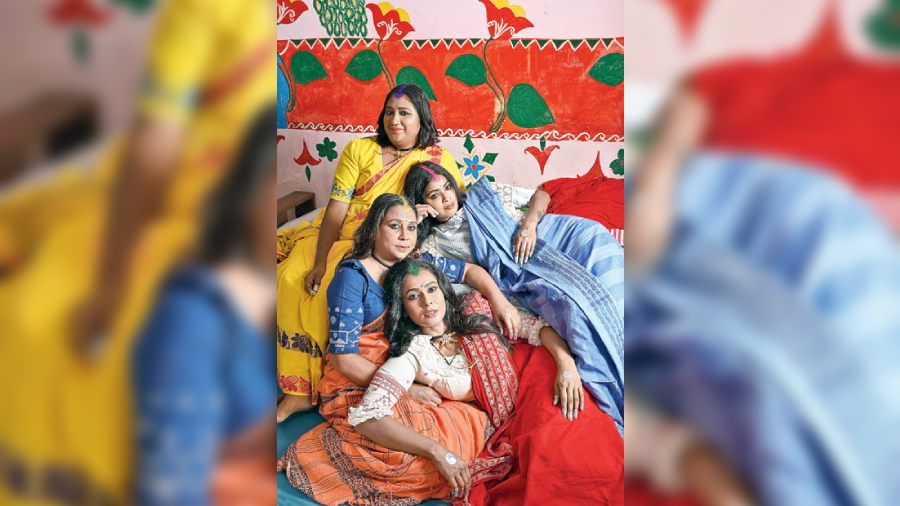 Colourful and cheery, this look captured the bright personality of the women. The frame was one of sisterhood with Ushoshi at the centre. "I wanted to go with the idea of putul khela... in my world of sisterhood, I think the use of colours is important and it can be anywhere. And, colours don't necessarily belong to any class or profession of people. It is a happy and joyful attitude and the only symbol they should signify is celebration and togetherness," said Pushpak.
The shoot felt great! We did make-up. The saris and jewellery were lovely. This was our first fashion shoot. We have seen it on TV many times. We were born here. I have my mother and sisters. I am married with two kids now and because we belong from here, we feel we are bhalo, but when people who come from outside and ask where we stay, we are hesitant. Aamra je jaigatay thaki, aamader shobai kharap-e bhabe. I was three months into standard eight when I gave up studies. I told my mother that I wanted to study but the times were hard and my mother was a single parent. I liked mathematics and English. I miss my old life a lot because I know that's a great life. When you are single, you can build your career. The fact that I couldn't do that is a regret. My dream still remains to establish myself so that I can give my two boys a great future — Pooja, who is a fan of Akshay Kumar and Jeet
I loved it! I am from here too. Aami gorbo kore boli aamar jonmo kormo ekhanei.... I feel like studying now. I love staying here. Ke ki aamar naame e bhablo, aamar kichhu jai ashe na. I want to cement a good foundation for my kids — Lakshmi, who's a Shah Rukh Khan fan
I loved it too. We wore a lot of jewellery and decked up differently. I have my parents, brother and sister-in-law and my daughter. We feel safe here. I have studied till Class VII. I loved history. There is no regret that we stay here. Khawa dawa, ghora fera.... Red light area te thakle keu kharap hoyna. Shobai nijer peter jalate ashe aar aamra ekankar meye. People should learn to respect each other. I am raising my daughter as a single mom and I want to ensure that she grows up as a great individual. I want to live my dreams through my daughter — Soma, who is a fan of Dev and Shah Rukh Khan
I come here at least twice a week. The idea was to educate the kids and provide day care. That's the main project that New Light works around and we also work with projects around women. We have a sewing project. My job as an ambassador has been to come here and create a space for empowerment and equality. That's why we decided to shoot today. What I have learnt in the last few years is that all of them have dreams for their kids. All of us are doing what we are doing for our families. I have spent a lot of time with these ladies and their children, it was really special to see them spend a day with me shooting with The Telegraph.
Human trafficking is a personal cause for me. It's a coincidence that my birthday is also the United Nations Day against Human Trafficking (July 30). One of my aunts was deaf and mute and she was abducted and found two years later in Benaras. She had passed away by the time I was born and my mother is of the firm belief that she was reborn as I. I have been blessed that I have found a purpose in life. The moment you can empower somebody with a dream, there is nothing more fulfilling than that — Ushoshi
Creative director: Pushpak Sen
Hair: Amrapali Jana
Make-up: Kaju Guha
Assisted by: Indrajit Ghosh
Saris and blouses: Parama
Jewellery: Shyam Sundar Co Jewellers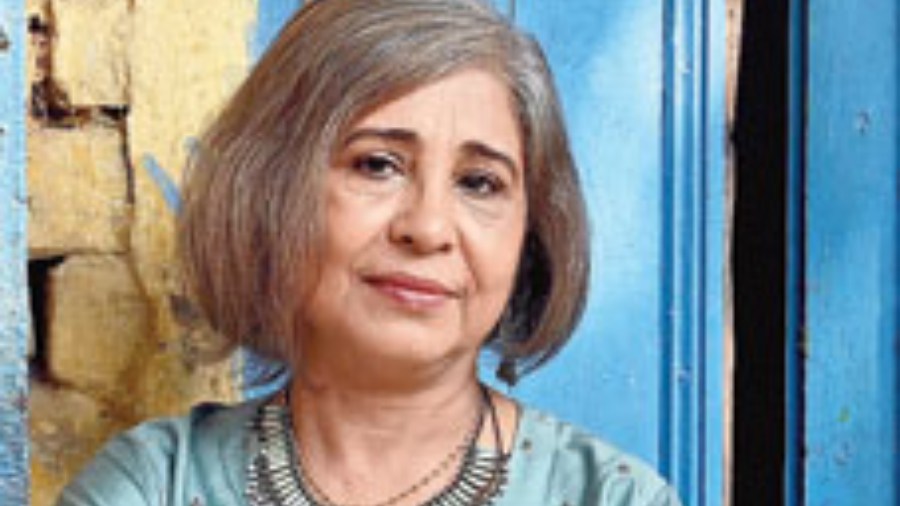 The most profound learning has been that human emotions are the same everywhere.... They want to be recognised as people and not just a shadow community. They want to be recognised for their potential and be given the opportunities with which they could realise it and to explore infinite possibilities — Urmi Basu, founder, New Light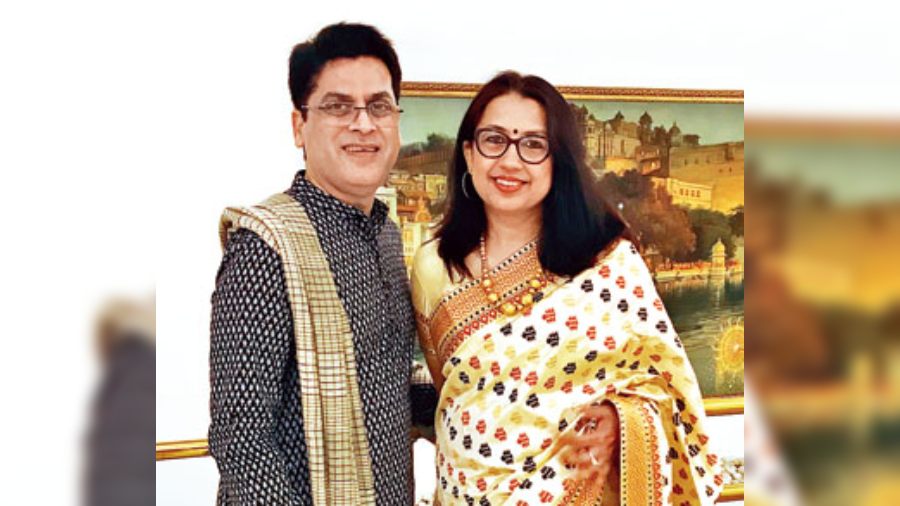 We have also always supported initiatives to empower women and that is why we are really happy to associate with this initiative to bring about change in the lives of the next generation in this red-light district. And, knowing well the art of crafting gold into exquisite pieces of jewellery, we understand the joy of shaping a girl's future and helping her to shine there
— Rupak Saha, director, Shyam Sundar Co Jewellers
Women have always been central in all that we are about and that is why we have always celebrated woman power... — Arpita Saha, director, Shyam Sundar Co Jewellers