With new lungs, Mahto is fit to leave Chennai hospital
In first public appearance virtually, minister thanks one and all; says will return to Ranchi weeks later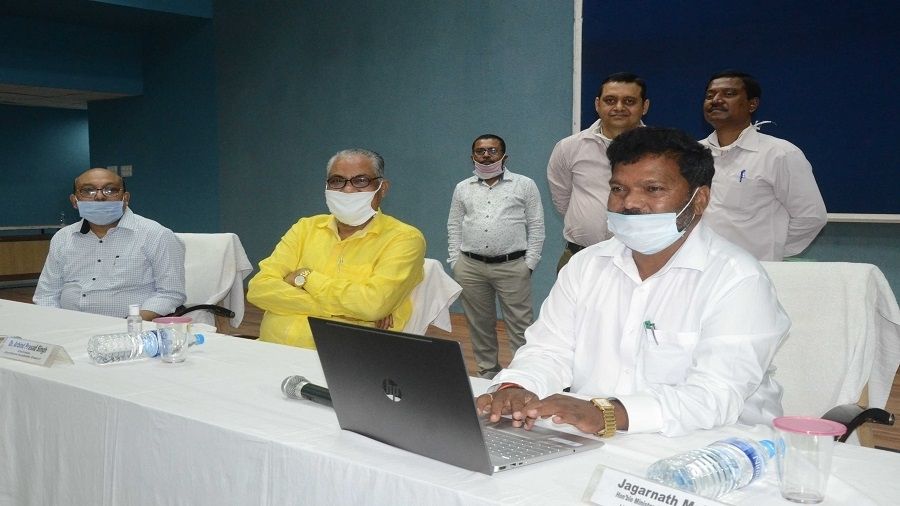 ---
|
Ranchi
|
Published 21.01.21, 05:12 PM
---
State education minister Jagarnath Mahto thanked doctors, his colleagues in the Cabinet and family members for supporting him during his fight against Covid-induced lung fibrosis on Thursday via video conferencing – his first public interaction since he was hospitalised in October 2020.
"I thank everyone who stood by my side during my treatment and did not lose hope," said Mahto.
While the minister appeared on the screen for media persons, he did not speak at length about his battle against Covid-19 and subsequent health complications. However, doctors from Mahatma Gandhi Memorial (MGM) Healthcare in Chennai, where he underwent lung transplant surgery, said that Mahto would be able to return home soon and lead a normal life.
Dr Suresh Rao, Co-Director, Institute of Heart and Lung Transplant and Mechanical Circulatory Support at MGM Chennai, said that Mahto was fit to return home, but he has decided to stay in the hospital for a couple of weeks and then leave for Jharkhand.
"Medically, he is fit to go home. However, the minister has decided to stay in the hospital for a few weeks and then go home when he feels that he is ready to return to normal life," Rao said.
Speaking about the procedure of Mahto's lung transplant Dr K. R. Balakrishnan of MGM Healthcare said, "It was a challenging case as not many transplants have been done for Covid-destroyed lungs. However, given the condition of the minister we made some quick decisions to ensure patient safety and expected patient outcome."
"We weighed in all the options available before us and decided to go ahead with the transplant. The patient responded well to the procedure and his lungs are now working well," Balakrishnan added.
Mahto was weaned off the mechanical ventilation on December 8 last year. Finally, his tracheostomy was removed on January 1 and currently he is making good progress and his vital parameters are stable and monitored continuously, doctors said during a press conference in Chennai on Thursday.
"Lung transplant may well be the answer to many COVID survivors whose lungs suffered severe fibrosis, thereby making them chronic respiratory patients. In such patients when all other clinical and mechanical interventions fail, lung transplantation is an option," added Dr Apar Jindal, Clinical Director and Consultant, Lung Transplant, Interventional Pulmonology & Chest Medicine at MGM Healthcare.
Doctors from MGM said that Tamil Nadu's policy for organ donation made the process of finding a lung donor easier for the minister and the surgery was performed as soon as a donor was found. The doctors also thanked Chief Minister Hemant Soren and Agriculture Minister Badal Patralekh for trusting the medical experts at MGM and backing them in their decisions.