Waterlogged nightmare end hope in Ranchi
Juidco has decided to get grated motorable manhole covers and motorable covers for slab openings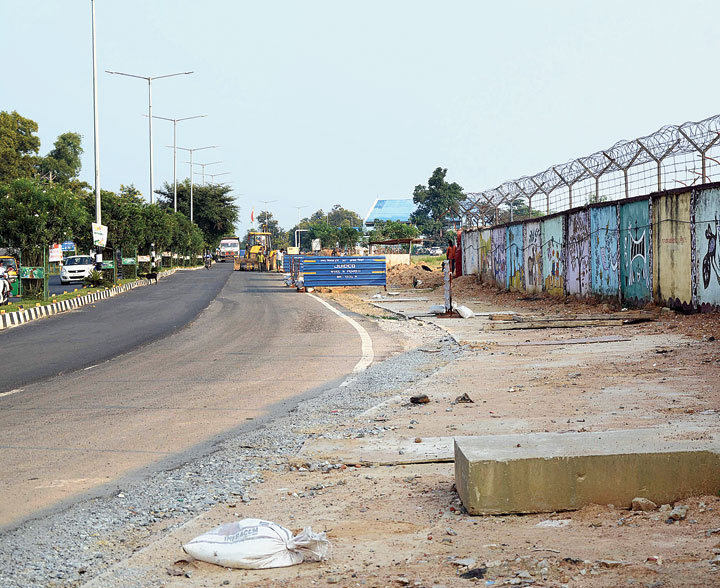 The smart road at Hinoo in Ranchi
Manob Chowdhary
---
Ranchi
|
Published 26.10.19, 06:36 PM
|
---
Grated covers will be introduced along four smart roads in Ranchi to prevent waterlogging after rains.
Jharkhand Urban Infrastructure Development Company Limited (Juidco) has decided to get grated motorable manhole covers and motorable covers for slab openings installed to ensure excess water gets drained, even after heavy rains.
Juidco general manager (works), Ashok Kumar said they would use fibre reinforced plastic (FRP) grated covers for the slab openings as they were "light, corrosion-free, durable and does not cost so much as to tempt thieves".
"Having grates will prevent waterlogging after heavy rains and the grates will not let plastic and other solid wastes enter the drains, leading to their clogging," he said.
Juidco would be requiring more than 5,000 such FRP grated covers for installation along the four smart roads.
The 2.55km-long Birsa Chowk-Birsa Munda Airport stretch, costing Rs 42.52 crore, is being constructed by Mini Axle from Ranchi. The 8.85km-long Raj Bhavan-Birsa Chowk stretch (via Main Road), costing Rs 162.7 crore, and the 2.7km-long Raj Bhavan-Kantatoli Chowk stretch (via Circular Road, Lalpur), costing Rs 92.99 crore, are being built by Chhattisgarh-based Amar Infrastructure. The 7.40km-long Raj Bhavan-Booty More stretch is being built by RKS Construction from Ranchi at a cost of Rs 188 crore. Their deadline is 2021.
"We will need over 1,000 FRP grated motorable manhole covers," Kumar said, adding as they were light, they could be easily removed when the need arose for the repair of sewer lines.
The smart roads will also have common underground ducts for drains and electrical wiring, optical fibre cables and gas pipelines. Each flank of the road would vary between 7m and 9m, and width of pavements and cycling tracks would be between 2.5m and 4m.The ducts will be under the pavements and cycling tracks.
The common ducts will negate the need for the roads to be dug up frequently to lay utility cables and pipes, Kumar said. Juidco will use ductile iron manhole covers for roadside utility ducts, he added.
"Ductile iron is an unique form of iron which prior to metal casting process receives crucial mineral additives and is very durable, strong and with high load-bearing capacity suitable for heavy traffic. It will have hinge-type design and so chances of theft are less," he said.
President Ram Nath Kovind had laid the foundation of two of the four smart roads (Birsa Chowk-Birsa Munda Airport stretch and Raj Bhavan-Birsa Chowk stretch) during the Statehood Day in November 2017.
Chief minister Raghubar Das laid the foundation stone of the third road (Raj Bhavan-Kantatoli) in January 2018. Work on the fourth started automatically as it was getting delayed.