Wall of mistrust after Jamshedpur poll violence
Section 144 to stay till May 18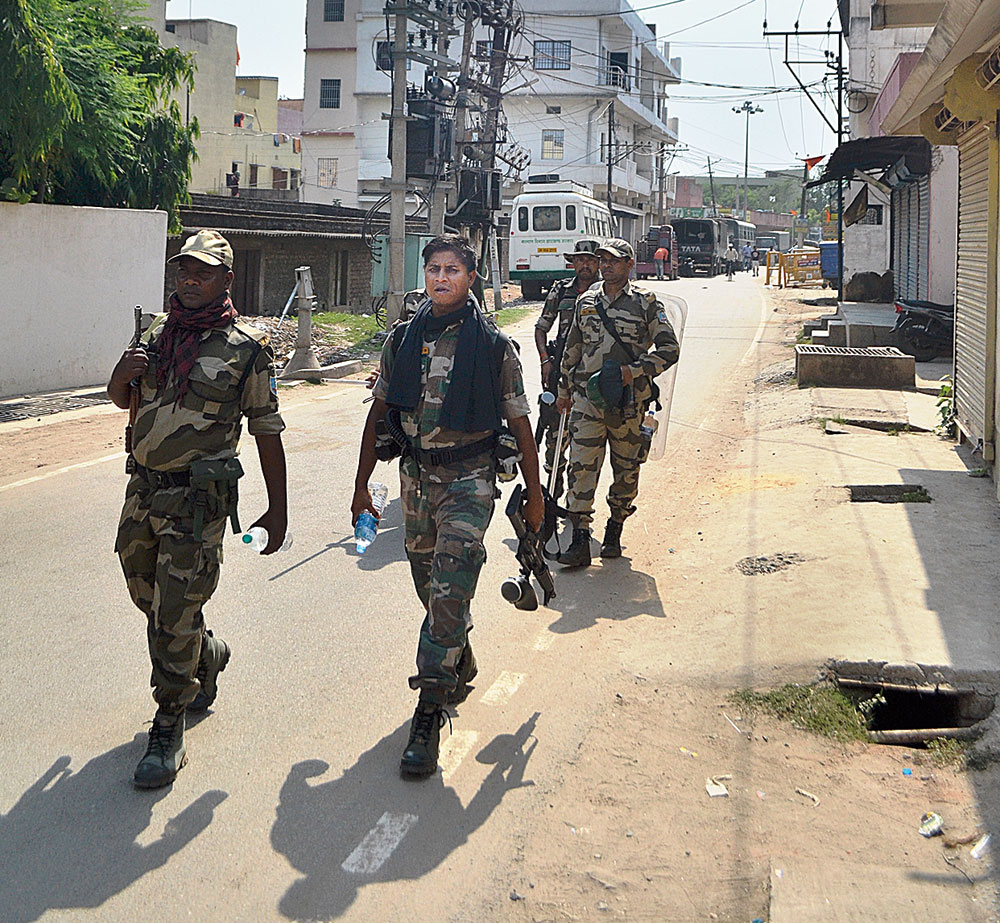 JAP jawans on ME School Road in Jugsalai, Jamshedpur, on Monday.
(Animesh Sengupta)
---
Jamshedpur
|
Published 13.05.19, 07:31 PM
|
---
A day after stone-pelting near a Jugsalai polling booth on Sunday, police scanned CCTV footage to identify trouble-mongers and a delegation of residents, including a district BJP leader, went to the DC to request a wall be put up to separate the Hindu locality from the Muslim one, barely 80 metres apart.
City SP Prabhat Kumar along with his subordinates on Monday spent over two hours scanning the footage from the CCTV cameras installed at the four polling booths set up at St John's High School, the flashpoint of the Jugsalai violence on Sunday, at ME School Road area that's near minority-dominated Millat Nagar.
On Sunday, supporters of mahagahthbandhan candidate and JMM MLA Champai Soren, including Muslim youths, were charged with pelting stones, which injured at least four policemen, after a heated argument with BJP supporters at St John's High School polling booths. The brawl broke out when BJP polling agents complained Champai's men were giving bogus votes. As the matter snowballed, voting at the booths stopped 90 minutes before the stipulated time of 4pm, police lathicharged the 300-strong mob and detained six.
Section 144 of CrPC, clamped on Sunday evening, is continuing.
"Prohibitory orders under Section 144 CrPC will remain effective till the midnight of May 18," city SP Prabhat Kumar told this paper on Monday. "We are currently examining footage to identify the trouble-mongers and prosecute them for disturbing the poll process and creating violence in the locality. Arrests would be made based on verification of people seen on camera," he said, explaining they were taking every care to identify the right culprits.
He added that security was tight in the area.
"Jawans of Jharkhand Armed Police are deployed at the intersection of ME School Road and Millat Nagar. Until the situation returns to normal, the police force will stay."
Perhaps the more lasting damage is the rift between the two communities in Jugsalai, a crowded wholesale hub of Jamshedpur with a mixed population.
This was evinced when a delegation of ME School Road's Hindu residents, all from middle and upper class families, on Monday met East Singhbhum DC Amit Kumar and demanded protection of their lives and property from Millat Nagar residents.
A member in the delegation, Satyanarayan Agarwal, said attackers from Millat Nagar damaged their houses by pelting stones on Sunday afternoon. "We apprehend trouble as Millat Nagar residents damaged our houses without any provocation from our side. These elements may attack us again when forces are withdrawn."
BJP's district committee spokesman, Anil Modi, who was also in the delegation, said anxious residents had demanded a wall between ME School Road and Millat Nagar so that residents of both localities had virtually no contact.
"The DC assured us that police force would be withdrawn only when the atmosphere is satisfactory. About the demand of setting up a wall between two localities, he (the DC) said he would consider it," Modi said.