Vacate hostel, MGM orders
Decision was taken after a junior doctor along with 40 students and interns assaulted 2 cops and held them hostage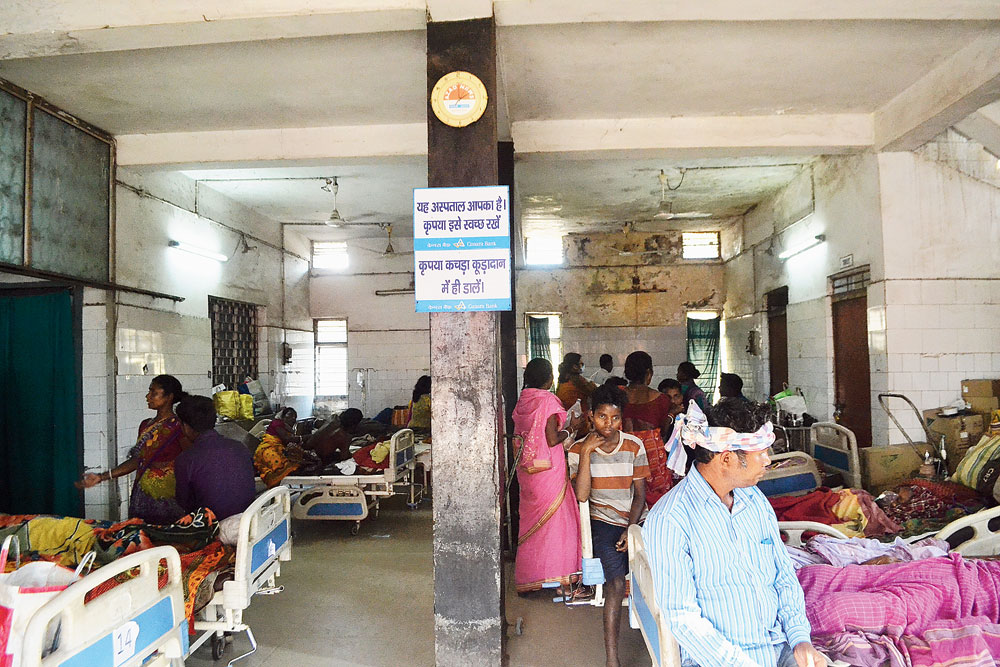 Patients at the emergency ward of MGM Medical College and Hospital in Jamshedpur on Monday.
(Animesh Sengupta)
---
Jamshedpur
|
Published 18.03.19, 06:35 PM
|
---
 MGM Medical College on Monday asked all "outsiders", or unauthorised occupants, to vacate its hostel within the next 24 hours, following the scuffle between police and a section of junior doctors on the college premises in Dimna on Sunday.
The decision was taken by the principal of MGM Medical College A. Akhauri at a meeting with the heads of departments and wardens.
Chief warden of MGM Medical College R.K. Mandhan said junior doctors or interns who were staying at the college hostel had also been asked to vacate their rooms within in 24 hours.
"No outsiders are allowed to stay in the hostel. The hostels are meant for college students. No former students or junior doctors can stay here any longer," Mandhan said.
It is a common practice among students of MGM Medical College to continue staying at the hostel even after passing out. Many junior doctors, who have a hostel of their own in Sakchi, also stay at the Dimna hostel.
The chief warden said they had also decided to install CCTV cameras on the campus to keep a watch on students.
Mandhan said the decisions were taken following Sunday's incident in which a junior doctor along with 40 students and interns assaulted two police officers on duty and held them hostage for one-and- a-half hours.
Junior doctor Rishabh Kumar, who was arrested on Sunday night, is being treated in the ICU of MGM Medical College & Hospital.
Hospital's deputy superintendent Nakul Prasad Chaudhury said junior doctors, who had threatened to strike work on Monday to protest against the alleged high-handedness of police, were working as usual.
Ulidih thana OC Chandrashekhar Kumar, who was also injured in the brawl, is undergoing treatment at Tata Main Hospital.
"We are looking for 4-5 others who were involved in the assault on cops," DSP (Patamda) Vijay Mahto said.
Accused Rishabh and one of his colleagues had given police, who were checking vehicles in front of Ulidih thana on Dimna Road in Mango around 1am on Sunday, a slip. in front of Ulidih thana on Dimna Road in Mango around 1am.
Instead of slowing down, their vehicle drove straight into the college, 3km away. Ulidih OC and SI Pankaj Singh chased the vehicle and reached the institute.
Rishabh and his colleagues gathered around 40 students and interns, locked the cops in a room and assuanted them.