Pradhan effigy burnt in Bokaro by JMM's trade union
Protest after delay in appointing full-fledged CEO at BSL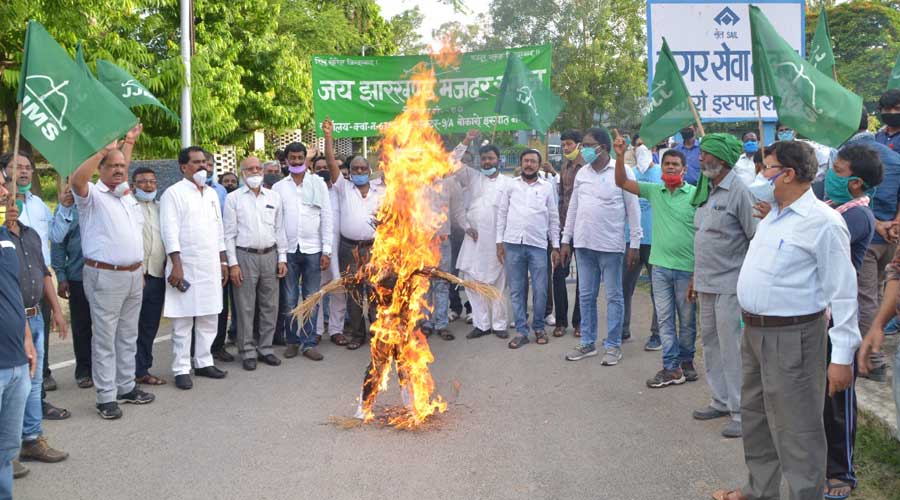 ---
Bokaro
|
Published 04.07.20, 10:32 PM
|
---
Workers owing allegiance to the Jai Jharkhand Majdoor Samaj (JJMS) burnt the effigy of Union steel minister Dharmendra Pradhan in front of the town and administration department of Bokaro Steel Plant (BSL) on Saturday in protest of the delay in appointing a full-fledged chief executive for the steel maker.
The JJMS is the trade union wing of the Jharkhand Mukti Morcha (JMM), the ruling party in the state.
The position of the CEO at BSL has been vacant for past seven months.
The workers decried the delay in the appointment as a conspiracy hatched by the central government to first worsen BSL's conditions and then sell it to private hands. All political parties and trade unions, whether ruling or in rival camps, have expressed concern over the issue.
Local JMM leaders also participated in the protest. JJMS general secretary B.K. Chaudhary said: "BSL, one of most important steel manufacturing units of maharatana SAIL, is operating without a head for the past seven months. Is this a joke? What kind of insensitiveness is this? It is not ignorance, but being done as part of a conspiracy. They (the Union government) will first develop critical faults and then sell this profitable unit to private companies."
The protesters were raising slogans against Pradhan and the BJP-led Union government during the entire episode. This is for the first time that Pradhan effigy has been burnt at BSL's township.
"The BJP's central government in its tenure has not even set up a small factory or industry which can provide employment; however, they are willing to privatise the existing PSUs established after Independence that provide employment to thousands," said Mantu Yadav, city president, JMM.
Other JJMS workers claimed that BSL is running on a ventilator without a CEO. It is unfortunate that despite interviewing competent and qualified officials for the post of CEO, no one has been appointed, they said.
Even the BJP legislator from Bokaro, Biranchi Narayan, had written to the Union steel minister requesting the appointment of a CEO. The Dhanbad MP, BJP leader Pasupatinath Singh, has also reportedly raised the issue with Pradhan.
Congress leaders have also shown their resentment over the issue. Its leader, Sweta Singh, criticised Pradhan.
The post of CEO has been vacant after P.K. Singh retired on November 30.
The SAIL management appointed its director, Harinand Rai, as CEO in charge in December 2019. A panel of three executive directors (EDs) has been constituted, but apparently it fails to control the situation. The committee has to depend on the SAIL corporate office in Delhi for every order and instruction. This delays and hampers many types of decisions and creates a negative environment.
There is no full-fledged ED (personnel and administration) at BSL.