Two teenagers drown in Subernarekha river
Body of one, Suman Kumar, recovered by a team of divers deployed by police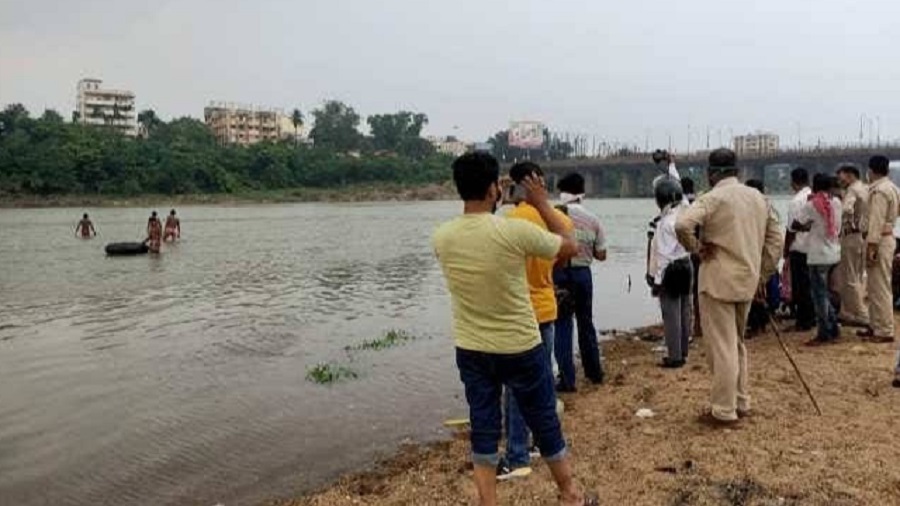 Family members and locals watch as the body of Aman Kumar is being rescued at Babudih Ghat in Subernarekha on Thursday.
Animesh Sengupta
---
Jamshedpur
|
Published 10.09.20, 06:48 PM
|
---
The body of one of the teenaged boys who drowned in the Subernarekha river at Sakchi on Wednesday afternoon was found floating 4km away near Babudih Ghat at Sidhogra on Thursday afternoon.
The body, identified as that of Suman Kumar, was recovered from the swollen river by a team of divers pressed by the police. But the body of the second victim, Aman Kumar, is yet to be traced.
A resident of Kunjnagar in Sonari, Suman was the son of a Tata Steel employee .
Sidhgora OC Manoj Thakur said some residents of Babudih had spotted the body trapped in a rock in the river, and subsequently informed the Sidhgora police.
"We had immediately pressed a divers to the point where the body was trapped in the rock and got it recovered.  As we were aware that two youths had drowned in the area on Wednesday afternoon, we informed Sakchi police who passed on the information to the families of the victims.  The victims' families rushed to Babudih Ghat and identified the body as that of Suman Kumar," Thakur told The Telegraph Online.
Sakchi OC Kunal Kumar said efforts were on to trace the other body.
According to family sources, five boys, namely Aman Kumar, Suman Kumar, Ayush, Ranjit and Sagar, all residents of various localities in Sonari, went to take a bath in the Subernarekha river on Wednesday afternoon.
"First they had gone over to the Subernarekha river's Domuhani Bridge point, but seeing the river swollen, they did not dare to plunge into it.  Subsequently, the five rode to Sakchi, about 3 km away. Though the river was swollen there too, one of them, Aman,  stepped in. But the tide was so intense, he was swept away downstream.  At the sight of Aman being swept away, Suman, who is a Tata Steel employee's son, jumped into the river to save Aman.  But he too was swept away in the strong current," said Subodh Kumar, uncle of Ayush Kumar. 
According to Subodh, the three other boys, Ayush, Ranjit and Sagar, were in a state of shock as they could do nothing to save their friends. They kept on standing, shell-shocked, watching the duo being swept away in the river water.
Family members of Aman Kumar, son of an assistant sub-inspector of police at Dhanbad, are frantically searching for his body along with police and divers.