Tribute & reality check
2km from tribal icon's statue, spectre of land-grabbers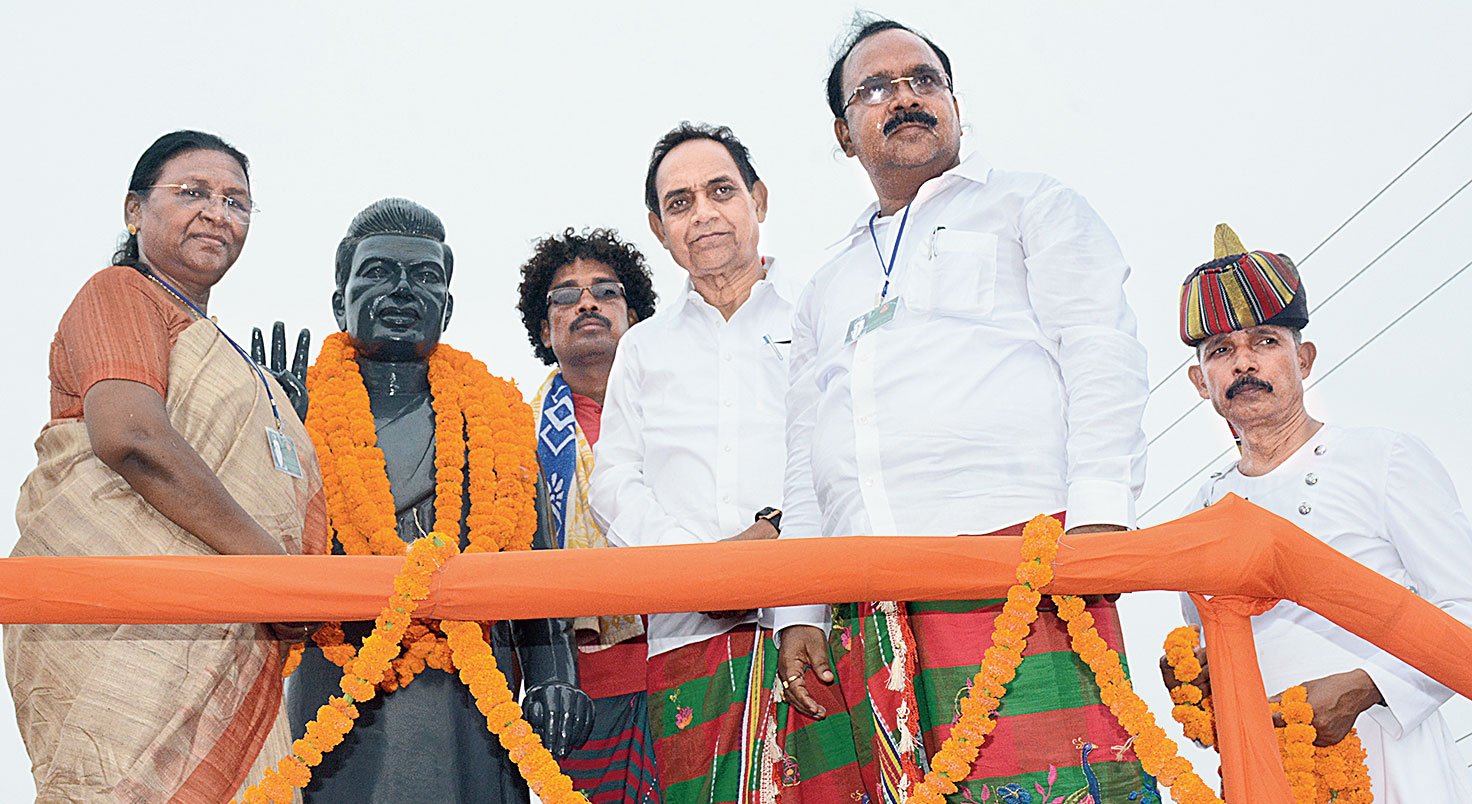 ---
---
Governor Droupadi Murmu on Sunday unveiled a statue of iconic tribal scholar Pandit Raghunath Murmu along the 7km Dobo-Kanderbera Road linking Domuhani bridge to NH-33 at Kanderbera, Chandil subdivision in Seraikela-Kharsawan, 10km from the heart of the city.
She dedicated the road to Murmu, who is credited with inventing the Ol-Chiki script used to write in Santhali.
Amid the symbolism, the reality is different.
Only 2km from Murmu's statue, 50 women of the Bhumij tribe at Rugdi village on June 28 afternoon broke boundary walls allegedly put up by land grabbers to lay claim on 3 acres owned by resident Dukhu Singh Sardar.
Tribal villagers said the land mafia of influential builders and brokers in and around Jamshedpur had grabbed over 60 acres of tribal land at Dobo and Rugdi villages since work on a new bridge over the Subernarekha river started three years ago. Even a police officer of Kapali thana outpost said after the bridge connected the steel city to Kanderbera, land rates in the villages had increased manifold.
In this case, the women alleged a Mango builder and a Chandil broker had teamed up to grab Sardar's land.
Sardar told this paper that on June 27, he had approached Seraikela-Kharsawan SP (Karthik S.) with a petition that two influential persons had put up walls on his land. "Before that, I'd gone to the Kapali thana outpost and written to CM Raghubar Das. But I did not get any help from anyone," he said.
One of the women, Rukmini Sardarin, alleged their own mukhiya, Haren Singh Sardar, was not siding with them. "Last night (Saturday) he came with eight-nine persons to press us (women) to go with him somewhere. We took out our sticks again," she said.
OC Satyadeo Singh from Kapali thana outpost confirmed that women had pulled down boundary walls and said no one had filed acomplaint.