Train and flight ticket cheer once again in Jharkhand
Booking of advance reservation tickets begins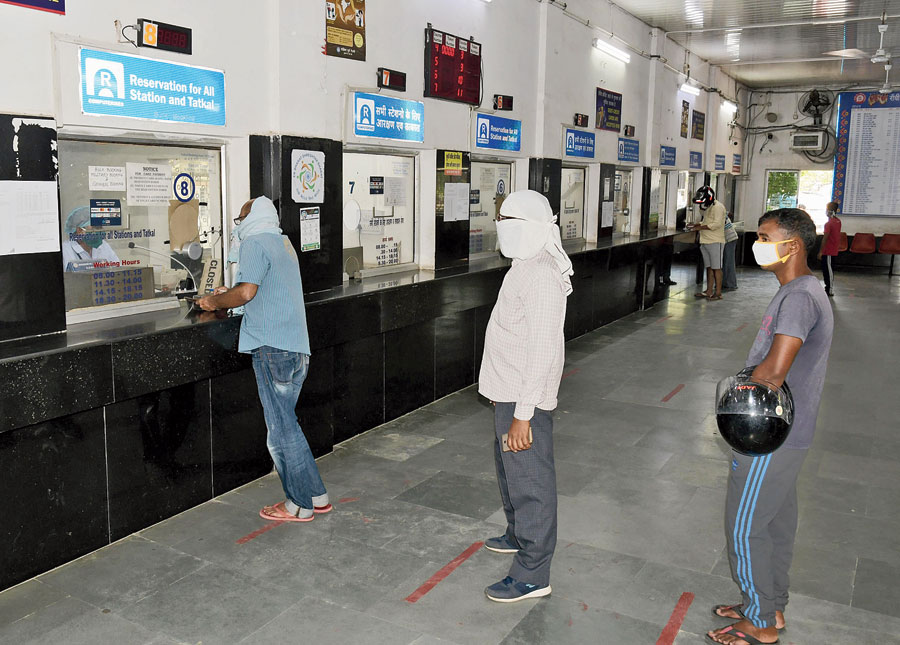 ---
|
Ranchi
|
Published 22.05.20, 08:15 PM
---
A visibly elated Ranjit Kumar was taking a selfie at the reservation counter of Ranchi station on Friday morning when it opened for booking after a long gap.
"It's certainly an occasion to celebrate as I never saw such a long closure in my life," Kumar, 44, a resident of Ratu Road area of Ranchi, said when asked about his exuberance, adding he had remained indoors when curfew was imposed in the city for a few days in the past but never saw such a prolonged lockdown.
"Could you ever guess trains would remain suspended for two months?" he said, to strengthen his argument.
The railways announced that 100 pairs of trains would start running across the country from June 1.
"But there will be only one train — 12366 Ranchi-Patna Janshatabdi Express — that will run from Ranchi that day," said Suhas Lohakare, public relations officer of Ranchi railway division.
He said that booking of advance reservation tickets began at Ranchi, Hatia and Muri on Friday morning.
Similarly, two railway ticket booking counters opened at Tatanagar station on Friday.
One counter each also opened at Rourkela, Sini, Chaibasa, Bamra, Barbil, Chakradharpur, Jharsuguda and Dongaposhi — all under Chakradharpur railway division of South Eastern Railway (SER ).
Sanjay Ghosh, chief public relations officer of the SER, said five trains will travel through Tatanagar.
While, Tata-Danapur Express will originate from Tatanagar railway station, four trains — Howrah-Barbil Janshatabdi Express, Puri-New Delhi Purushottam Superfast Express, Howrah-Ahmedabad Express and Howrah-Mumbai Mail — will travel via Tatanagar.
As per the protocol, a passenger has to report at the station 90 minutes before the departure time.
Passengers will be allowed to undertake the journey only if they are found to be without any Covid-19 symptom.
Face cover/mask and Arogya Setu app is compulsory .
Packed food items and water will be available on payment in the pantry cars.
No linen, blankets or curtains will be there in the trains.
No unreserved tickets will be issued. General coaches will also be reserved. Reservation against Cancellation ( RAC ) and waitlisted tickets will be available.
There will be no tatkal and premium tatkal bookings.
All stalls at railway stations including food plazas will be opened but only takeaway food will be allowed.
Similarly, a few people were seen buying tickets at the ticket counters of Birsa Munda Airport in Ranchi.
The airport has been preparing for resumption of flights with a contactless check-in system as reported earlier by The Telegraph.
Domestic flights are expected to resume from May 25.
"The airport is now ready to handle flights," airport director Vinod Sharma informed.
He said that they were yet to receive detailed schedule for the flights.
Here also the passengers are expected to report at least two hours before the scheduled time of take-off.