Trafficking: One more girl rescued
While saving the girl, Ghurabandha police arrested a 38-year-old man from Shinpur district of Madhya Pradesh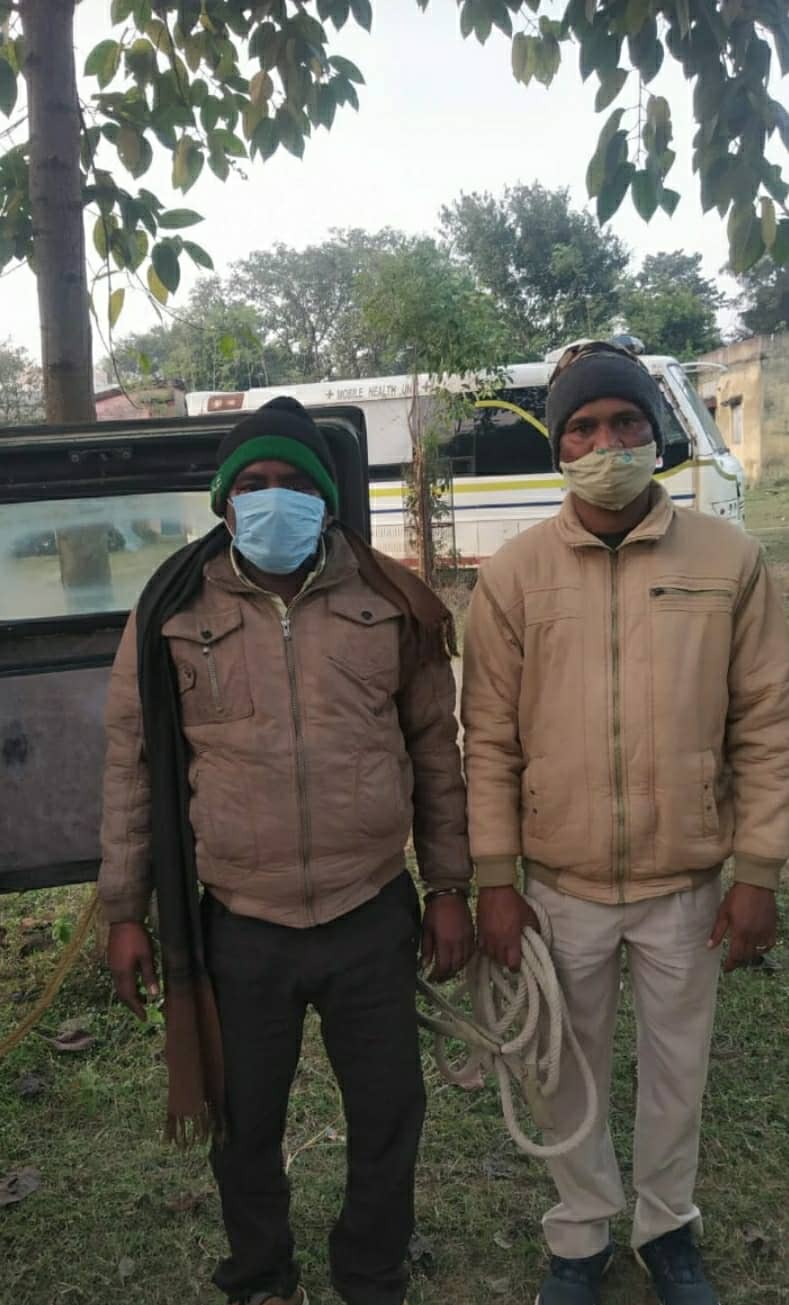 The arrested Kamar Singh Parihar (left in blue mask) in police custody near SSP office in Bistupur
Animesh Sengupta
---
Jamshedpur
|
Published 21.01.22, 05:02 PM
|
---
One more girl who was trafficked to Madhya Pradesh along with four others from Ghurabandha in Ghatsila sub-division has been rescued from Rajasthan. 
After falling into the trap of a gang of human traffickers, the girl was first taken to Madhya Pradesh and subsequently was forced to marry a middle-aged man at Kashouli district in Rajasthan. 
While saving the girl, Ghurabandha police arrested a 38-year-old man identified as Kamar Singh Parihar. Parihaar who is a resident of Shinpur district of Madhya Pradesh and was in the guise of her brother in the forced marriage. 
Revealing about the breakthrough, senior SP, M Tamil Vanan said they recovered three girls and arrested five persons following an FIR lodged with the Ghurabandha thana on January 5.
"We have saved one more girl in connection with the same case. The victim who is a 27-year-old girl from Ghurabandha has been recovered from Rajasthan. She was married to a man in fraudulent way by the gang indulged in human trafficking, " said Vanan while talking to the newsmen. 
He said the arrested person Kamar Singh Parihar has been sent to the Ghatsila Sub-jail on Friday. 
The senior SP pointed out that yet another girl who is either in the clutch of the human traffickers or has already been married will be traced soon. 
"A team of police officials from Ghurabandha is camping in Madhya Pradesh. The team is making all efforts to find out the whereabouts of the fifth victim," said Vanan. 
According to police, the gang has lured several girls from different states, including Chhattisgarh and Odisha into getting jobs in Madhya Pradesh and later have been subjected to forced marriage in Rajasthan. 
"This sensational revelation and the modus operandi of the human trafficking have come to fore after the interrogation of Kamar Singh Parihar who is a key member of the gang," the police sources said. 
Sources said after taking the girls to Rajasthan, the gang members threatened them with dire consequences and made them marry the men for a hefty amount. Moreover, the gang members themselves pose as the victims' brothers during the marriage ritual. 
Significantly, police sources said the man who had married the girl belongs to Gujjar community and has fled his home after the police raid. Sources said the police will also try to arrest the man for being indulged in the forced marriage. 
The police had earlier arrested five persons, including a woman in the case on January 15.