Tigress elusive, terror alive
Schoolchildren of Galudih are now carrying bows and arrows in their hands or in their schoolbags in fear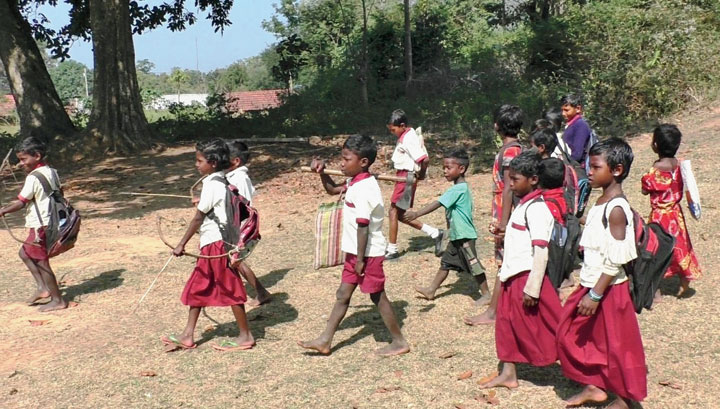 ---
---
The tigress who had sneaked into the Galudih jungles in Ghatshila subdivision bordering Bengal, some 60km from here, apparently has returned to Bengal, but the fear of people lingers.
Schoolchildren of Galudih, some as young as seven, are now carrying bows and arrows in their hands or in their schoolbags.
The tigress had come to Dainmari and Basadera jungles in Galudih. Schoolchildren of Baguria panchayat, alongside the stretch of 15 km-long Dainmari and Basadera jungles are so petrified that though they have resumed school from the past couple of days, they are carrying bows and arrows.
Their parents are also carrying bows and arrows as well as other weapons such as axes (called farsa) and spades.
Headmaster of a government primary school at Jhanti Jharna, Bankim Chandra Mahto, was candid about the fact that he knew his farsa would not save him if he happened to encounter the tigress on the way.
"But carrying my farsa on my bike gives me moral support," he said.
Divisional forest officer of Jamshedpur, Abhishek Kumar, said they had not heard any fresh news of the tigress since the past five days.
"No news, no fresh kills," he said. "Even if the tigress crossed to Bengal to go back to the Similipal Tiger Reserve in Mayurbhanj, Odisha, she must have killed cattle or other prey in Bengal. But we did not get any such information. I'm not certain where the tigress is at this point," he said.
He added that a team of forest guards and Chakulia and Ghatshila range officers were still making rounds in the dense jungles here. "We've come to know about killing of a lamb by a hyena in Basadera jungles two days ago, but nothing about the tigress."