Three rebels lay down arms in Hazaribagh
The district witnessed extremists surrender for the first time due to regular police interventions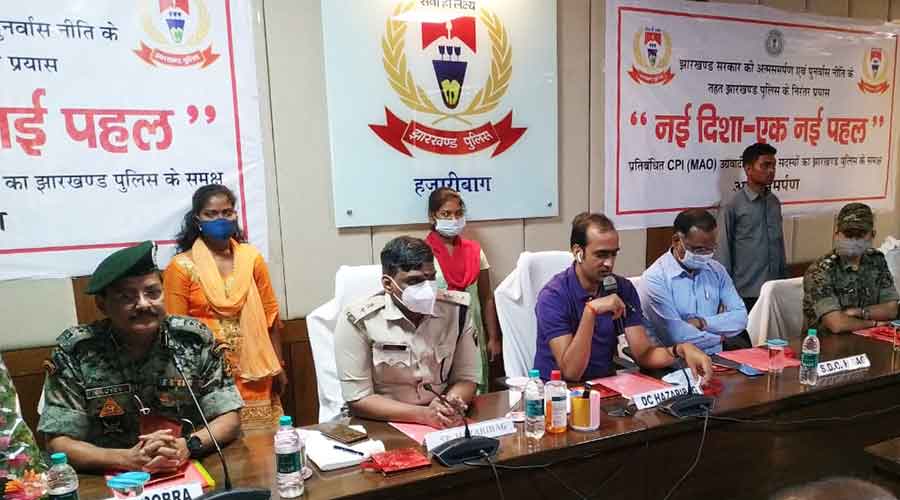 ---
Hazaribagh
|
Published 08.07.21, 05:47 PM
|
---
In a first in the district, three rebels of the Communist party of India(Maoist)including two women on Thursday surrendered themselves at Hazaribagh district collectorate.
One of the extremists, Usha Kisku, was carrying a reward of Rs 1lakh for capture. Officials termed this a big moment claiming that regular police operations had weakened the outfits in the district and such surrenders had put an end to rebel activities.
The three extremists were Usha Kisku, Mamta Santhali also known as Sarita Santhali, residents of Harli Tola in Ango under Ango police station of the district and Nageshwar Ganjhu of Dudhmatia village under Simaria police station.
Nageshwar is a native of Hesabar village of Barkagaon block in Hazaribagh district. 
19-year-old Mamta has been active in the outfit since 2015. She was wanted in half a dozen cases lodged in Chatra and Hazaribagh. 
Usha Santhali , 27, joined the child wing of the outfit in 2009. She had lost her mother early and her father was an alcoholic. Maoists took her in promising a better life. She admitted her involvement in around a dozen cases of violence which was the reason why the state government had announced a reward of Rs.1 lakh. She is accused in cases lodged in Hazaribagh and Chatra.  
Nageshwar, 38, was involved in setting fire to six trucks in Kusumba of Katkamdag. He set ablaze machines involved in construction of Ghaghra Dam. 
Sources said superintendent of police Karthik S. had convinced the trio to surrender, promising better life and benefits under the surrender policy of the state government. 
Deputy Commissioner Aditya Kumar Anand, CRPF and Cobra battalion officials welcomed the trio extremists by giving them bouquets. Usha was given a cheque of Rs 1lakh by Karthik. 
Officials even released a video titled 'Wapas aao life banao' to motivate extremists to surrender. 
According to sources, a total of 22 extremists were in touch with the district police chief while only three surrendered on Thursday. 
"In the next few days, we are hoping for more such surrenders," added officials.
Karthik termed the surrender as a big achievement, urging others to surrender and join the mainstream.
"If not, get ready for tough action," he warned.