Tears of a family in lockdown
Father stuck in Pune, mother dies, children wait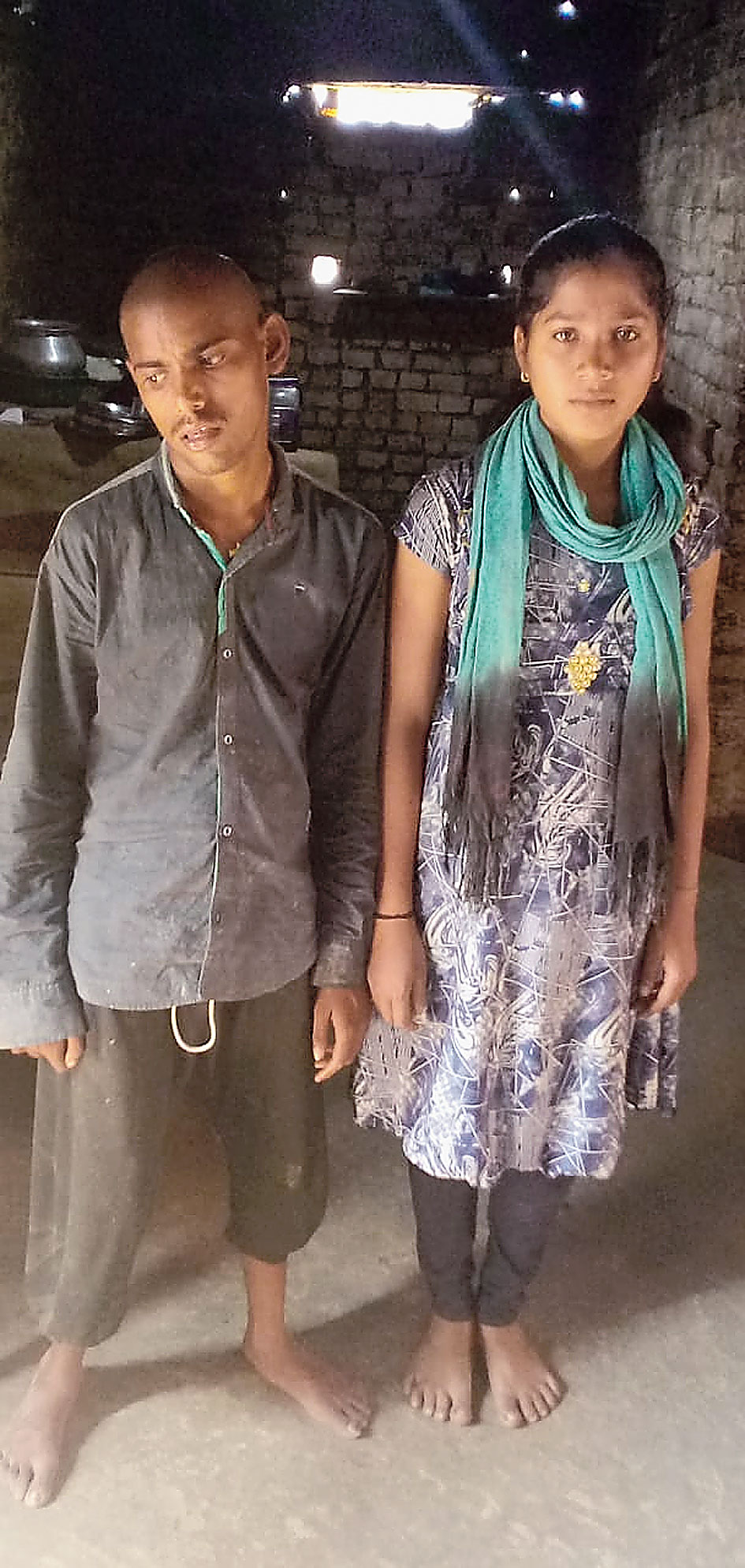 Arjun Mahto's son and daughter at Ichak in Hazaribagh on Thursday.
(Vishvendu Jaipuriar)
---
Hazaribagh
|
Published 23.04.20, 06:38 PM
|
---
Arjun Mahto, 55, a farmer from Karamati village in Ichak block, some 35km from here, last month went to Maharashtra in search of a job.
He assured his wife and two children, including a mentally ill son, that their troubles would end soon. His four daughters had all got married earlier.
But little did Arjun know that it was just the beginning of his family's troubles.
On March 22, the day after he reached Pune, Prime Minister Narendra Modi announced the Janata Curfew followed by the 21-day lockdown and then the extended lockdown till May 3. Along with other men of his village, Arjun tried to catch a train but they had stopped running.
Arjun's wife Kaili Devi, 50, developed health problems and died at home in Karimati on April 5.
Arjun watched the last rites of his wife on video call. On the same call he tried to convince both his children that he would return soon.
Arjun's son Shiv Shankar Mehta, 14, and daughter Anshi Kumari, 16, are alone at home and they keep calling their father, asking him to return soon. In Pune, Arjun has run out of money. Shiv and Anshi wait for their father every day.
When the sun sets, they call him. But the father and their children rarely talk; they weep more. Arjun tries to console his children but he too can't hide his tears.
Local BJP leader Dileep Mehta spoke to government officials and also sent a letter to chief minister Hemant Soren urging him bring back Arjun to his home state.
"It's unfortunate that the children lost their mother and even at this toughest time of their lives their father is not here," Mehta said.
Arjun said he never thought he would face such a scenario. "I want to return," he said over the phone to The Telegraph.
His four married daughters live far from the village.
"I have the responsibility of Shiv and Anshi and so I decided to come to Pune to work as a daily wage labourer. But after my wife died, it is useless to stay here," said Arjun. "I made a mistake coming here. I request the Jharkhand government to make necessary arrangements so that me and the other trapped men from my village can return."
"We just want Papa to return," Anshi said in Hindi. "Mother has gone, now there is no one to look after us."
The children are surviving with help from some kind neighbours.