Symbol blow for JDU
JDU state unit president Salkhan Murmu criticised the JMM for its move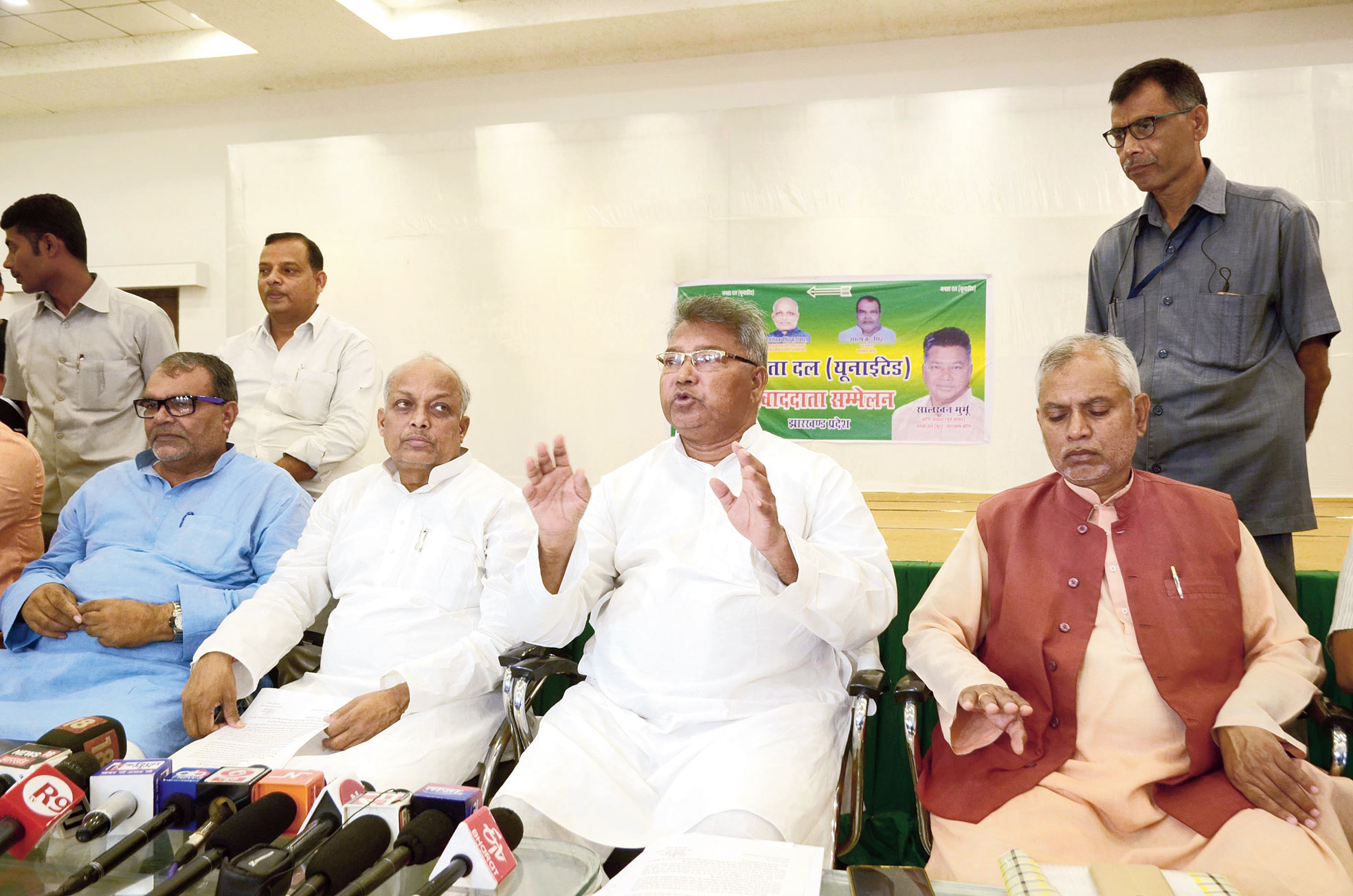 ---
|
Ranchi
|
Published 24.08.19, 07:28 PM
---
Nitish Kumar-led JDU will not be able to use its arrow symbol in the coming Assembly elections of Jharkhand, according to an order issued by the election commission.
The order was issued in response to an application filed by JMM, the main Opposition party of Jharkhand, in which it had pointed to the similarity of its own election symbol of bow and arrow with that of the JDU's arrow, which, it argued, could confuse voters.
JMM general secretary Supriyo Bhattacharya, who shared this information on Saturday, said his party welcomed the election commission's decision.
The JMM had filed its application with the commission on June 24. It had raised certain points on the basis of which it requested that the JDU's poll symbol be frozen in Jharkhand.
While mentioning the negligible presence of the JDU in Jharkhand, the JMM application had said: "The JDU has its election symbol arrow and it will create great confusion and deception in the minds of voters in Jharkhand where majority of the voters are having rural base and least literate."
The JMM application also extensively quoted from an earlier order of the commission issued in March in which it had frozen the JMM election symbol of bow and arrow in Bihar after the JDU had filed an application with it in. The JDU had then stated that the similarity between the two symbols could affect voting patterns in Bihar during the parliamentary elections.
On June 29, the JMM had submitted another application in which it prayed for early disposal of its application, saying that the state Assembly elections were due to this year itself.
The poll panel then issued its order on August 16.
JDU state unit president Salkhan Murmu criticised the JMM for its move.
"The JMM's decision to file an application was nothing but an act of retaliation because our party had filed a similar application in the context of Bihar. We have yet not studied the commission order. We will decide on our next step after going through it," he said.
Nitish visit put off
Nitish Kumar has postponed his Ranchi visit, during which he was scheduled to address a meeting of JDU party workers, in view of the death of former Union finance minister and senior BJP leader Arun Jaitley.
JDU has already announced that it would go it alone in the Jharkhand Assembly elections and would have no truck with the ruling BJP, which is its ally in neighbouring Bihar.