Steel city's oldest Durga Puja unveils unique idol
The Durga Bari Trust hopes to make temple a tourist attraction with its marble goddess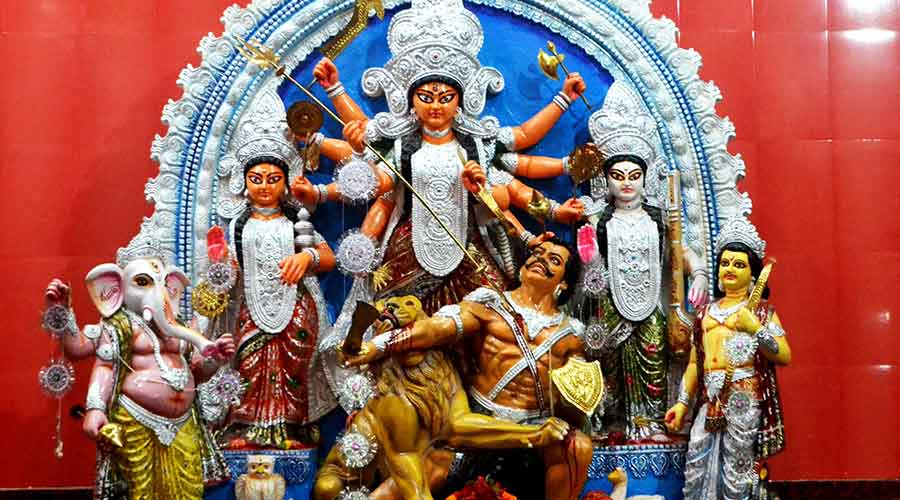 ---
Jamshedpur
|
Published 21.05.21, 08:30 PM
|
---
A unique Durga idol at the Durga Bari in the steel city's Jugsalai locality, is all set to attract tourists in the time to come.
Carved out of marble, the 8'6" tall idol has been made by a Bengal artisan. The idols of Lakshmi, Saraswati, Ganesh and Kartik are also made of marble.
Durga Puja at Durgabari in Jugsalai is one of the oldest in Jamshedpur. The Jugsalai Durgabari Trust gathered funds from members for the Rs 15 lakh idol that was ordered about two years back.
"The uniqueness of the idol is that it has no joints. It was carved out of a 15 tonne marble block procured by the artisan. The weight of the idol is about 8.5 tonnes," said Shankar Bhobai, secretary of the Trust.
According to him, this is a one of a kind idol in the eastern zone and the artisan has taken pains to delicately carve out the idol.
"The idol has been made by Ganesh Gorai, an artisan from Sonamui in Bengal's West Midnapore," said Bhobai.
"Initially, the artisan was reluctant to make the idol. But he agreed after relentless requests from our side. We visited Sonamui five times to request the artisan who is known for making marble idols. The artisan has made an idol without joints for the first time. It took two years to complete the idol but we are extremely happy," added Bhobai.
"The idol was transported from Sonamui in a trailer. It was unloaded at Durgabari with the help of a crane. "The ritual (pran pratistha) was solemnised from May 17 to 19. Only the priests and some Trust members were present during the rituals. Covid guidelines were duly followed," the Jugsalai Durgabari Trust secretary said.
The beauty and uniqueness of the idol is sure to attract tourists. "In fact, we want Durgabari to become a tourist destination in Jharkhand," Bhaboi added.
Durgabari has been conducting Durga Puja since 1936. It was being celebrated at a pandal earlier but the Durgabari has now been turned into a temple. "Henceforth, Durga puja will be celebrated at the temple (Durgabari). The new temple has a bhog room and a Shiva temple. A sum of around Rs 5 lakh has been spent for the temple," Bhaboi said.
The newly-constructed temple is presently shut for devotees in view of the pandemic. "The temple will open once the situation becomes normal," Bhobai added.