Jharkhand News Digest: Pen drives, mobiles recovered from CPI (Maoist) leader in Ranchi
Elsewhere in the state: Vaccine camp for poor labourers at Pakur; Tatanagar dog squad sends 2 Belgian Malinois puppies to Rajasthan for training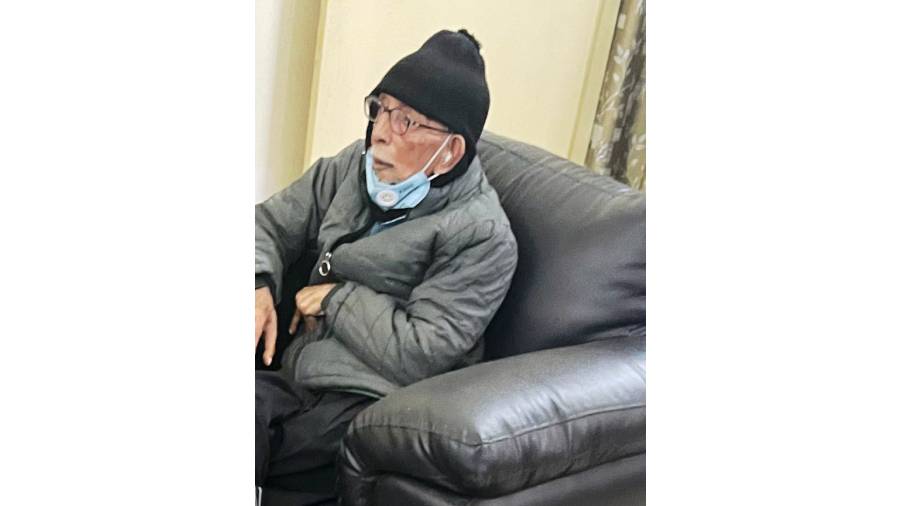 ---
Published 14.11.21, 06:12 PM
|
---
Jharkhand police on Sunday officially announced the arrest of senior CPI (Maoist) politburo member Prashant Bose, who had a reward of Rs 1 crore on his head, saying that pen drives, mobile phones and memory cards were recovered from him and the others apprehended along with him, contained information of the rebel outfit's future plans.
Talking to the media in Ranchi on Sunday, Jharkhand DGP Neeraj Sinha counted the arrest of Bose as one of the greatest feats of the state police. "For the first time, Jharkhand police have arrested a member of the central committee of the CPI (Maoist). We had information about his location, and were waiting for him to come out of his hideout," said Sinha.
Bose and his wife Sheela Marandi were arrested on November 12 at Kandra locality of Saraikela district in a joint operation of the state police and the CRPF.
Our correspondent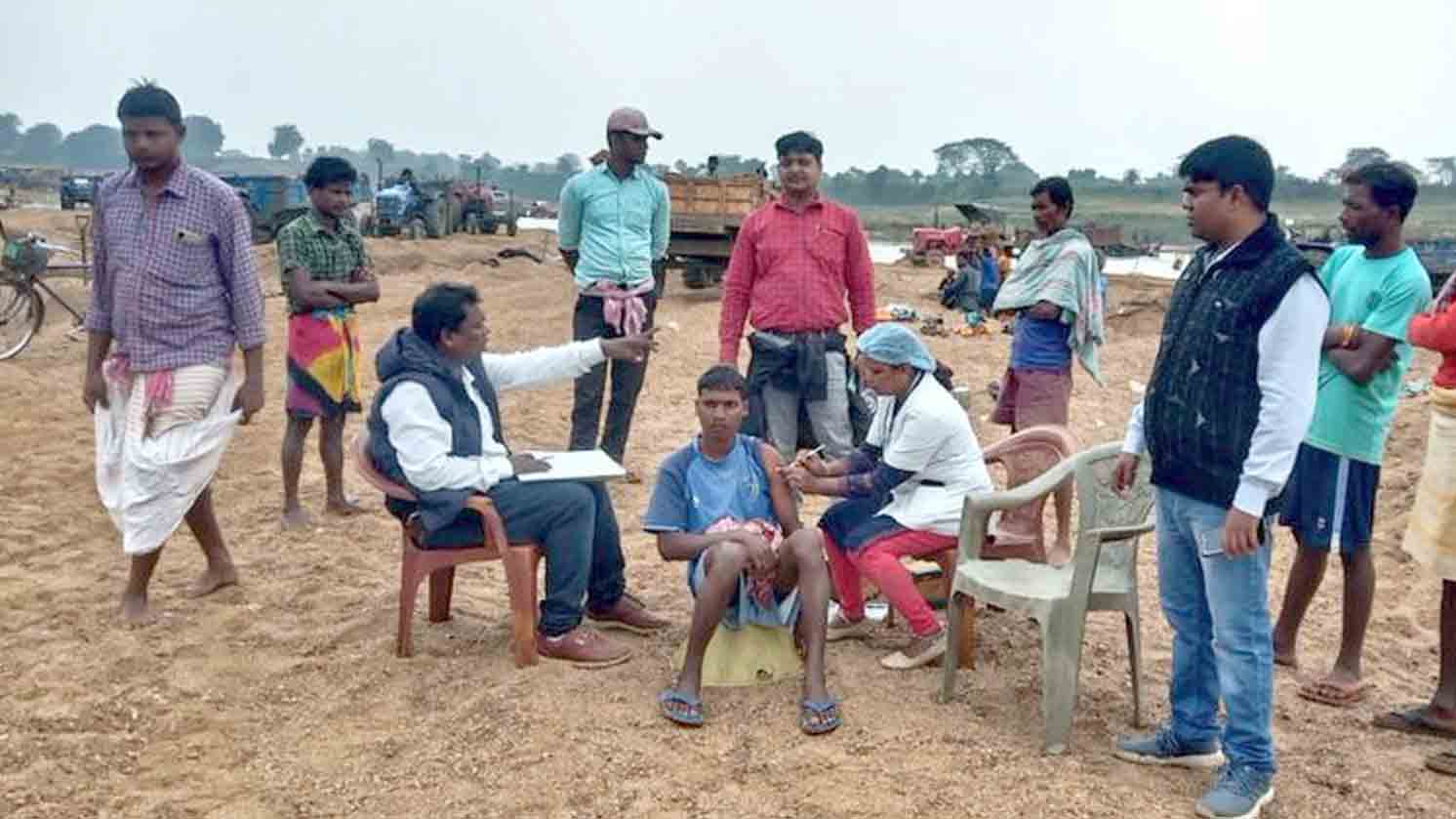 Dhanbad: Where there is a will there is way- goes the old age adage, and this has been proved right by the Pakur district administration which launched a special vaccination drive for labourers at Sand Bank of remote Maheshpur block today. The drive carried out under the supervision of Umesh Mandal, Block Development officer of Pakur from 9 am at Singhna Sand Bank witnessed the turnout of altogether 80 persons at two different spots of the same sand bank.
The move was part of the Pakur district administration's initiative under Varun Ranjan, Deputy Commissioner to reach out to labourers and farmers of the district at their home who usuallay leave early for work and find it tough to make it to vaccination camps.
Talking to The Telegraph Online today, Umesh Mandal, Block Development Officer of Maheshpur, said "We had to face some difficulties convincing people to take vaccines at the first spot of Singhna Sand Bank this morning but eventually 40 people turned up. "We had also organised vaccination programmed during Ratri Chaupal at two villages on Saturday including Murgadanga and Hathimara where 90 persons were administer jabs," added Mandal elaborating they would be continuing with the camp at Sand Bank as well as Ratri Chaupal.
Praduman Choubey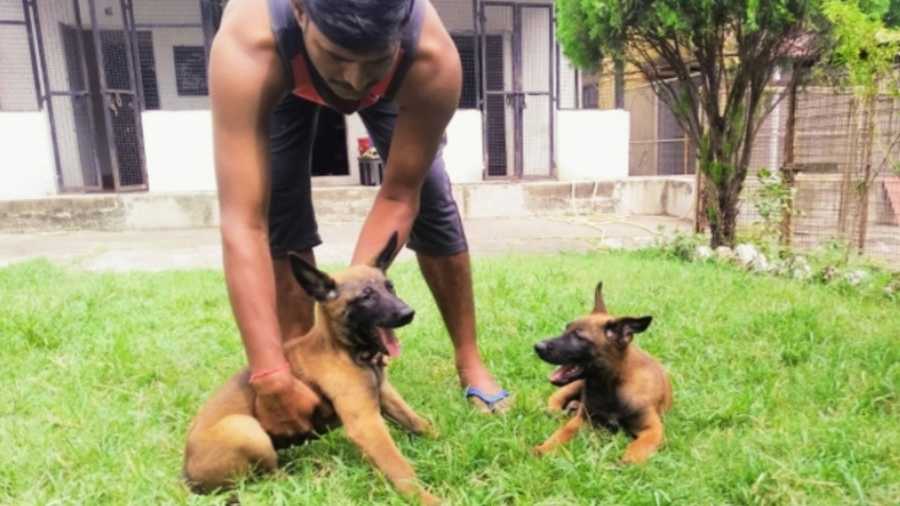 Jamshedpur: A pair of Belgian Malinois puppies which had been inducted into Tatanagar dog squad in July, earlier this year, have been sent to a dog training institute in Rajasthan on Sunday.
A team comprising four handlers accompanied the puppies to Seema Suraksha Bal (SSB)'s dog training center in Alwar where they puppies will undergo a six months training course.
Railway Protection Force (RPF) inspector, Tatanagar, Sanjay Kumar Tiwari said, "To be precise the puppies will get a 32-week rigorous training at the SSB dog training center, following which they will return Tatanagar dog squad in May 2022," while talking to The Telegraph Online.
According to Tiwaro, the four handlers, will be staying at the Alwar-based training institute till the puppies are trained.
He said, "We wanted to have them trained at CISF dog training institute, Ranchi, but with no slot available for the new trainees, we had no option but to send them to Rajasthan."
Presently, the Tatanagar kennel which is looked after the RPF has only one trained labrador.
The two Belgian Malinois puppies had been brought at the Tatanagar dog squad from Kharagpur July 27, when they were just a fortnight old.
Shushil Mahanta, one of the handlers who accompanied the puppies said, "Belgian Malinois dogs are very ferocious but very efficient for the sniffing job. They are the most favourite species in the world and are inducted in the US Army as sniffers," while talking to the website.
Mahanta said the two puppies will be trained for sniffing, especially narcotic substances and explosives.
Kumud Jenamani