Sindri residents seek Hemant help for road repair
Potholes leading to major accidents, rue local residents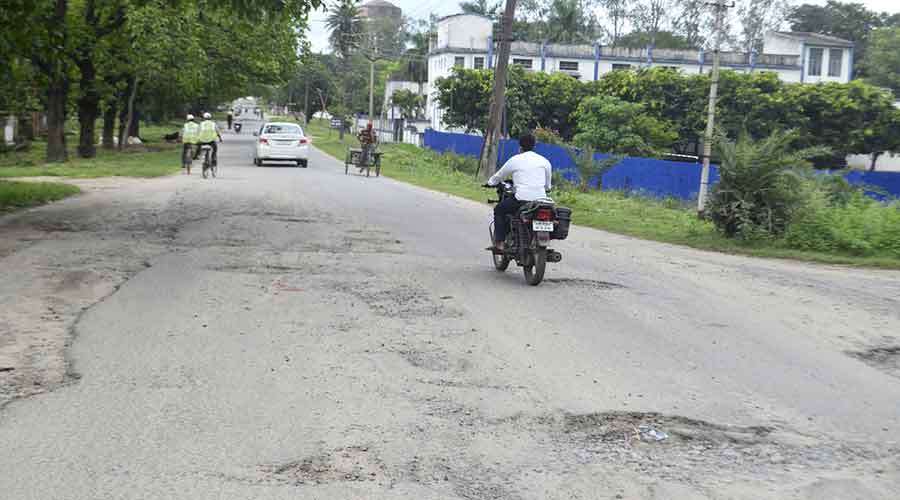 The potholes in Mayur Gate to Kalpana Talkies road in Sindri, Dhanbad.
Gautam Dey
---
Dhanbad
|
Published 15.07.21, 04:48 PM
|
---
Sindri residents on Wednesday appealed to chief minister Hemant Soren and Dhanbad Deputy Commissioner Sandeep Kumar demanding immediate repair of the deplorable condition of the over 3km stretch from Gaushala More to Kalapana Talkies Chowk.
Two separate tweets have been made by Deepak Kumar Dipu, president of Sindri Chamber of Commerce to Hemant Soren and Sandeep Kumar, drawing their attention towards the lack of apathy of civic body Dhanbad Municipal Corporation towards the repair of roads leading to repeated accidents.
In a related development, a group of retired employees of Sindri Fertilizer factory on Wednesday also met Meena Minz, Executive Officer of Sindri Circle of Dhanbad Municipal Corporation (DMC) demanding improvement in civic amenities of Sindri township.
Talking to The Telegraph Online, Dipu who is also the president of citizen's rights organisation, Sindri Bachao Morcha, said, "The condition of the road has turned from bad to worse since the last 1 and a half years as our repeated demands to carry out repair has fallen on deaf ears."
"Such is the condition of the road that even four wheeler drivers sometimes lose balance while the two wheeler drivers always face the risk of falling on the road due to the large size of potholes," said Dipu.
"The condition aggravates during monsoon when the potholes are covered with water and the riders could not properly gauge the depth of potholes leading to accidents," said Dipu and added that the condition of around 2 km stretch of total 3 km from Mayur Gate to Rohra Bandh in Sindri is more dangerous.
"Heavy vehicles carrying over 50 to 60 tonnes of clinkers of Associated Cement Company (ACC) plant at Sindri are primarily responsible for the bad condition of roads," said Dipu and added that the poor quality of material used during the repair of road more than two years ago led to the damage of road.
"If the situation continues even after the normalisation of Covid period and reopening of schools, the school students may become the victim of the bad condition of roads and thus we demand immediate repair of the road," said S. Mishra,71, a retired employee of fertilizer factory of Sindri.
Sindri old timers led by Sewa Singh, former Public Relation Office of FCI Sindri, during their meeting with Meena Minz, raised the issue of poor state of civic amenities in Sindri, particularly water logging, clogged drains, non functional street lights etc.