Rape protests: the young seethe, seniors call for introspection
Students take out marches, seek stricter law as a deterrent to violence against women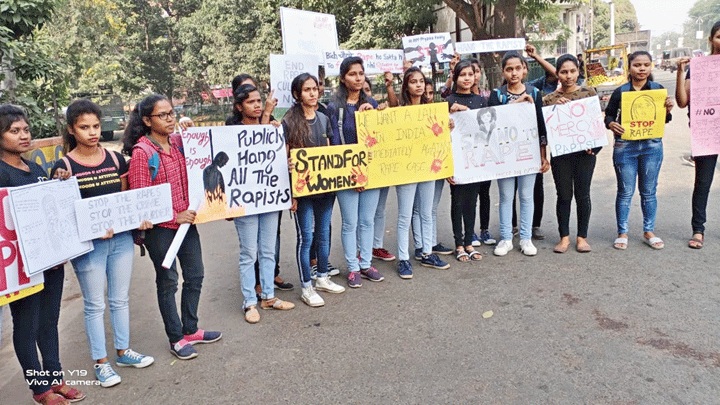 ---
---
Public outrage over the gut-churning incidents of gang-rape in Hyderabad and Ranchi have reached the steel city with students and artistes taking out marches and demanding stricter laws against the perpetrators.
A group of around 200 youngsters, comprising college students and professional dancers, marched 3km from from Bistupur Postal Park to the district collectorate to express their disgust.
They carried placards that read "Don't tell women how to dress, tell men not to rape"; "publicly hang all the rapists" and "'no mercy to rapists".
Dancer and founder of Uday Nrityalok Shankar Mukhi, who was leading the march, wondered how long would the violence against women continue.
"Can we ever say that our girls are safe? What we get to see in the newspapers and television channels are less than half of what the women have to go through every day. A lot of incidents go unreported. Many demand capital punishment for the rapists, but that is not any solution. It's high time that politicians realise that the safety of women is of utmost important," Mukhi said.
Around 300 school and college students had taken out a protest march on Sunday evening from Tinplate Chowk to Sakchi roundabout.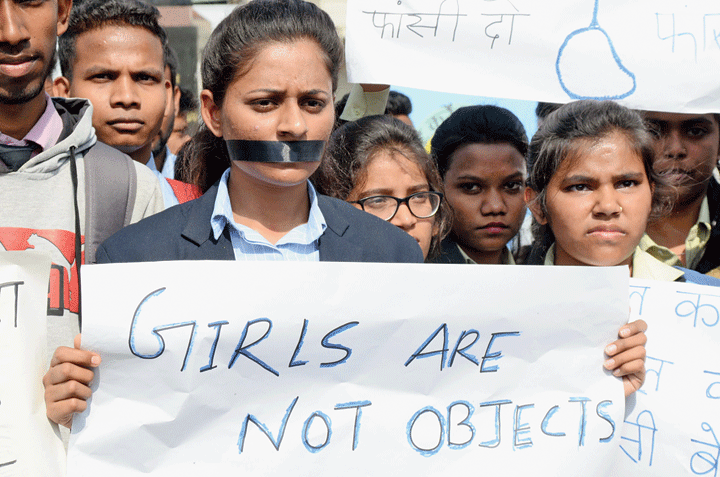 "Before asking for votes, our politicians should think about providing basic safety to women. The callous attitude of the lawmakers and law enforcers emboldens the rapists and such incidents keep on happening," said Kirti, one of the college students participating in the rally.
City-based social worker Alpana Bhattacharya and a team of senior citizens have decided to organise a silent protest on December 5 provided they get permission from the district administration ahead of voting in Jamshedpur.
"We don't want to blame anyone. We just want to protest with black masks and placards. Rape is all about the depravity of mind. A lot of blame game happens, but that doesn't solve anything. We are not raising our sons
well. It's time to introspect," Bhattacharya said.
In Ranchi, around 300 students of Gossner College marched with placards from their campus on Station Road to Albert Ekka Chowk, where they protested for 40 minutes from 9.45am before coming back to the college, covering a distance of 6km.