Ranchi Municipal Corporation vows to cover 45 open drains
RMC commissioner holds a special meeting with officials, directs them to cover all 45 open drains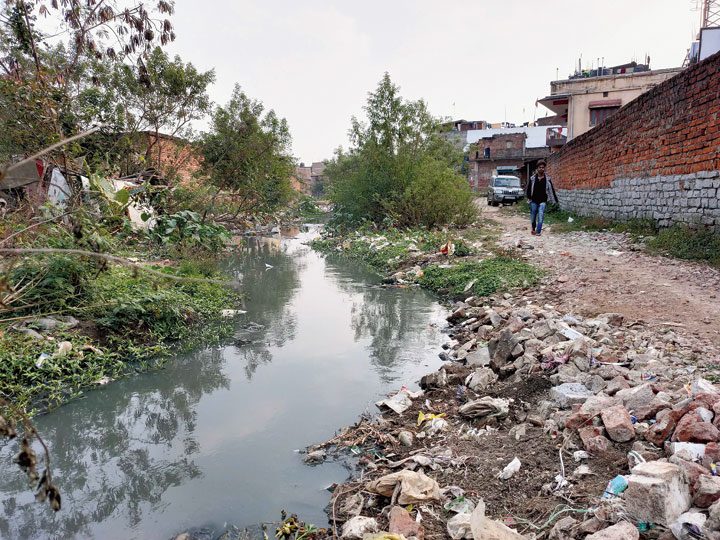 ---
|
Ranchi
|
Published 08.12.19, 08:36 PM
---
Ranchi Municipal Corporation (RMC) has finally woken up to the urgency of covering as many as 45 open drains across the capital deemed accident-prone zone after Akhil Oraon, a one-and-a-half-year-old boy, fell into one and was washed away some distance before his mother rescued him on Thursday.
Akhil had fallen into an open drain at Pahan Kocha, a part of Friends Colony in Lower Burdwan Compound area under Lalpur police station. His mother spotted him around 15 minutes later, which is why the little boy was spared the fate of Falak, a four-girl-old from Hindpiri who died after getting swept away in an open drain this year in July.
But in those 15 minutes, Akhil had swallowed a lot of dirty water in the drain, and he had to be put under a ventilator at Rani Children Hospital. On Sunday, a hospital source said he was blinking his eyes. Since Akhil belongs to a poor family, Ranchi District Child Welfare Committee has promised to pay the cost of his treatment.
Ranchi municipal commissioner Manoj Kumar held a special meeting on Saturday with senior officials of the engineering section of the RMC and directed them to cover all 45 open drains across the 53 wards of the RMC.
"He directed the engineering section to prepare an estimate within one week for covering the open drains that are causing accidents. Since election is on, no tender can be floated till the model code of conduct is in place. But we will ensure that the moment the election process is over, a tender is floated for this and work to cover drains is done on a priority basis," said an RMC official.
The official said the drain where Akhil fell was part of the Karam river that merges with the Subernarekha. Guard walls will be built to avoid future accidents here, he said.
Reacting to this incident, JMM candidate Mahua Maji, who is contesting from Ranchi, hit hard at the BJP government and RMC.
"Right from the mayor to the deputy mayor of RMC, the local MLA to the MP, everyone is from the BJP. The BJP is in power in Jharkhand but the party has no time to address basic civic issues. Such incidents (of children and people falling in drains) keep happening in Ranchi but neither the government nor the RMC is ready to learn any lesson," Maji said.