Railways dispatches highest quantity of oxygen on a single day
From April 23, South Eastern Railway has run 96 Oxygen Express trains with a total of 6,317 tonnes to 10 states and Union Territories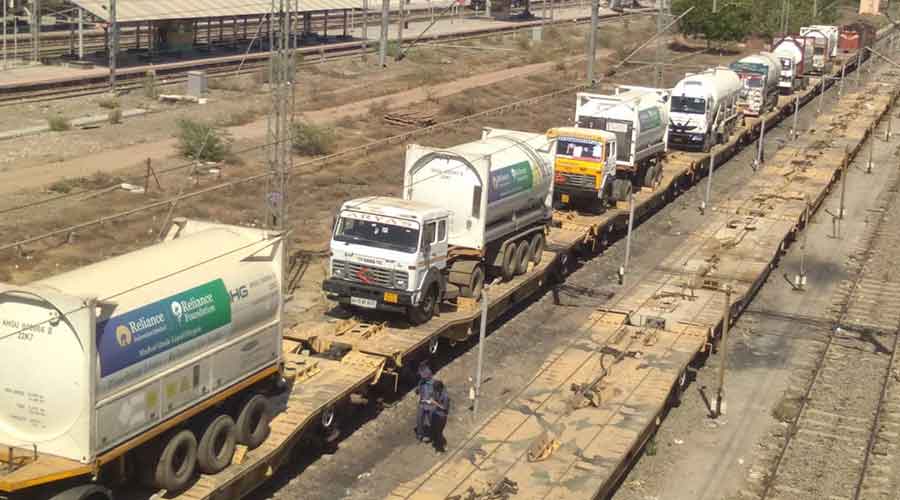 An Oxygen Express train at Tatanagar.
The Telegraph picture
---
Jamshedpur
|
Published 20.05.21, 10:55 PM
|
---
The South Eastern Railway on Wednesday achieved the highest dispatch of more than 770 tonnes of liquid medical oxygen under its jurisdiction via nine Oxygen Express trains originating from Bokaro Steel City, Rourkela and Tatanagar.
Records suggest that from April 23, SER has so far run 96 Oxygen Express trains dispatching a total of 6,317 tonnes of LMO to 10 states and Union Territories. 
The Oxygen Express trains were run to fulfill requirements of Uttar Pradesh, Madhya Pradesh, Haryana, Tamil Nadu, Telangana, Karnataka, Uttarakhand, Punjab, Andhra Pradesh and Delhi.
"This has been made possible due to the untiring efforts of railway employees who have been working round the clock to ensure fastest transportation of Oxygen Express trains," said Sanjay Ghosh, chief public relations officer of South Eastern Railway.
Train Cancelled
Concerned over growing cases of Covid-19 and loss of revenue due to poor occupancy SER's Calcutta based headquarters on Thursday evening notified cancellation of both the Up and Down
Bhubaneswar - New Delhi Special train between May 21 and June 1.  The train runs via Tatanagar railway station.