Push for medical waste disposal in Jharkhand
Safe Bio, which offers technological solutions for waste management, is partnering JSPCB in this project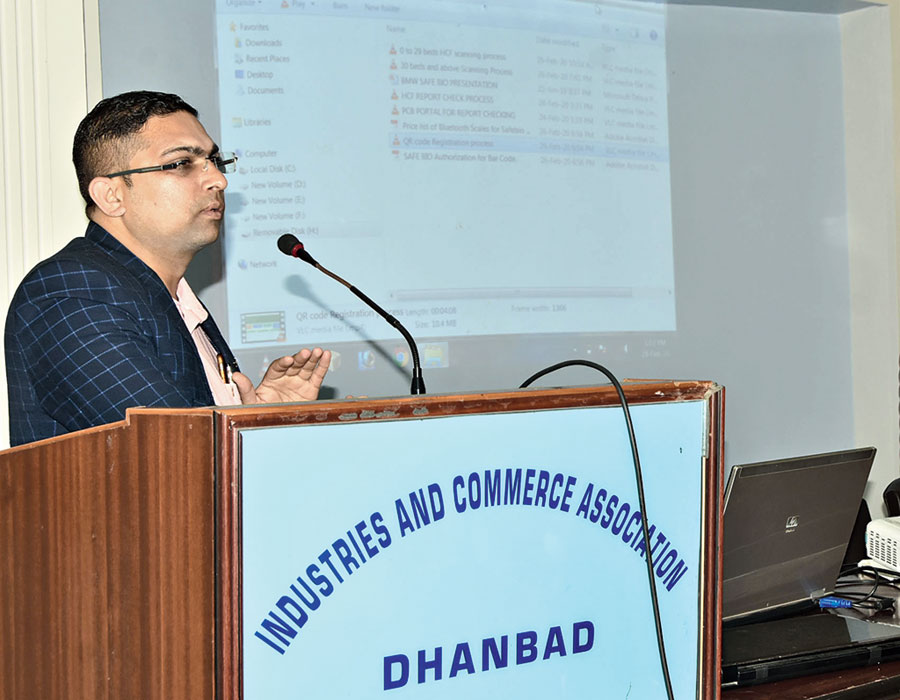 Ashok Kumar at the meeting at ICA meeting hall in Dhanbad on Friday.
Picture by Gautam Dey
---
Dhanbad
|
Published 28.02.20, 06:44 PM
|
---
The regional office of Jharkhand State Pollution Board (JSPCB) on Friday held a meeting with representatives of around 200 private clinics, hospitals and laboratories in Dhanbad and Bokaro to apprise them of the need for safe disposal of medical waste.
During the two-hour meeting, organised under the chairmanship of JSPCB Dhanbad regional officer R.N. Chaudhary, participants were guided through the process of mandatory online registration of their facilities at the JSPCB website (www.jspcb.ac.in).
Through a PowerPoint presentation, Safe Bio director Ashok Kumar explained how the online registration would generate a QR code for clinics, hospitals and laboratories and help JSPCB monitor the amount of medical waste produced and disposed of by each of them.
Safe Bio, which offers technological solutions for waste management, is partnering JSPCB in this project.
Chaudhary asked participants to register themselves as soon as possible and ensure the disposal of medical waste through Bio Genetics Laboratory in Ramgarh that has an incinerator and a recycling plant.
The pollution watchdog said it would write to the respective civil surgeon and Indian Medical Association against erring hospitals and clinics.
"The National Green Tribunal and Central Pollution Control Board (CPCB) are very concerned about the non-disposal of biomedical waste. JSPCB is now using a QR-based technology to handle medical waste," Chaudhary told The Telegraph.
Sharing more details, the Safe Bio director said the registered hospitals would be provided collection bags of four different colours — red, blue, yellow and white — to help them segregate the waste at source.
The collection bags provided to hospitals, clinics and laboratories will have their unique QR code on them.
"When representatives of Safe Bio pick up the waste, they will scan the QR code. This will immediately send information about the amount of waste collected from a particular facility to JSPCB and the CPCB," Kumar said.
He said the new system would help pollution regulators carry out real-time monitoring of waste generated by hospitals and similar facilities.
Over 650 hospitals from the state have registered themselves with the JSPCB within two months after the system was launched, he added.
At present, many hospitals in Dhanbad claim that they send their biomedical waste to the Bio Genetics Laboratory in Ramgarh in the absence of an incinerator nearby.
However, medical waste is often found strewn outside hospitals and on roadsides in various places of Dhanbad and Bokaro.
Earlier this year, Dhanbad Municipal Corporation had identified land in ward 40 for an incinerator and issued tender worth Rs 4.5 crore.
However, the project could not take off because the District Mineral Foundation Trust didn't release the funds for it.