Prestigious Sainik School opens its doors to girl students
To begin with, directives issued for Class 6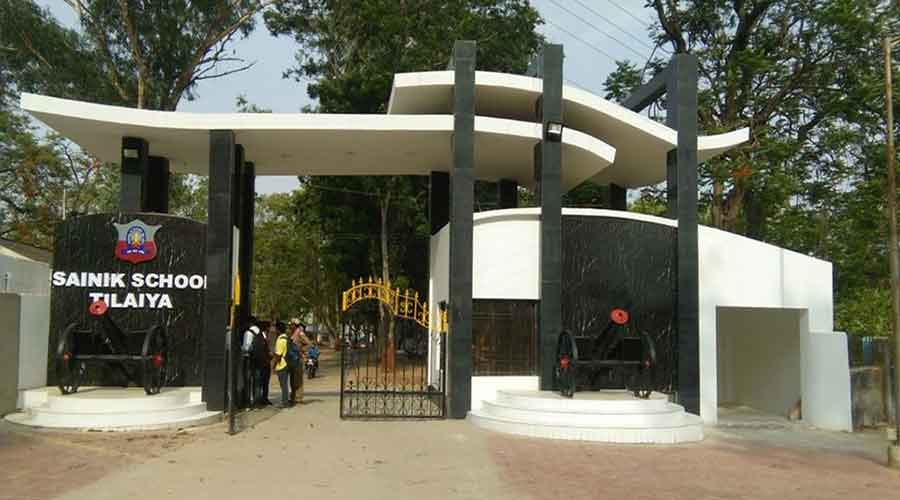 Entrance gate to Sainik school Tilaiya in Koderma.
Vishvendu Jaipuriar
---
Hazaribagh
|
Published 19.08.21, 08:07 PM
|
---
The prestigious Tilaiya Sainik School has set the ball rolling for admission of girls for the first time since its inception after Prime Minister Narendra Modi made an announcement in this regard during his Independence Day speech.
Principal of the school and group captain Rahul Saklani said there are eleven vacancies for girls and a process has started in this regard to fill the seats. 
Established on 16 Sept of 1963, the school has sent about 700 cadets to the National Defence Academy. Its alumni are also serving the nation at premier positions in various other fields like medicine, civil services, engineering, teaching, fashion and film industry as well including film director Prakash Jha. 
Sources said after Modi's direction, Sainik School Society and ministry of defence started the ground work to move ahead in this regard so as to take admission of girls. They said due to this, Tilaiya Sainik School also started the process as well as ensuring the required facilities and infrastructure in its campus. 
Saklani said it's a matter of glory and happiness that girls now get the opportunity to study in the prestigious Sainik schools of the country. He said "Girls are performing well in each and every field. I am sure that they will utilise this opportunity to make their dreams come true," he added. 
In Sainik school, boys get admission in standard sixth and ninth every year. Girls will get admission in standard sixth only as per directives of the society. There are 114 seats in standard six out of which eleven seats are reserved for girls and rest for boys. Sainik School organises entrance examinations every year to fill the vacancies. 
Sainik schools are considered feeder institutions for the armed forces and many of the alumni become top leaders. Saklani said, "This is the reason why the first generation of military students join the school," terming this a historic moment.