Please reach booths, special voters urged
Postal ballot at home to start from phase 3, not 1 & 2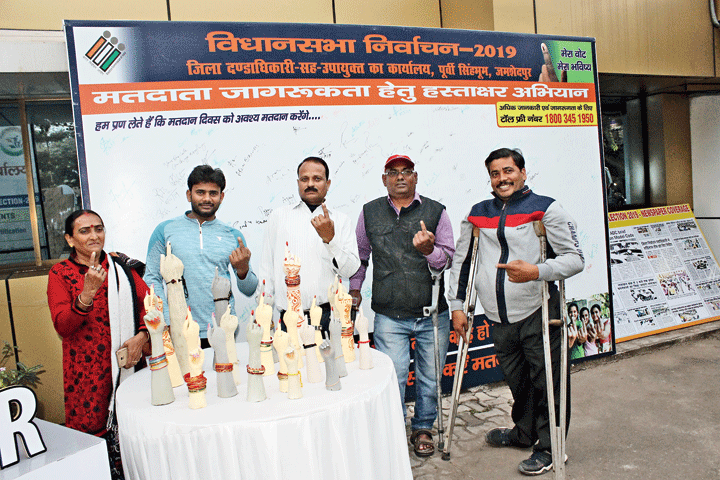 ---
---
Social organisations in the steel city are doing their best to encourage specially abled voters to come out and cast their franchise this Assembly election.
The Election Commission of India has introduced a postal ballot system for senior citizens and the specially abled to vote at home this election, but this will start only from the third phase, December 12. Specially abled voters of first and second phases on November 30 and December 7 will have to go to booths.
Constituencies in and around the steel city will vote in the second phase. That's why outfits that work for the specially abled are campaigning from door to door or on social media platforms, asking specially abled people as well as their families to ensure that they reach the polling booths. And the numbers are not to be sneezed at. In East Singhbhum alone, there are 15,162 registered specially abled voters.
For many people with disabilities (PwD), mobility is a hurdle. A family member has to organise a vehicle for a trip, and it can prove expensive.
On Tuesday, a meeting was held by East Singhbhum DC Ravi Shankar Shukla along with outfits that work for the welfare of the specially abled, asking people to visit polling booths to check if they were accessible for PwDs. Social outfits such as Jharkhand Viklang Sansthan and Jharkhand Viklang Manch have decided to organise vehicles to bring specially abled voters to booths and drop them home.
"We have been asked to check if all polling booths make it easy for the specially abled to access. For example, do they have ramps for wheelchairs? If not, we have to report the lapses to the district administration, who will remedy measures. We will also organise an awareness rally on December 1," said Dipak Srivastava, secretary of Jharkhand Viklang Sansthan.
He said they would organise vehicles for special voters.
On Monday, social welfare department held a live demo of EVMs for intellectually challenged voters at School of Hope in Northern Town, Jeevika in Sonari and Parents Association of Mentally Handicapped (PAMHJ), Dhatkidih.
"Officials from the social welfare department showed special voters how the EVM works. They are excited to vote. We are visiting parents and sending them WhatsApp messages so that they bring their wards to the polling booths," said P. Babu Rao, secretary of PAMHJ.