'Planned lynch in Khunti'
Done to polarise the tribal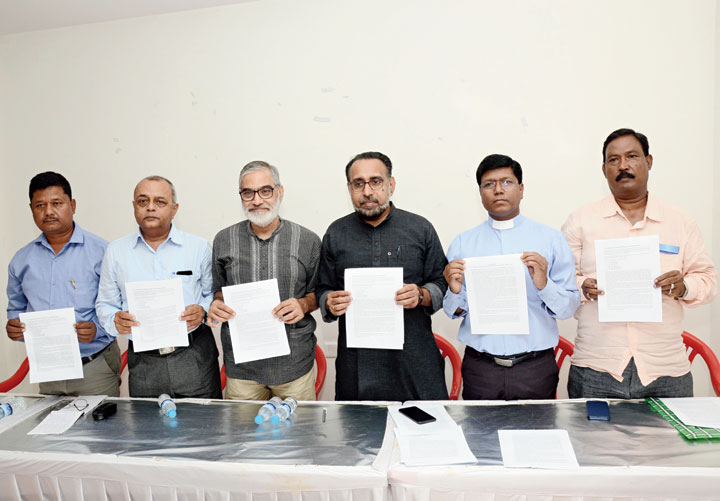 The fact-finding team in Ranchi on Saturday.
Manob Chowdhary
---
Ranchi
|
Published 05.10.19, 07:21 PM
|
---
An umbrella outfit of many organisations, the South Asia Forum for Federation of Religion or Belief (India chapter), revealed on Saturday the findings of its fact-finding team on the September 22 mob lynching at Sauri village in Karra, Khunti, where one man was killed and two others injured allegedly by cow vigilantes.
It was a planned attack to polarise the tribals, the forum's representatives told the media at Ranchi Press Club.
Director of the Centre for Study of Society and Secularism, Mumbai, Irfan Engineer, who spoke to the media in detail, said the attack was planned as Sauri village was a Christian-dominated village.
He said the attackers from various villages came early and knew it was the time of the local Badapahadi festival where meat would be distributed as it was the age-old practice. The riverbed where the lynching took place was in an isolated area without approach roads, he added. "It is evident that this assembly of people could not have been spontaneous," Engineer added.
Engineer further said that the village was selected with a design. "Christians were targeted with the aim to polarise Adivasi communities into Sarna versus Christian...to weaken the joint Adivasi struggles to protect their gram sabha and land tenancy rights."
He added that administrative action had been praiseworthy. "Three have been arrested, we were told that hunt was on for the attack's mastermind Pursharaj."