Petrol pumps are Modi Tax Collection Centres, rebukes Cong
Ahead of two-day protest, party men hold cycle rally in Ranchi against rising fuel price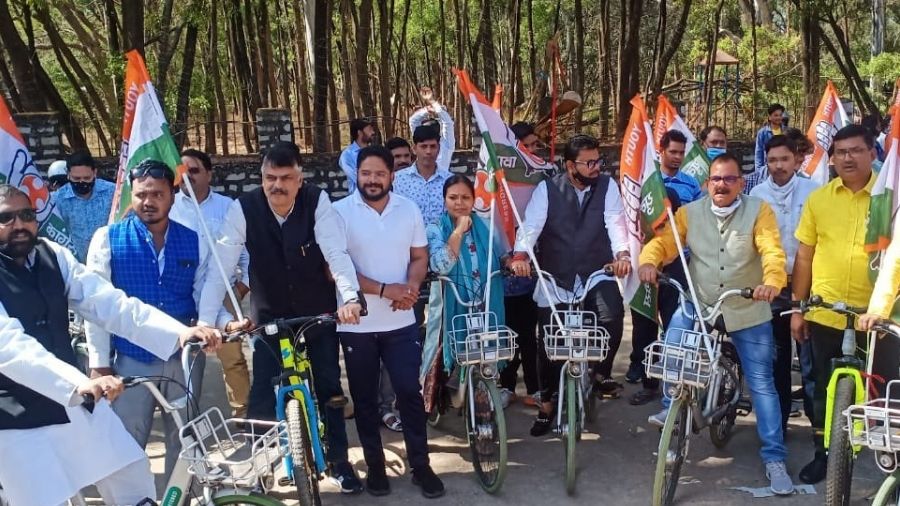 Congress workers take part in a cycle rally in Ranchi against spiralling fuel prices.
Telegraph Picture
---
Ranchi
|
Published 25.02.21, 05:23 PM
|
---
Congress, which is a part of Jharkhand's ruling alliance, held a cycle rally in Ranchi on Thursday ahead of a two-day protest against spiraling fuel prices, the latest agitation coming days after back-to-back tractor rallies in solidarity with protesting farmers. 
The party's national spokesperson, Gaurav Vallabh, along with Khijri MLA Rajesh Kachchap and senior members, rode on cycles from Morabadi ground to the Congress office at Sahjanand Road, covering a distance of 4km as a symbol of protest against the Union government's failure to control prices.
Taking a dig at renaming of Motera stadium in Ahmedabad after Narendra Modi, Vallabh advised BJP to also rechristen all petrol stations in the country. "We demand that the BJP and its government rename all petrol pumps as 'Modi Tax Vasooli Kendra (Modi Tax Collection Centre)," he said. "When fuel prices go up, the Union government blames global crude prices. But when global prices are down, why are the rates going up daily? So, it is quite evident that the Union government is solely interested in the business of collecting taxes to fill its coffers,"he explained.
Close to 100 party workers, including members of the Congress youth wing, participated in the cycle rally. On Friday, February 26, the party will hold a torchlight procession in district headquarters. On Saturday, February 27, the party will hold protest marches and sit-ins against the price hike.
Claiming the government was hell-bent on keeping common people under a financial burden, he said that in February alone, fuel prices were increased  14 times. "Is the government even bothered about the people?," he asked, adding that ever since the Modi government came to power, excise duties on petrol and diesel had gone up exponentially.
"In 2014, the excise duty on petrol was Rs 9.48 and on diesel it was Rs 3.56. Today, they rose to Rs 32.98 and Rs 31.83 respectively. This means, in petrol they hiked excise duty by 248% and in diesel, by 794%. Similarly, LPG prices rose by Rs 175 in 75 days. Currently, crude oil prices have come down by 44% compared to $ 108 per barrel in 2014. But still our fuel prices are going up. This exposes poor fiscal management of the Centre," he said.
He said under the Modi regime, GDP had got a new definition. "Gross domestic product (GDP) has been redefined by Modiji as gas, diesel and petrol. No matter the fall of the GDP, but prices of these three items must keep rising to fill the government's coffers," he rued.