Panic & rush after PM Modi's speech
Residents Race to stock up supplies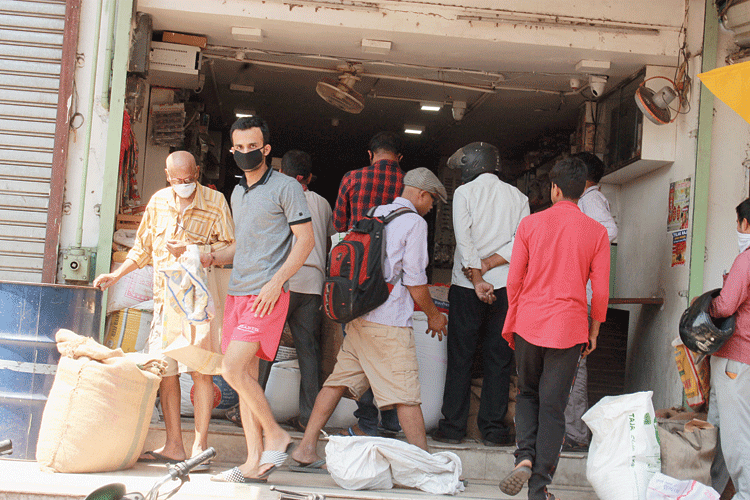 ---
---
Prime Minister Narendra Modi's announcement of the 21-day lockdown to thwart off the coronavirus threat sparked panic buying in the steel city that did not subside even with the East Singhbhum district administration opening Suvidha Kendras for people to buy essentials.
Hoards rushed to grocery shops across the city soon after Modi's televised address.
There was commotion outside the Reliance Fresh in Bistupur on Tuesday night as customers, specially women, protested the early closing of the store. "I came here to see the store closed at 8.45pm. It is supposed to remain open till 11pm on all days. I am not going to leave this place without buying essentials," said homemaker Poonam Kumari.
She said her household goods stock was depleting. Told about the Suvidha Kendras to be opened from Wednesday, she said she was in no mood to wait.
Residents said they had to rush out of their homes soon after the PM's announcement since he mentioned no details in his address to the nation. "There was no mention about which shops would remain open and which not. Obviously, I got worried and headed to the grocery shop," said Mithilesh Tiwary, a Tata Steel employee and resident of Sonari.
Several people were frantically buying supplies in Bistupur and elsewhere across the city early on Wednesday morning. The scenario
was the same at vegetable markets.
Ritesh Jha, a businessman who had rushed to a grocery shop at Refugee Market in Sakchi on Wednesday morning, asked who would feed his family if he kept waiting to buy the essentials. "I panicked after Modi's announcement yesterday. I am not taking any chances today," he added.
East Singhbhum deputy commissioner Ravi Shankar Shukla on Wednesday said the administration was making announcements about the availability of essentials.
"There is no need to panic. Suvidha Kendras have been opened and people should not panic in buying essentials," he advised.