2500 cops for global food summit in Ranchi
Jharkhand administration on high alert to ward off disruptions after experience of statehood day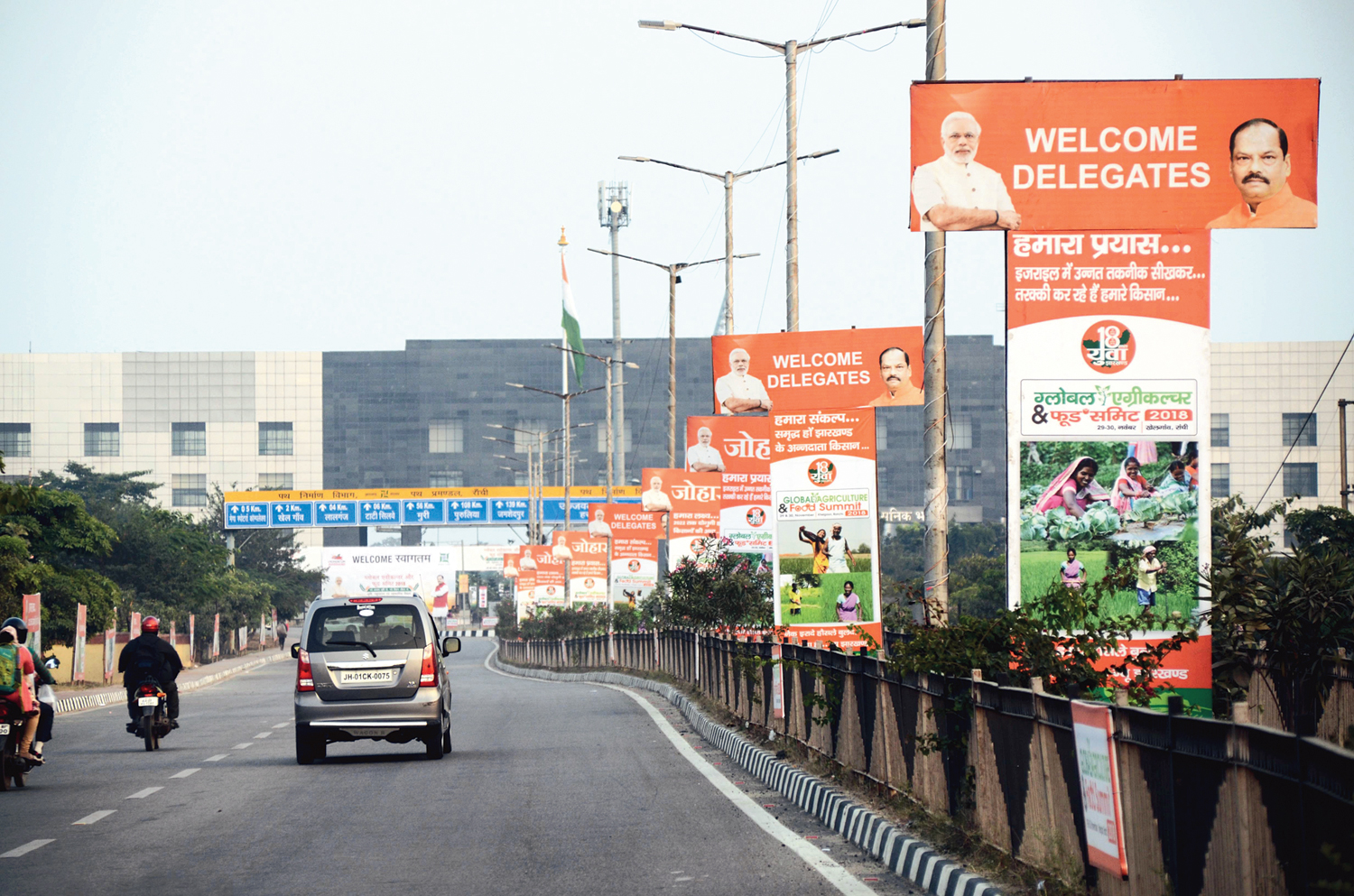 Billboards and placards on the road leading to the Hotwar mega sports complex from Khelgaon Chowk in Ranchi on Wednesday welcome delegates to the two-day Global Agriculture & Food Summit.
Picture by Manob Chowdhary
---
Ranchi
|
Published 28.11.18, 06:39 PM
|
---
The Ranchi district administration, eager to ensure that protests like the one by para-teachers witnessed during the official Statehood Day function do not mar Thursday's inaugural of the two-day Global Agriculture & Food Summit (GAFS), has announced elaborate security arrangements.

Sources in Ranchi district police said that over 2,500 policemen would be deployed across the state capital and at the venue, the mega sports complex in Hotwar where the administration has decided not to allow unauthorised assembly of people, especially striking para-teachers.
"The entire city capital and programme venue will be under CCTV surveillance. Patrolling in Ranchi has been enhanced to maintain law and order and regular frisking of pedestrians and checking of vehicles is on," a government official said.
Traffic arrangements will be similar to what was enforced during the two-day Momentum Jharkhand programme in February 2017.
"From 6am tomorrow (Thursday) till 11pm on Friday, heavy vehicles will not be allowed within city limits. That means there will be a complete no-entry of heavy vehicles. Besides, barricades will be erected at as many as 10 places on the city outskirts. VIP routes have been designated," said Ranchi traffic SP Ajit Peter Dungdung.
Barricades will be erected near Ormanjhi police station, Pithoria Chowk, Nagri flyover, Rampur at Namkum, Durga Soren Chowk, Kathi Tand at Ratu, Ormanjhi block office, Ring Road at Tupudana, National University of Study and Research in Law at Kanke and Bank More at Tatisilwai.
Besides, temporary barricades and slide-gates would be out up to control vehicular movement at Khatanga locality on Tatisilwai-Khelgaon road, Sujata Chowk, Booty More, Bahu Bazaar, Kokar road and near Kadru flyover.
Round-the-clock checking will be conducted on VVIP routes namely, Tatisilwai-Khelgaon road, Birsa Chowk, Airport Road, Main Road and Booty More.
The summit is to be inaugurated by Union agriculture minister Radha Mohan Singh on Thursday.