Over 1500 lay siege to BJP's Harmu headquarters over unfulfilled promises
Lost faith in government, cry teachers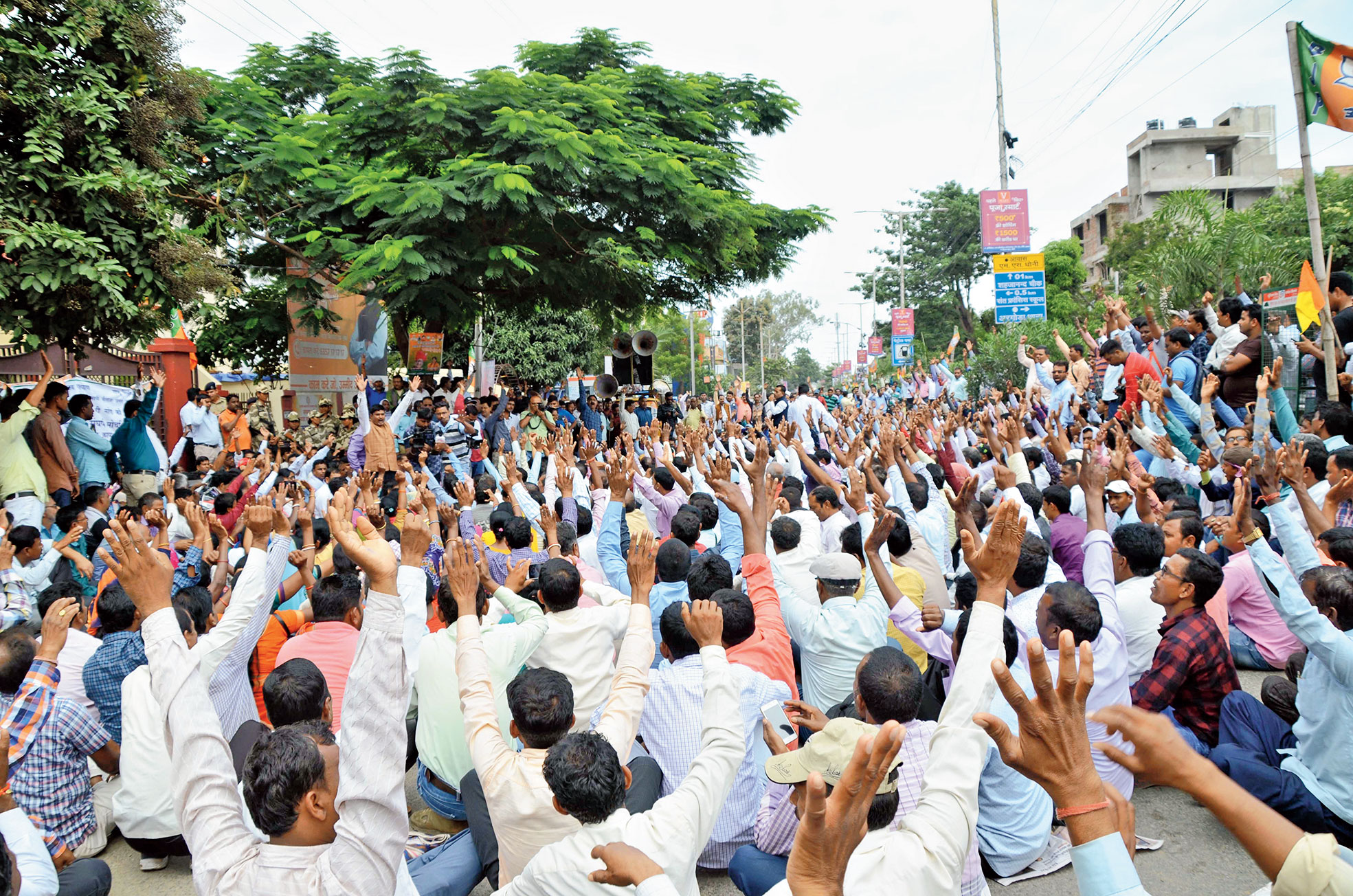 ---
|
Ranchi
|
Published 21.10.19, 06:47 PM
---
The state BJP headquarters at Harmu here was virtually under siege on Monday, as over 1,500 para-teachers demanded the state government quit dilly-dallying on their pay hike and act on its promise made this January.
They refused to meet any leader, saying they had "lost faith in chief minister Raghubar Das", a sentiment that could flare up in the poll-bound state.
Under the banner of Jharkhand Ekakrit Para Shikshak Sangh, The para-teachers from Palamau and Kolhan divisions staged the demonstration in front of the BJP office for around two hours.
The association members pledged to continue their agitation, announcing a protest on Tuesday by para-teachers from Chhotanagpur division in the front of the BJP office.
Around 11am, para-teachers started assembling on Harmu grounds in front of the BJP state headquarters. By 11.45am, they started their demonstrations in front of the BJP office. Around 1.55pm, they dispersed from there to assemble at Harmu grounds.
"We started a hunger strike at Harmu grounds from Monday and that will go on. This government can't be trusted anymore," said Yashwant Kumar Singh, para-teacher and office-bearer of the outfit.
Traffic on Harmu Road remained affected for over two hours and had to be diverted.
Jharkhand has around 67,000 para-teachers, considered to be the backbone of rural primary education, but paid a fraction of the salaries that government teachers get.
In August last year, para- teachers started their protest that culminated into a violent protest when they clashed with the police in front of CM Das during Statehood Day in Morabadi on November 15 last year. A prolonged strike by para-teachers followed. This January, the government showed signs of thawing when it agreed to increase their pay.
"An agreement was signed by the government in which it said that the pay scale of para- teachers would be fixed and their services regularised. A high-level committee was formed and was to submit its report within three months. The government sought more time, citing Lok Sabha polls. But even today, nothing has been done for us," said secretary of the outfit Pradyuman Kumar Singh.
Singh claimed the government had said untrained para-teachers would be skilled and not sacked but in reality, contracts of untrained para-teachers are being terminated. Jharkhand has 5,000 untrained para-teachers," he said.
A BJP leader said that for any ruling party, protests in front of the party office before polls was not a good thing. "We hope the government finds an amicable solution," he said.