Over 10,000 sal and karam saplings planted as part of a drive at Dalma
Apart from this, the Ranchi wildlife division will plant 1.5 lakh bamboo saplings to provide food for jumbos, keeping them away from human habitats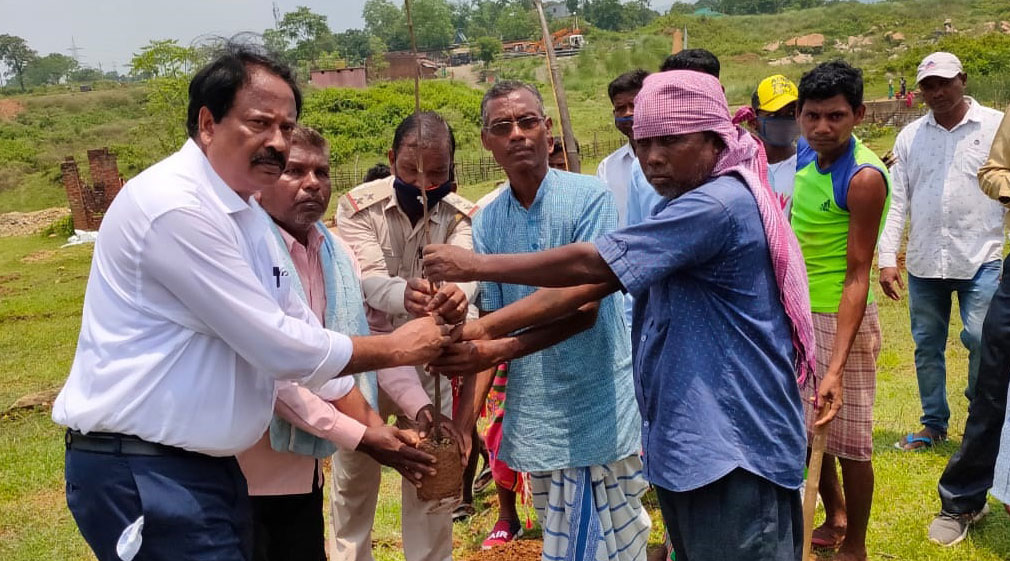 Dalma range officer Dinesh Chandra (in white shirt) hands over a sapling to villagers at Saherbera on Tuesday.
Animesh Sengupta
---
Jamshedpur
|
Published 30.06.20, 07:07 PM
|
---
Foresters conducted a plantation drive on Hul Divas near Saherbera village at Dalma wildlife sanctuary.  Eco development committee members from Saherbera and Majhi Pargana Mahal, were present for the drive on Tuesday.
As many as 10,000 sal and karam saplings were earmarked at Saherbera, a pocket which falls inside the sprawling 192 sq km sanctuary, 30 km from Jamshedpur. The saplings were then transported from a nursery to the area. The most involved were young people from the village, who have also vouched to keep vigil at the plantation site, to prevent the saplings from getting destroyed by animals.
Dalma range officer (west) Dinesh Chandra, present at the occasion, said, "We have demarcated an area for planting 10,000 saplings at Saherbera. The exercise will also be undertaken in other pockets across the sanctuary," he informed.
The present drive was approved by the state forest department, which is also focusing on bamboo plantations inside the sanctuary area.
The Ranchi wildlife division has planned a plantation drive, involving over 1.5 lakh bamboo saplings across 10 locations on the east and west forest ranges of the sanctuary.
Over 10,000 saplings of fruit-bearing trees will also be planted.
This large drive will cover Lailam (50,000 saplings), Koira and Somadih (8,000), Bota and Dhobni (10,000) and Dangdum (10,000) while a total of  50,000 saplings are earmarked for Chaliyama, Hansada (10,000), Saherbera (10,000) and  Dangardih (6,000), all under the west forest range.
Chandra further said, "Things depend on weather conditions. If it doesn;t rain, the activity will be completed in a week's time.
According to a forest official, the effort is aimed at making ample food available for elephants inside the sanctuary and deter them from straying into human habitat. "We are very serious about reducing man-animal conflict. Making food available in sufficient quantity would confine the jumbos to the sanctuary. Bamboo is the favourite food of elephants," he said.
Once the bamboo plants grow substantially over a year, it will also provide additional green cover.