Over 100 salary-deprived teachers of BCCL aided schools start series of protest
The protestors charged the coal company management with unfair treatment who working on the meagre salary of Rs 5,000 per month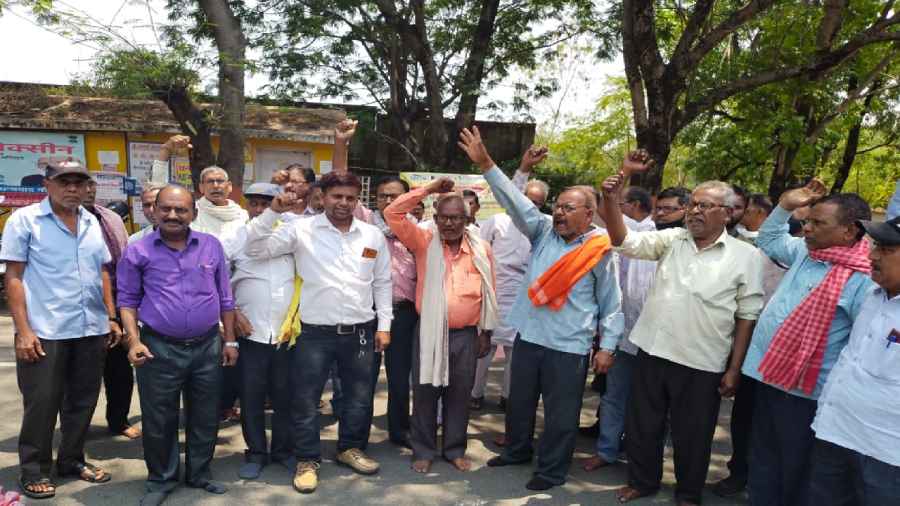 Agitated teachers demonstrating in front of the BCCL Headquarter, Koylanagar in Dhanbad
Gautam Dey
---
Dhanbad
|
Published 02.05.22, 07:44 PM
|
---
Over 100 teachers out of a total of 275 of 75 BCCL aided schools, who are deprived of salaries for the last 25 months, staged a dharna in front of Koyla Bhawan, BCCL headquarters, as part of their series of agitation which began on Monday.
The protestors, who assembled at the demonstration site under the banner of Koyla Khadan Shikshak Sangh and shouted slogans against the BCCL management, charged the coal company management with unfair treatment of the teachers who are spreading the light of education in colliery areas since 1980 on the meagre salary of Rs 5,000 per month.
Talking to The Telegraph Online on Monday, CD Singh, one of the protesting teachers who is also the general secretary of Koyla Khadan Shikshak Sangh said, "We started our job in the BCCL aided schools more than 35 years ago at the request of then BCCL officers who were also part of school management committees and they promised regularization of our jobs gradually after the assimilation of the schools in the BCCL fold in line of nationalization of private collieries which took place in the 70s."
"Over the years all the promises have fallen flat and we are still compelled to work at the nominal salary of Rs 5,000 per month which is also paid irregularly after a gap of 10 to 20 months," said Singh and added that as the schools remained closed during the pandemic as per the government guidelines the BCCL authorities are now making an illogical argument that why should they pay salaries of the closure period of schools.
"We also burnt the copies of the sanctioned list of teachers on Monday during the demonstration which was released by BCCL management recently. In the latest list of sanctioned teachers the management has excluded the names of over 60 teachers for being overage," said Singh. He added that the sanctioned list has no legal validity as there is a circular of Coal India Limited fixing the upper age limit of teachers.
"As part of the second phase of our agitation we will stage Satyagrah in front of BCCL headquarters, Koylabhavan on May 9 and finally sit on a hunger strike before the house of BCCL CMD, Samiran Dutta on May 16," said Singh.
Vinod Sinha, another agitator who also participated in the demonstration said, "We have devoted our entire life for the sake of educating the children of coal workers in colliery areas but now in turn we are being victimized in the name of changed rules."