Jharkhand: 1 dead, 1 injured in two separate incidents of mobs attacks
A 22-year-old Muslim youth Adil Hussain was beaten up by a group at Thakur Toli when he wandered into their locality and entered into few houses on November 28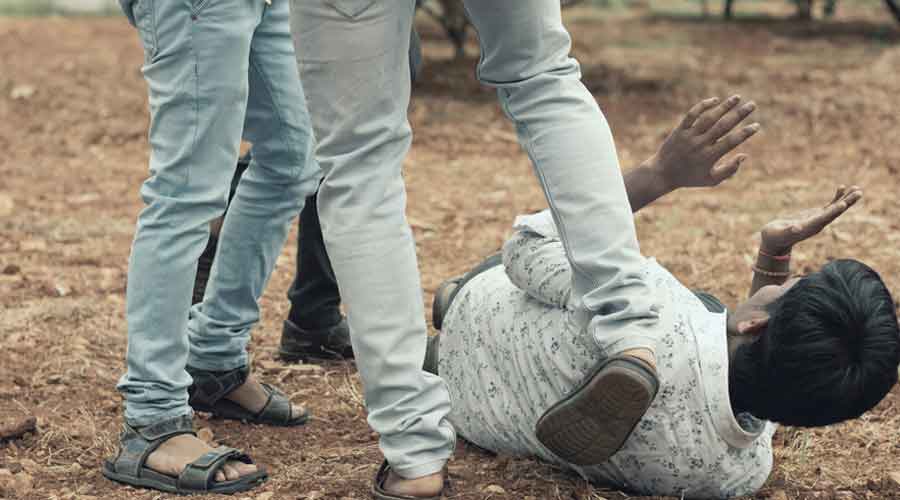 ---
Jamshedpur
|
Published 04.12.21, 01:12 AM
|
---
Two separate incidents of mobs attacks surfaced at two different locations in Jharkhand in which a Muslim youth was seriously injured and a tribal man was beaten to death.
The incidents assume significance in a state, which according to a list prepared by Jharkhand Janadhikar Mahasabha — a coalition of human rights outfits and civil societies — has witnessed over 30 persons belonging to tribal, tribal Christian and Muslim communities being either lynched or beaten up
by a mob on suspicion of cow slaughter, sale and consumption of beef and religious hatred between the year 2016 and 2021.
A 22-year-old Muslim youth from Idgah Mohalla in Simdega, Adil Hussain, was beaten up by a group at Thakur Toli when he wandered into their locality and allegedly entered into few houses on November 28 evening.
The severely injured youth is now recuperating at Rajendra Institute of Medical Sciences (RIMS), Ranchi, with head injuries. The matter surfaced on Thursday evening after Mahasabha members tweeted the matter tagging the chief minister and Jharkhand police. Hussain has been receiving treatment from a Ranchi-based psychiatrist for schizophrenia for the last 10 years,
In another incident, 35-year-old tribal youth Sunil Pasi was beaten up by villagers in Khetko under Bagodar police station area of Giridih district on suspicion of being a cattle thief after keeping him hostage on Thursday night. Bagodar police was informed on Friday morning and when the injured youth was taken to Bagodar Community Health Centre, the doctor declared him brought dead.
"It is unfortunate that incidents of mob justice and lynching over religion and caste are taking place in Jharkhand. We want the government to take stern action, arrest all culprits and ensure a complete stop on such incidents," said Shabad Ansari, a high court lawyer and member of Jharkhand Janadhikar Mahasabha.
Adil's brother Yusuf Ansari informed The Telegraph that on November 28, his brother had gone for evening namaz at the nearby mosque.
"He has been having insomnia after discontinuation of medicine. He had gone to the nearby Prince Chowk and had somehow meandered into the neighbouring Thakur Toli, around 2.5km from our locality. We started searching for him when he did not return till 7pm.
"My elder brother got a photo shared in the WhatsApp group which showed our brother looking frightened and being held by someone. We suspected something and went to the neighbouring locality," said Yusuf.
They were told that their brother was beaten up by local youths and the police had taken him to Simdega Sadar Hospital.
"Simdega hospital referred him to RIMS Ranchi after seeing the serious injury on his head. Though RIMS doctors have declared him out of danger, he is still in the hospital. My father had lodged named FIR against three persons and also FIR against several unidentified persons. So far only one Rohit Singh has been arrested," said Yusuf.
Simdega SP Shams Tabrez refused to term the incident as religion-based mob-lynching.
"We saw CCTV footages of the area and also received a complaint from a local scribe residing in Thakur Toli that Adil, who was suffering from mental illness, had tried to enter some houses but could not speak anything when asked.
"He was beaten up by some youths of the locality for trespassing but there was no communal angle behind the beating. We are investigating into the case and one person has been arrested. More arrests will take place during course of investigation," the SP said.
In Giridih, few thieves had tried to enter the house of one Dashrath Mahato in Khetko village on Thursday night. When the house owner raised an alarm, the thieves escaped on seeing the villagers. However, villagers managed to catch Pasi and beat him up badly and kept him hostage for the entire night and informed police on Friday morning.
Bagodar-Sariya sub-divisional police officer Naushad Alam said that police had gone to the spot after getting information and saw the critically injured Pasi. He was then rushed to the community hospital where he was declared brought dead.
The police have arrested six persons in the case till Friday evening and lodged case against 14 persons.